The first "painting" produced by artificial intelligence to sell at a major auction house fetched nearly half a million dollars on Thursday.
The portrait of Edmond De Belamy sold for $432,500, or 43.5 times the upper range of the estimated price, Christie's said in a statement.
The new owner is an anonymous phone bidder, who won the computer-generated print after "a battle between three phone bidders, an online participant in France and one gentleman in the room," the statement continued.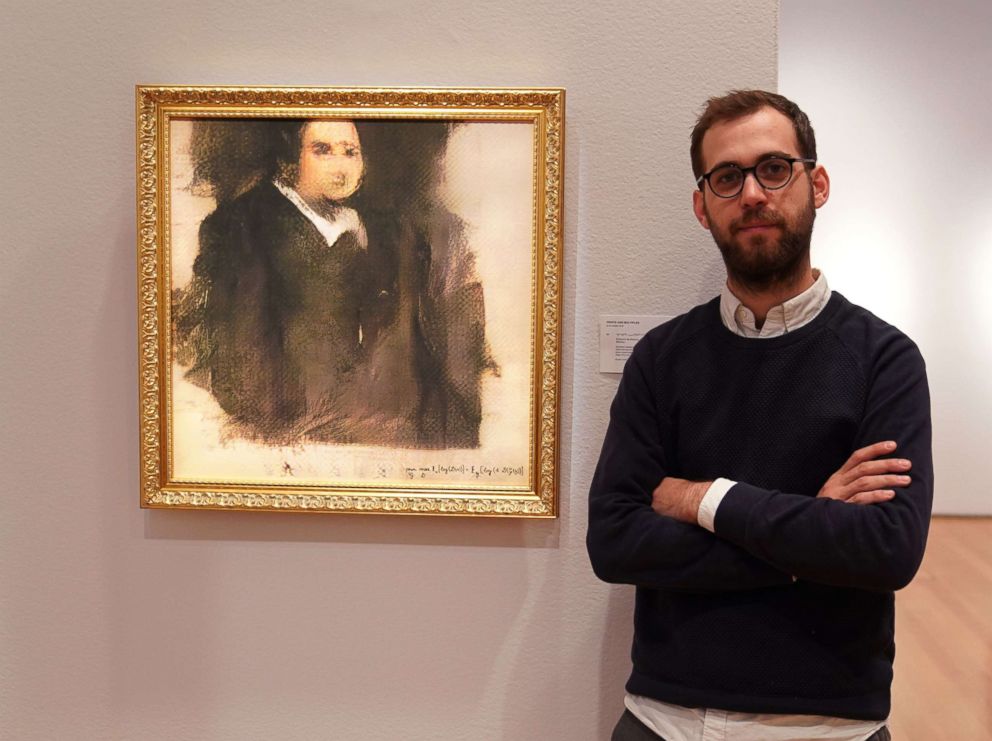 A Picasso print in the same auction sold for the same price but had been estimated to go for $200,000 to 300,000.
The Old Masters-like portrait, a blurry face of a European man of indistinct origin, is the brainchild of the Paris-based Obvious Collective -- and an algorithm.
Obvious is a trio of 25-year-old friends who live and work together. One of the members, Hugo Caselles-Dupré, discovered the Generative Adversarial Network (GAN) class of algorithms while working on his Ph.D. in machine learning.
After the astonishing sale, Obvious released a statement: ""We would like to thank the A.I. community, especially to those who have been pioneering the use of this new technology, including Ian Goodfellow, the creator of the GAN algorithm, who inspired the name of the Famille de Belamy series, and artist Robbie Barrat."
Collective member Pierre Fautrel spoke with ABC News on Tuesday ahead of the auction.
"We are really fascinated by the power of algorithms. We begin to discuss, if you create art like this, is this art?" Fautrel said.
Obvious used the GAN algorithm -- who "signed" the portrait -- to create portraits of the 11-person Belamy family. Edmond was created by inputting 15,000 portraits scanning the 14th to the 20th centuries through the algorithms.
The last sale of a Belamy family member was less dramatic.
In February, a French collector, Nicolas Laugero-Lasserre, bought the portrait of the Belamy family patriarch, Le Comte de Belamy, aka The Count of Belamy, for 10,000 euros ($11,430), hence the guidance for the Christie's auction.
Although at least two more Belamy portraits are spoken for, the rest are still for sale on the Obvious website, with a listed price of 10,000 euros.
"Well, I guess it's making history," said English painter Jonathan Huxley, in response to the news of the sale. "It's a gas."
"There's no financial expert or analyst in the world that can tell me my income for the next 10 years," Huxley, who teaches at the Royal Academy of Arts, said. "There's no way to price art, any art dealer will tell you, especially contemporary art. It's alchemy."