Coronavirus economic updates: Retail sales plunge by record 8.7%
Here is the latest on the COVID-19-induced financial crisis.
The coronavirus pandemic has quickly evolved from a health care crisis to a financial one, shuttering businesses, upending industries and sending financial markets reeling.
Here's the latest news on how the COVID-19 crisis is affecting the economy. For more on financial resources available during the pandemic, click here.
Here's how the day is unfolding. Please refresh for updates.
Markets slip Wednesday
The Dow Jones Industrial Average fell more than 400 points, or 1.9%, Wednesday.
The S&P 500 slipped 2.2% and the Nasdaq was down 1.4% by the time markets closed.
Among the worst Dow performers were Dow Inc (which shed more than 8%), Walgreens (which lost over 6%) Travelers Company and JPMorgan Chase (which both lost just under 5%).
The Dow's best performer was United Health Group, which gained nearly 4%.
The losses come after the government reported that retail sales in March dropped 8.7%, the biggest decline on record.
Amazon closes French warehouses after coronavirus court order
Amazon shuttered half a dozen warehouses in France on Wednesday after a court ruled it could ship only essential items, such as food and medicine, until it completed an assessment of how to best protect workers amid the COVID-19 pandemic.
Handing a victory to unions that have argued for more comprehensive coronavirus protections for workers, the French court told the American-based company it had 24 hours to comply before facing a daily fine of nearly $1.1 million.
The warehouses, which employ over 10,000 permanent and interim workers, will remain closed until Monday so Amazon can complete a health and safety assessment.
Treasury launches online portal to track your stimulus payment
A handful of Americans reported receiving their stimulus checks from the Treasury Department on Wednesday, the same day that the Treasury and IRS's online portal to help those who didn't file taxes or didn't enter bank account information on their tax filings went live.
The Get My Payment website allows Americans to enter information and track the status of their payments.
It also allows people who didn't file a tax return in 2018 or 2019 to submit basic personal information to the IRS, as well as bank account information, to receive their direct deposit as part of the CARES Act.
For those receiving paper checks, a Treasury department spokesperson told ABC News on Wednesday that those are expected to be issued starting "early next week."
Honda to furlough majority of US salaried employees, support staff
Honda announced Wednesday it's extending production suspensions for all car, engine and transmission plants in the U.S. through May 1 as the coronavirus pandemic "prevents consumers in a number of markets from purchasing new vehicles."
The automaker also announced that the "majority of our salaried and support associates at Honda operations in the U.S. will be furloughed for a two-week period."
The company said it will provide updates to business impacts on its website.
It joins a growing list of carmakers that have announced furloughs and production cuts during the pandemic.
Retail sales plummet a record 8.7% in March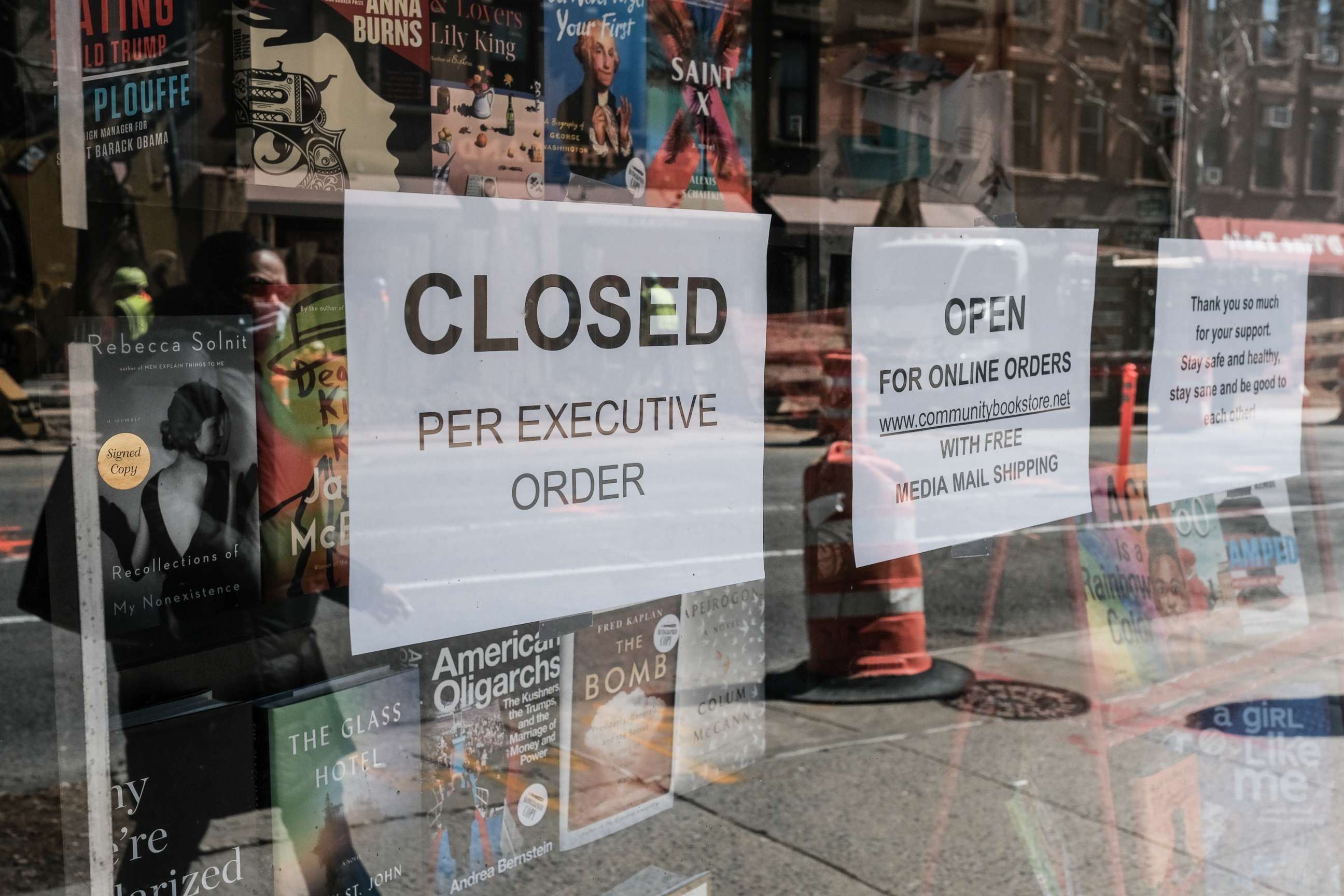 Retail sales plunged a record 8.7% in March compared to the previous month, according to data released Wednesday from the Commerce Department.
The retail industry has been pummeled by the novel coronavirus pandemic, as nonessential businesses across the country have been forced to shutter. The 8.7% figure is higher than economists' estimates, which were around 8%.
Among the hardest-hit in the retail sector were clothing and accessories stores, where sales were down more than 50% compared to this time last year.
Food and beverage sales, however, were up 28% compared to last year as many Americans are stocking up on grocery items amid stay-at-home orders.
ABC News' Jack Arnholz contributed to this report.