If you're getting a feeling of déjà vu watching coverage of the Deepwater Horizon oil spill in the Gulf of Mexico, you might be on to something.
Some of the officials involved in managing the oil spill were also in charge of cleaning up in the wake of Hurricane Katrina.
The overlap isn't perfect, of course, since Katrina took place five years ago and the Obama administration has appointed new people to most of the senior positions.
At the same time, some officials in charge during Hurricane Katrina -- such as FEMA coordinator Michael Brown -- were pushed out during or after the disaster following complaints about mismanagement.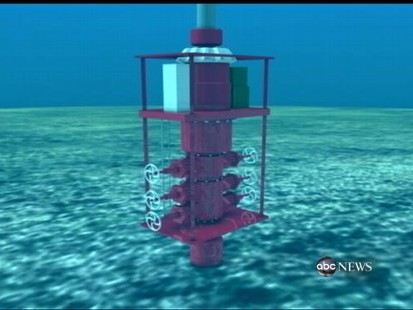 Oil Spill Officials Benefit From Katrina Experience
Kathleen Blanco, the governor of Louisiana during Hurricane Katrina who was criticized for her slow response, tells ABC News.com that officials on the ground now have the benefit of their predecessors' experience.
"We rewrote the book on disaster response," says Blanco, who retired from office in 2008, and is now working on a memoir. Hurricane Katrina presented her with challenges that were unexpected and unpredictable, she says, and the lessons she learned have laid a "solid foundation" for those in charge now.
One big difference between the government's response then and now, says Blanco, is less political polarization and a better spirit of cooperation.
"Something that hasn't happened thus far is the blame game deluxe that so often occurs in this political climate," says Blanco, a Democrat, referring to attacks against her during Katrina on what she calls a public relations campaign by the Republican White House under President George Bush.
Keeping some of this history in mind, we've taken a look at some noteworthy figures to help you keep track of who's who in the recovery efforts, then and now.
In: Bobby Jindal, Governor of Louisiana
Jindal was a newly elected congressman when Hurricane Katrina hit, and didn't register much on the popular radar, even though his district encompassed New Orleans. Now, he's front and center dealing with the oil spill. So far, he has mostly earned kudos, although there have been some criticisms that he waited too long -- nine days after the oil rig explosion -- to declare a disaster.
"It's too early to tell how he's doing because the sitaution is so fluid," says Cheron Brylski, a Louisiana political consultant. "He's been very aggressive in saying we're not getting the data we need from the corporations and that's a good thing."
In: Thad Allen, U.S. Coast Guard Commandant
Admiral Thad Allen, tapped to take charge of the Hurricane Katrina relief efforts after spectacular stumbles by his predecessor, FEMA coordinator Michael Brown, is widely considered a no-nonsense, take-charge kind of leader. In 2006, he was named one of "America's Best Leaders" by US News and World Report, which cited his "'bias for action,' the practice of moving, not endlessly deliberating."
Allen's leadership earned him a promotion to the head of the Coast Guard after Katrina, and he was put in charge of the federal government's response to the oil spill by presidential order.
In: Mary Landrieu and David Vitter, Senators from Louisiana
As senators, Democrat Mary Landrieu and Republican David Vitter were not directly involved in the Hurricane Katrina recovery efforts, but wasted no time pushing for a massive $250 billion Louisiana aid package -- which was later whittled down into much smaller chunks -- once the dust began to settle. While Vitter admitted to involvement with a Washington, D.C., prostitution ring, Landrieu has a reputation as a clean, hard-working advocate for the protection of Louisiana's coastline.
However, to maintain their credibility in this crisis, Landrieu, Vitter and other Louisiana congressionals must stand up to the oil and gas industry after this disaster, says political consultant Brylski.
"The one thing I find distubring from our congressional delegation, is that nobody is saying, 'Stop the drilling in the Gulf','" she says, pointing out that officials in Florida have already protested the drilling. Brylski points out that Louisiana is heavily dependent on the oil and gas industries. "This is something the Louisiana delegation needs to own up to."
Out: Michael Brown, FEMA Coordinator
As the FEMA director responsible for "Emergency Preparedness & Response," Brown was put in charge of coordinating the federal government's response to Hurricane Katrina but was quickly pushed out. Nicknamed "Brownie" by President Bush, who praised him for doing "a heckuva job" early on, Brown was criticized for not leading his staff properly and for emails that sounded flippant in the face of mounting disaster.
Today, Brown hosts a conservative talk radio show and works as an IT consultant in Denver. He recently appeared on Fox News arguing that the administration is intentionally letting the oil spill grow in order to garner support for alternative fuels.
Out: Kathleen Blanco, Louisiana Governor
Kathleen Blanco, Louisiana's first female governor, took office in January 2004, less than two years before Hurricane Katrina hit land. She was criticized for a slow, disorganized response to the disaster, which claimed almost 1,500 lives. Blanco tells ABC News.com that her predecessors had left inadequate emergency preparedness plans and argues that "nobody" was prepared for its magnitude.
Blanco announced in 2007 that she would not seek reelection, and was succeeded in 2008 by Gov. Bobby Jindal, a Republican. These days, she's working on a memoir and preparing for her son's upcoming wedding.
Out: Ray Nagin, New Orleans Mayor
Ray Nagin, the charismatic young mayor who galvanized support for his flooded city by openly criticizing the federal response, this month stepped down after two terms in office. He was ineligible to run a third time. Nagin became best known to the rest of the country after an outspoken radio interview, in which he complained that the White House didn't have "a clue" about what was going on and said, "Excuse my French everybody in America, but I am pissed."
But he was also criticized for not doing enough on the local level to minimize some of the calamity, and for failing to revive New Orleans' economy. Nagin has told local media he plans to take a vacation before deciding on his next career move.