The Dow Jones Industrial Average plunged more than 650 points Monday -- the worst Christmas Eve trading session in the country's history, according to experts -- after eyebrow-raising comments by the treasury secretary, an escalating trade with China, and amid an economic slowdown.
Stocks are negative for the year, and the Dow has fallen thousands of points from its high of nearly 27,000.
The Dow ended the day a dramatic 653 points lower at 21,792 in an abbreviated trading session ahead of the Christmas holiday, down nearly 10 percent from a mere week ago. The day's losses of 2.9 percent, added to last week's of 6.8 percent, set the stage for a sober last week of trade this year.
"I do believe this was the worst Dec. 24 in history," U.S. Global Investors head trader Michael Matousek told ABC News. "There hasn't been a worse Christmas Eve since I started in the industry 22 years ago."
Last week was the index's worst in 10 years -- since the 2008 financial crisis. This month is currently on track to end as the worst December since the Great Depression.
The tech-heavy NASDAQ also suffered, ending the day more than 5 percent lower at 6,193. It crossed into bear territory last week for the first time since the 2008 recession, which means it is down more than 20 percent from its record high on Aug. 29.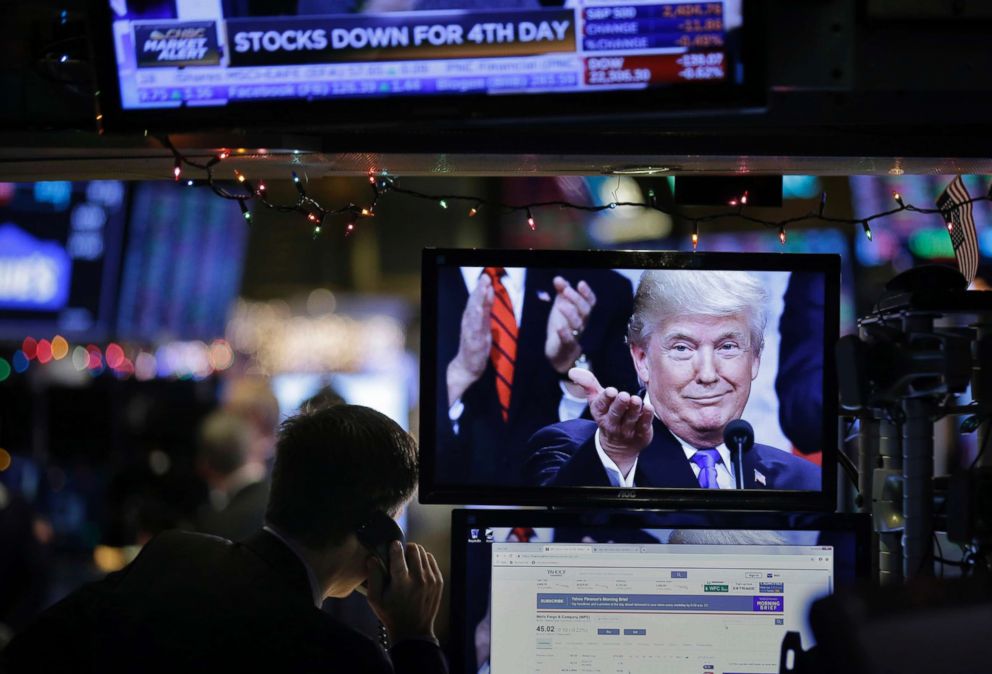 President Trump renewed his attack on the Federal Reserve, which has become predictable after poor performances on the stock market, which the president tends to focus on over other economic indicators.
"The only problem our economy has is the Fed. They don't have a feel for the Market," Trump tweeted. "The Fed is like a powerful golfer who can't score because he has no touch - he can't putt!"
The central bank raised interest rates last week in a widely expected move of .25 percent. However, the bank issued a forecast less bullish than expected, predicting a slowing economy.
Trump has consistently railed against raising interest rates and lashed out against its chairman, Jerome "Jay" Powell. The Wasington Post and other news outlets have reported that Trump blames Mnuchin for suggesting Powell for the job.
The markets moved lower after the tweet on fears Trump would try to fire Powell, adding to market instability and concerns about the threat to the central bank's independence.
However, the recent sagging performance of the markets has been largely attributed to the White House's policy moves, sparking a lingering trade war with China, invoking a government shutdown and chaotic news signaling political instability.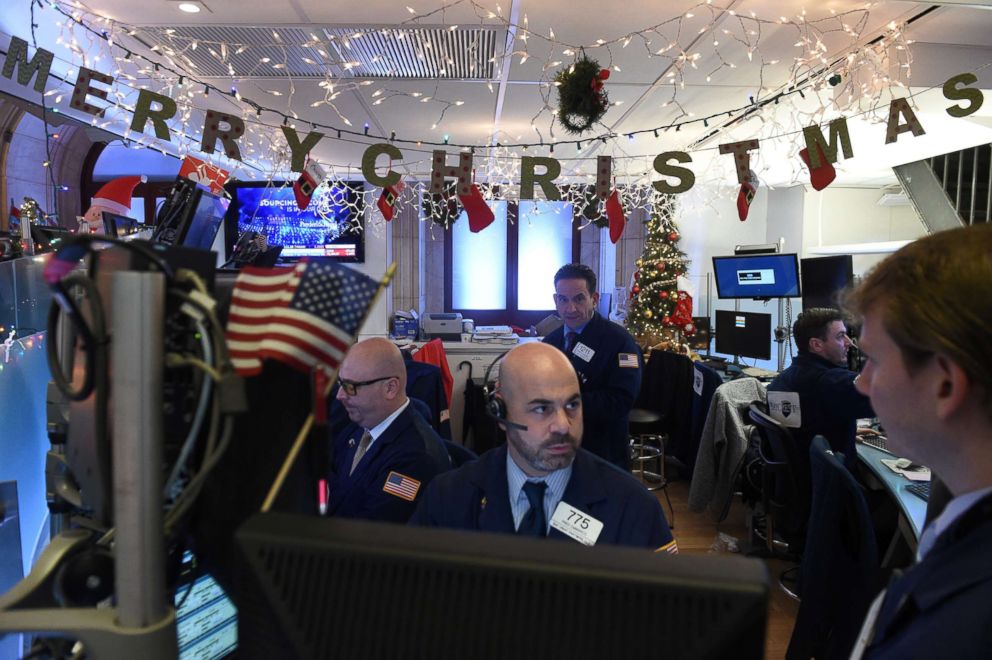 Over the weekend, Mnuchin tweeted that he called the CEOs of J.P. Morgan Chase, Bank of America, Goldman Sachs, Morgan Stanley, Wells Fargo and Citigroup from his vacation in Cabo San Lucas, Mexico. His agency is one of the federal departments affected by the current government shutdown. Others at Treasury are forced to say home without pay. It is unclear whether Mnuchin traveled on a government plane to his vacation.
The bank executives assured the Secretary that "they have ample liquidity available for lending to consumer, business markets, and all other market operations," Mnuchin wrote.
"They have not experienced any clearance or margin issues and that the markets continue to function properly," he added.
Mnuchin's comments seem to have been meant to assuage investors, economists and traders that there would not be a run on banks, which precipitated the last crisis.
However, the message may have had the opposite effect since it was not a concern of market watchers until his tweet.
"If this weren't the end of December, I would have thought it was April Fools," Jared Bernstein, former chief economist to Vice President Joe Biden, told The Washington Post. "The markets are already nervous enough. It's like sending out a message saying our space shields can intercept incoming asteroids. Uh, I didn't know there were any coming our way."
Market watchers who were generally upbeat about the economy expressed concern over the panic that Mnuchin's comments, coupled with the overall instability at the White House, could inflame.
"My guess is the Mnuchin was under pressure from Trump to 'do something' and this half-baked attempt to calm markets is the result," Timothy Duy, economics professor at The University of Oregon and author of the influential Fed Watch blog, wrote to ABC News in an email.
"Mnuchin apparently thought (this is speculation of course) that easing fears of a financial crisis could help the stock market. But that is not a serious fear at this point," Duy said, adding that traders are spooked by the trade wars, policy uncertainty and an economy that is slowing as many experts expected.
"Mnuchin raised a fear that really isn't a current issue, and by doing so creates the perception that he knows of a problem that no one else knows about," Duy added. "That kind of thing can precipitate a financial crisis because, fearing the unknown, market participants stop buying anything and financial institutions stop lending to each other."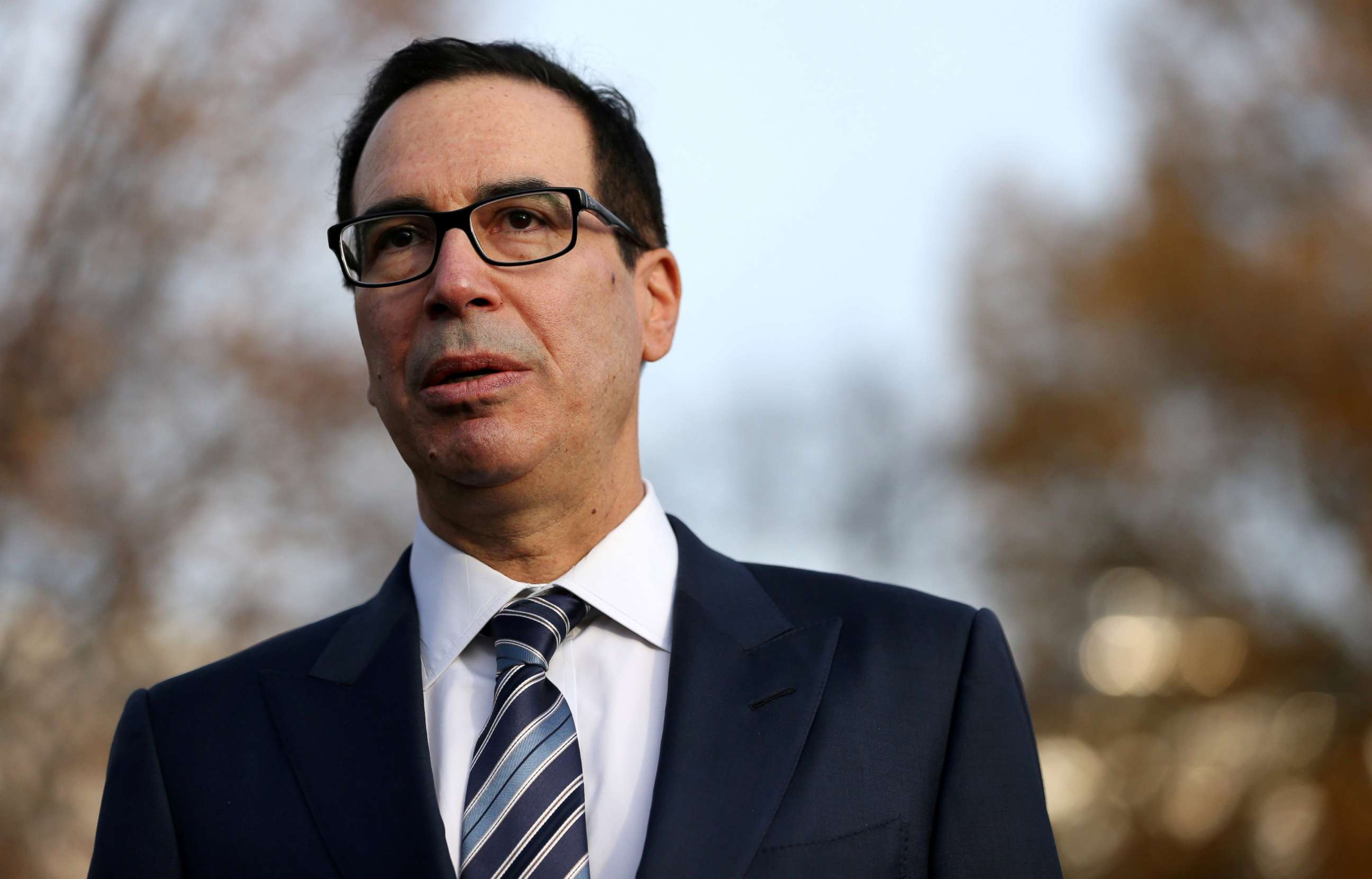 Many experts noted that the panic caused by the Treasury Secretary's comments may cause a run on banks, which were a large factor in the Great Depression. It is widely believed, however, the banks are fine.
'When I saw he was calling the banks, that just tells me the administration is a little unsure of what's going on.'
"A run on the banks is when people are afraid money won't be liquid, so they start withdrawing money, like Lehman Brothers, so they had to go to the Fed for extra cash, which is essentially a bailout," Matousek said.
"There's a difference between now and then because we didn't have stress testing like we do now," Matousek added. "We have so much stress testing, they're so regulated, when I saw he was calling the banks, that just tells me the administration is a little unsure of what's going on."
Duy added that even though Mnuchin's comments were highly unusual, "it is widely believed that Mnuchin's actions were so poorly conceived that they can't be taken seriously. But they were so poorly conceived that they imply a worrisome lack of competence for economic policymaking as a whole, and that creates uncertainty that undermines investor confidence."
The New York Stock Exchange (NYSE) closed early on Monday at 1 p.m. ET. It is closed on Tuesday for Christmas.