Fans of three-egg omelets and bacon-egg-and-cheese sandwiches have more to worry about than just high cholesterol. The wholesale price of a dozen eggs has more than quadrupled year over year, and some experts warn the prices are unlikely to decrease anytime soon.
Egg prices peaked during the holiday season, hurting smaller grocery chains that can't compete with larger chains and leading to price increases for restaurants and other small businesses, experts said. The price increase in eggs also comes as the cost of most foods have increased significantly, putting a strain on grocery shoppers and small business owners alike.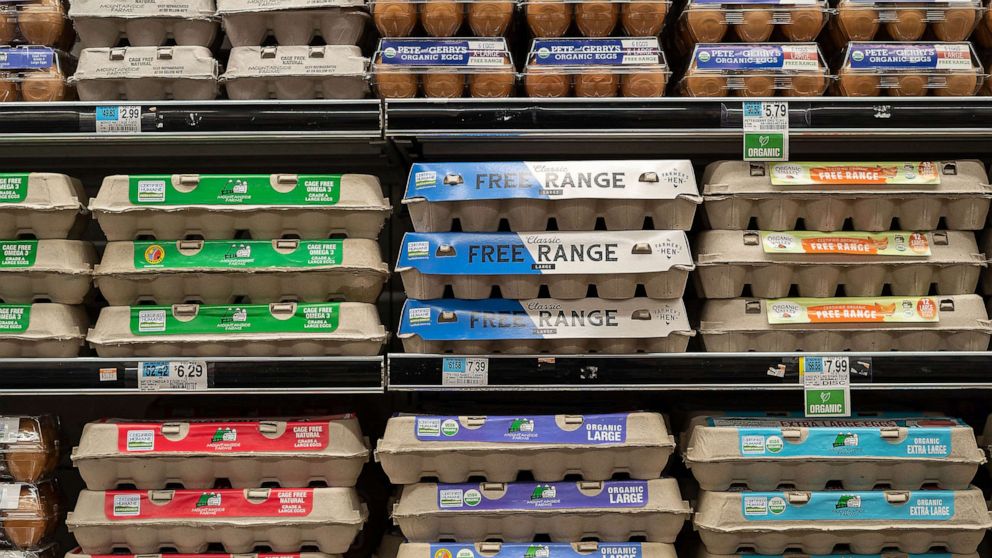 "I've been here 50 years, I have never seen anything like that with control of prices, maybe with Carter in the 70s," said Gus Benetos, the owner of Manhattan's Westside Restaurant.
Urner Barry, a company that publishes the "fair market price" for items like eggs, meat, and plant proteins, set the wholesale trade value for a dozen "midwest large" eggs at 89 cents on Dec. 22, 2021. A year later, the price for a dozen eggs skyrocketed to $5.46, according to Karyn Rispoli, the editor of Urner Barry's Egg Price Current. The price beat the previous record high of $3.09 during the pandemic.
"We blew that previous high, way out of the water," Rispoli said.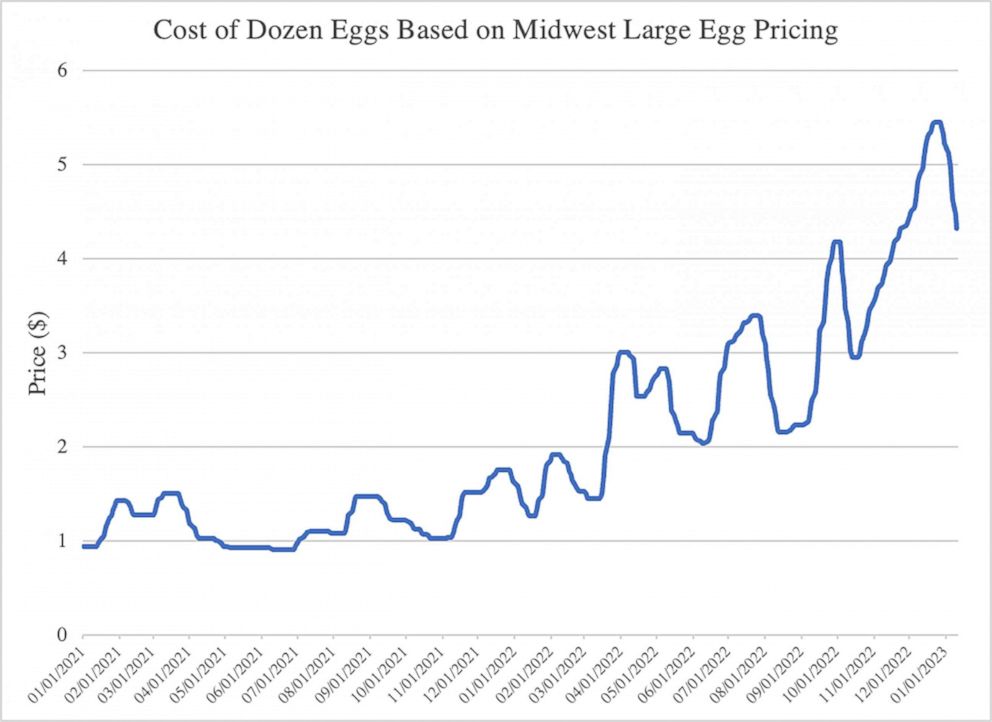 Since the holiday peak, Rispoli noted that the egg market has since "corrected" to $4.33 on Jan. 10, mainly due to decreased demand following the holiday season. However, with the avian flu outbreak still impacting U.S. poultry farmers, Rispoli said the price will likely remain high for now.
Outbreaks of highly pathogenic avian influenza have killed nearly 40 million hens since February 2021, five percent of the U.S. chicken flock, according to a spokesperson for the U.S. Department of Agriculture. Egg production has also declined by 4 percent since 2021, the spokesperson said.
Mark Sauder, the CEO of Sauder Eggs, one of the country's largest family-owned egg wholesalers, said he believes most significant factor impacting business is avian flu.
"This particular strain or this particular outbreak seems to be lasting longer," he said.
While the wholesale price has steadily increased, consumers have felt the delayed impact of the price increase due to a few factors unique to eggs.
First, the demand for eggs in the short term is inelastic, according to Dartmouth College economics professor Bruce Sacerdote. Their status as a low cost, staple item in the grocery store, and a necessity in many recipes and diets lead many consumers to continue buying eggs in the short term despite price increases.
The USDA spokesperson said eggs are still one of the most competitively priced proteins in the grocery store compared to other animal proteins. The Bureau of Labor Statistics reported in November a yearly 10 percent increase in the overall cost of food.
"It has gone up, but as a percentage relative to the other spend of my food, it's like it hasn't been that impactful," Leonard Chung, a Manhattan grocery shopper, said about the cost of eggs.
Second, according to Rispoli, many grocery stores use a "loss leader" tactic, artificially lowering the price of eggs to attract consumers. Grocery stores recover losses when shoppers buy other items with a higher profit margin. According to the USDA, a 12-pack of brown grade-A eggs cost $3.99 on average for consumers on the week of Dec. 23, while the wholesale cost was significantly higher.
"Even as the market was rising rather dramatically, consumers weren't always seeing those prices at the consumer level grocery stores," Rispoli said.
Sharmilla Dabieden, a resident of Queens who traveled to Whole Foods in Tribeca for lower egg prices, was one of the beneficiaries of this pricing approach. After seeing eggs advertised at roughly $3.29, she loaded her cart with three cartons of eggs.
"We need eggs, so this is why I'm shopping around, and I look online to see where I can get the cheapest," Dabieden said.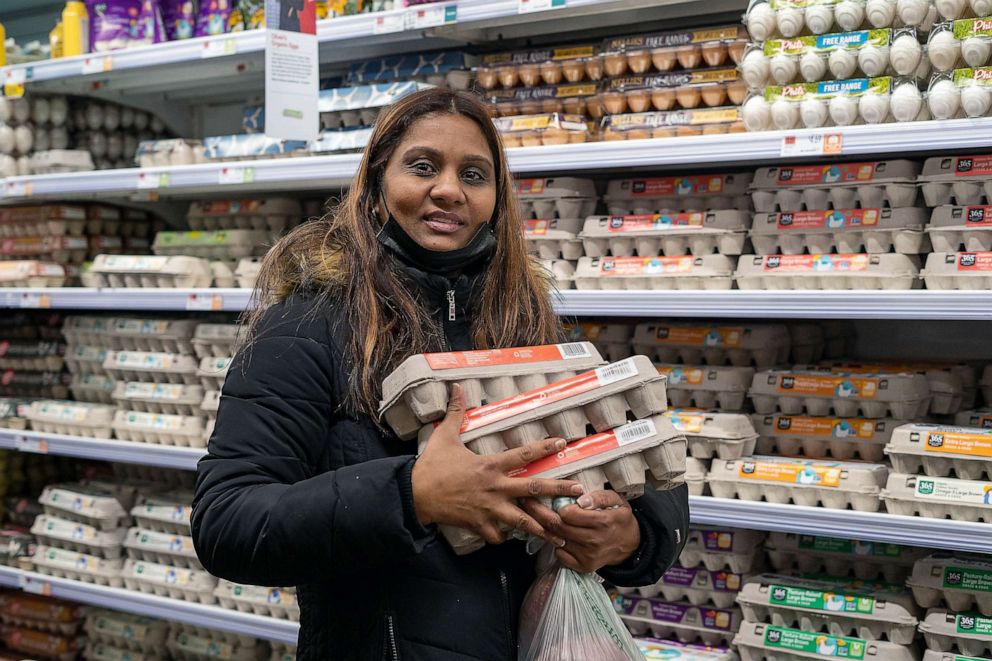 According to Rispoli, the price increase in eggs is beginning to become apparent to consumers despite these two factors.
While prices cool, small businesses will feel the impact of the price hike alongside consumers.
"Smaller independent chains, regional chains, you know, they've struggled to be able to offer those same kinds of discounts, and so they've really taken a hit in terms of their sales numbers," Rispoli noted.
At the Westside Restaurant, the archetype of a Greek diner in Manhattan, the cost of eggs and food has tightened profit margins. Benetos said that one case of eggs – 30 dozen eggs – has increased from $90 to $160 over a few months, and other food costs have risen by 30 to 40 percent, leading to price increases across the menu. His son Nikos Benetos noted that they priced a recent daily special - a feta cheese, broccoli, and tomato omelet - at over $19.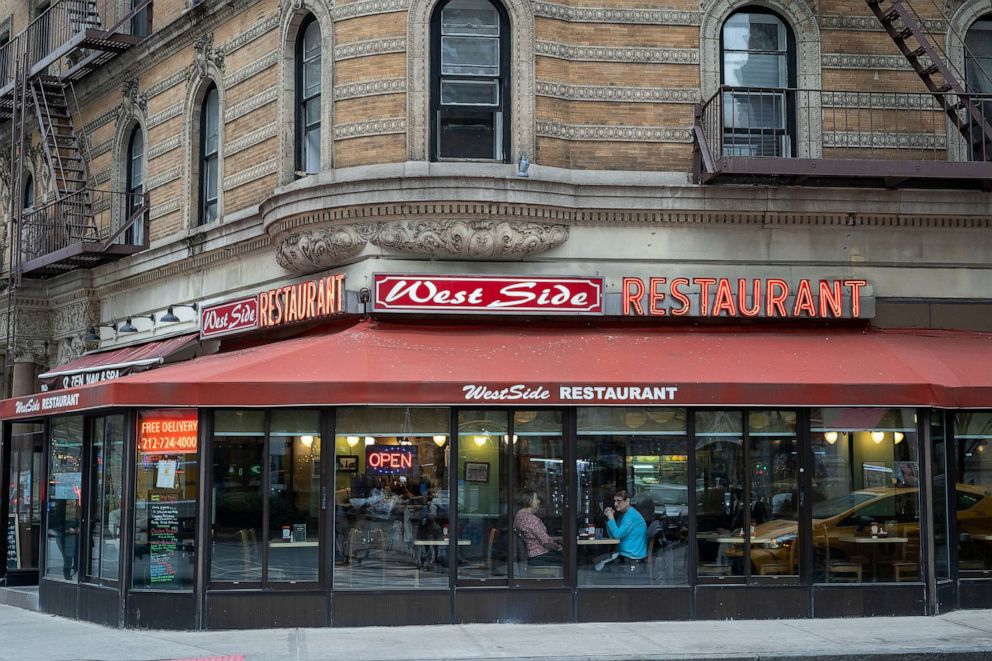 At a coffee cart on the Upper West Side, employee Santi Sayago said egg prices increased by 150 percent over six months, making it difficult to turn a 50-cent profit on a bacon-egg-and-cheese sandwich.
Abi Coffey, a manager at chain Think Coffee, noted that they have increased the price of egg sandwiches by a dollar over the last year, leading to customer complaints.
According to Sacerdote, when consumers begin to recognize the price hike at the grocery store, it might validate concerns about inflation.
"I think that is probably how people get a notion of how bad inflation is when they get their fuel bill for their home, the gas bill for their car, and their food bill," Sacerdote said.
While costs have decreased recently, experts say it might take months for the prices to return to normal levels fully.
"Whether it's going to continue into 2023; obviously, I don't have a crystal ball, but all signs point to yes," Rispoli said.