— -- The Justice Department has rejected calls to appoint a special prosecutor to take over two investigations into alleged wrongdoing by the German bank that has loaned the Trump Organization more than $300 million, ABC News has learned.
"The Department has full confidence in its law enforcement professionals and career attorneys to follow the established Department policies and procedures, which are designed to ensure the integrity of all ongoing investigations," Assistant Attorney General Peter J. Kadzik wrote in response to a request from Sen. Richard Blumenthal (D-Connecticut).
Kadzik called the appointment of a special prosecutor an "authority that has rarely been exercised."
Blumenthal had asked the DOJ to relinquish their probes to an independent attorney who would not be subject to political forces once Trump takes office.
Deutsche Bank is reportedly in settlement talks with Justice officials over allegations of mortgage fraud, and over a separate case dealing with alleged money laundering out of the bank's Moscow office.
Deutsche Bank has confirmed in public filings that the Justice Department's demands in negotiations over the mortgage fraud case alone could be steep – the initial U.S. position was to seek a back-breaking $14 billion settlement.
"The credibility of this investigation will be completely undermined, and our criminal justice system will be diminished by this obvious conflict of interest," Blumenthal told ABC News in an exclusive interview last month. "What's needed here is clearly an independent prosecutor, without any connection to an Attorney General who likely will be someone who is a personal confidant and campaign surrogate for Donald Trump."
Deutsche Bank has been one of Trump's most reliable lenders. The German bank has helped finance the renovation of the Trump Old Post Office development in Washington, D.C., his purchase of the Doral golf course and country club in Florida, as well as the construction of a Trump office building in Chicago.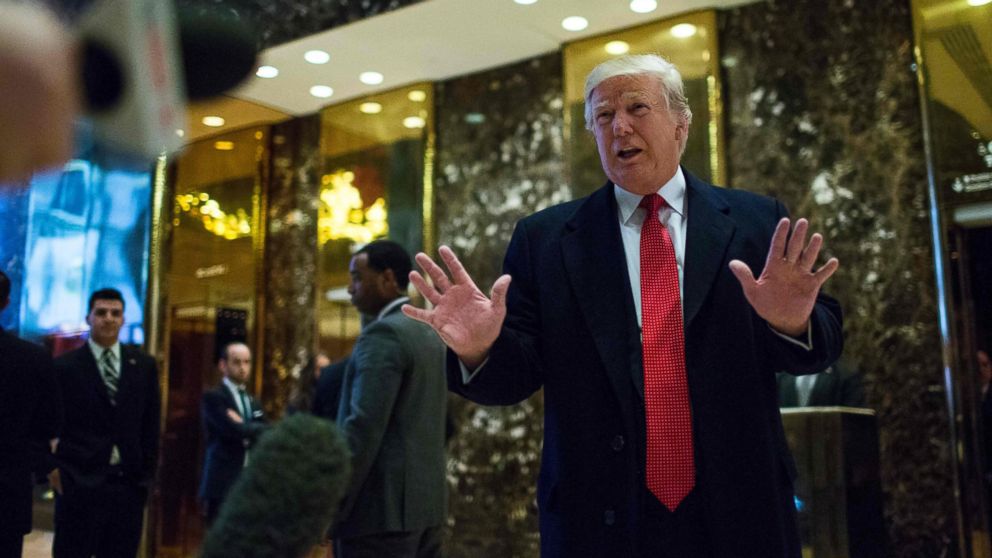 Blumenthal said if the Justice Department gets what it wants, the settlement "would gravely threaten the bank, possibly bankrupt it, and thereby impact Donald Trump's business interests very, very severely."
The bank declined comment to ABC News, but has conveyed in public statements that it hopes the settlement amounts will be reduced significantly after more negotiating. In the filings, the bank said it is "cooperating fully," with the investigation.
"Talks are ongoing," the bank reported to investors.
How a Trump Justice Department will proceed with those talks has become the latest in a series of questions about how the incoming president will navigate between his many business entanglements and his new and powerful government post. Trump has indicated he will resolve those questions during a press conference next week.
He has said previously he plans to leave his business dealings to his children to allow him to focus his attention on his duties as president.
In an interview after his election, he told CBS 60 Minutes, "I don't care about hotel occupancy. It's peanuts compared to what we're doing here."
Blumenthal told ABC News Thursday he is not giving up on his request to the Justice Department to turn over the Deutsche Bank matters to an independent prosecutor.
"I hope Attorney General Lynch will continue to consider the request, particularly in light of the host of additional potential conflicts of interest that have arisen in the short amount of time since I sent the letter."