— -- From Bruce Springsteen and The Police to Eric Clapton and Jimi Hendrix, the Fender guitar has graced many a star-studded stage and is still going strong.
Founded by Leo Fender in Corona, California, the company has been making guitars for some of the world's greatest musicians for nearly 70 years. These days, 300 workers still carve, sand, paint and fine-tune hundreds of Fender's famous guitars by hand.
And Leo Fender wasn't even a guitar player.
"He played the sax, that's right," said Richard McDonald, Fender's executive vice president. "He was an electronics guy so he had a small shop and his customers were musicians and he would repair radios and guitar amplifiers."
But then Fender had an idea: to create a guitar with a new sound.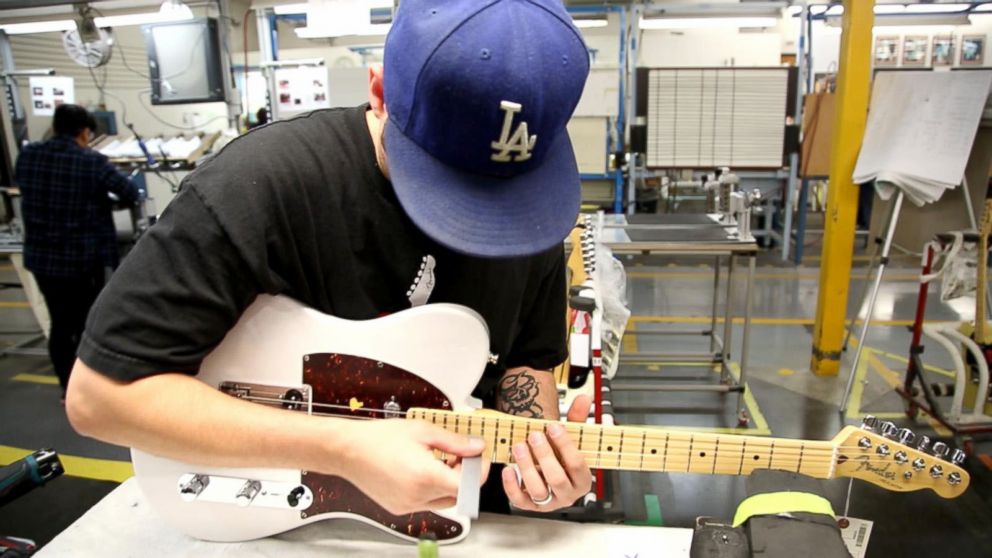 McDonald said it was "extraordinarily important" to Fender that his guitars be made in the U.S.
"You have to remember, this is post-war," McDonald said. "There's this incredible manufacturing infrastructure. ... Patriotism was high and he had that urge that many people did, to make something, to produce something, so it was a big thing."
His workers carry on that dream.
"There's huge pride," McDonald said. "We had a gentleman retire who's been with us for 49 years -- Jose Serna probably pushed the wood for Jimi Hendrix guitar. ... We still use the same process and a lot of the same people we did when this music was becoming a part of American pop culture."
"They're all handmade," said Rosemary Savala, who's worked at Fender for 19 years. "We put our hearts into it every day. It's very rewarding."
Serna's son Carlos, now a Fender employee, said working there was more than just coming to make a really cool product, day in and day out.
"It's a family here," Carlos Serna said.
It would have made Fender proud.