— -- Led Zeppelin's rock tune "Stairway to Heaven" may be a rip-off of the song "Taurus" from a lesser-known band called Spirit, according to a lawsuit that will be presented to a jury next month.
Led Zeppelin guitarist Jimmy Page, singer Robert Plant, and bassist and keyboardist John Paul Jones are the named defendants, along with Super Hype Publishing, Inc. and Warner Music Group Corp. Randy Wolfe, also known as "Randy California," started Spirit in 1967 with four other musicians, and the band released its self-titled debut album in 1968. The Randy Craig Wolfe Trust's trustee, Michael Skidmore, filed the lawsuit in 2014 in federal court in the Eastern District of Pennsylvania. Wolfe died saving his son from being swept out to the sea in 1997, according to the complaint.
"We want to see credit given to Randy for his authorship and the composition of 'Stairway,'" Francis Malofiy, lead attorney for the plaintiff, told ABC News. Malofiy said the trustee filed the lawsuit in 2014 because an unrelated copyright lawsuit, Petrella v. Metro-Goldwyn-Mayer, changed the case law that year regarding statute of limitations defense.
A spokesman for Led Zeppelin declined to comment to ABC News. Lawyers for the defendants did not respond to requests for comment.
Last week, Judge Gary Klausner decided the songs were similar enough to move forward with a jury trial, which has been scheduled for May 10. The judge also dismissed claims against Jones, the band's publisher, Super Hype Publishing, and Warner Music Group because none of those parties performed or distributed "Stairway to Heaven" within the statute of limitations.
In late 1968, Led Zeppelin began touring in the U.S., opening for Spirit, according to the complaint. "Stairway to Heaven" was released in 1971.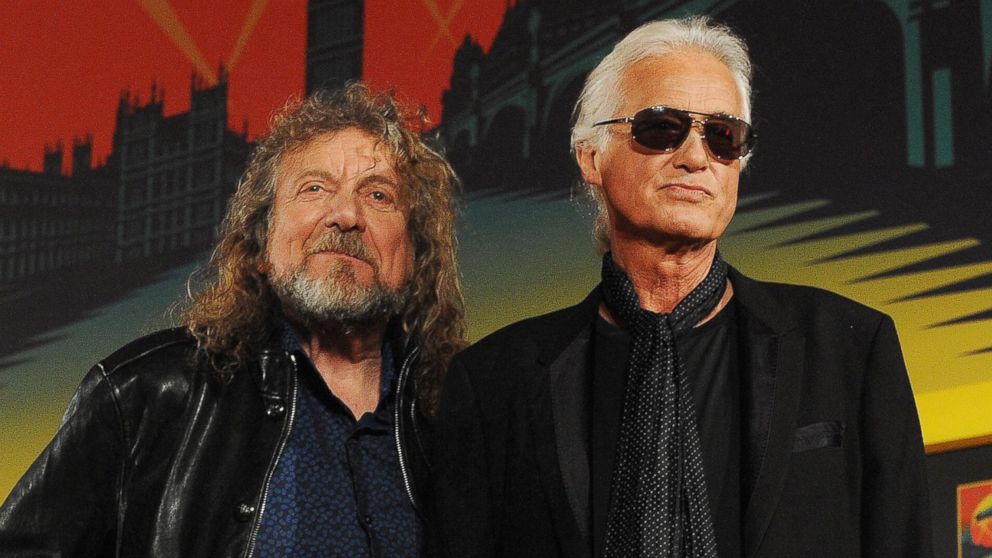 "It is no coincidence that the iconic notes to 'Stairway to Heaven,' that have enthralled generations of fans, sound almost exactly the same as California's ethereal yet classical guitar composition in 'Taurus,'" the complaint states.
An expert for the plaintiff, Alexander Stewart, prepared a 22-page report comparing recordings of "Taurus" with recordings and sheet music of "Stairway to Heaven," mainly looking at the opening two-minute segment, according to the judge's opinion denying Led Zeppelin's motion for summary judgment.
Here are some of the similarities that the expert pointed out, according to the judge's opinion:
1. "A four-measure descending A minor guitar pattern."
2. "The above is separated by a longer "B" section, or bridge."
3. Stewart writes in his report and is cited in the opinion, "The presence of acoustic guitar, strings recorder/flute sounds, and harpsichord as well as the noticeable absence of bass and drums (and other instruments characteristic of rock and roll) lend both songs a decidedly 'classical' style, particularly evoking a Renaissance atmosphere."
4. Live versions of "Taurus" also "feature a similar fingerpicking style in the passage's later appearance," according to Stewart.
However, the defendants had two experts of their own who said that the two songs were not "substantially similar" and "any similarities between the two songs are insubstantial and represent commonplace musical devices."
The two sides of the lawsuit offer different stories about how and when "Taurus" originated, plus how the two bands interacted with each other, according to court documents.
The plaintiff alleges that Wolfe created "Taurus" before the band's 1967 recording contract, according to the judge's opinion.
Meanwhile, the defendants claim that "Taurus" was initially composed and recorded after Spirit signed a recording contract in August 1967, when Wolfe had entered into an exclusive songwriter agreement with Hollenbeck Music, "with full rights of copyright renewal vested in Hollenbeck," the judge's opinion states. In essence, the defendants argue that Wolfe never owned "Taurus" to begin with.
However, Klausner points out that Wolfe "acquired common law copyright protection from the moment of creation," and, "absent evidence that he somehow lost or transferred his rights, Wolfe continued to own the copyright in 'Taurus' when ... the federal copyright protection attached upon registration in December 1967."
"Suffice it to say that Plaintiff has proffered sufficient evidence to create a genuine issue of material fact as to the ownership of 'Taurus,'" Klausner writes.
The judge also notes in his opinion that the bands performed at the same venue on the same day at least three times between 1968 and 1970.
"The surviving members of Led Zeppelin testified that they never toured with, shared a stage with, or listened to any of Spirit's music during these brief encounters," Klausner wrote in his opinion. "The surviving Spirit members, on the other hand, recalled conversing with the Led Zeppelin members backstage between sets and performing in succession at two of the festivals."
Malofiy said his client is not seeking specified damages. However, the complaint's claims for relief include statutory damages of $150,000 per infringement.
"It really comes down to credit. Once it comes down to credit, we think everything else will fall in line," Malofiy said.