— -- A New York plumber and his son are multimillionaires after sitting on a winning Powerball ticket because they thought the jackpot had been won by a teacher.
Anthony Perosi of Staten Island says he was on his way to do an inspection March 14 when he stopped at the 7-Eleven where he always buys lottery tickets when he is in the area.
Perosi, 56, was at a bar a week later when another patron said the winning Powerball ticket had been won at that same 7-Eleven. The bartender, he says, told him it was a teacher who had won the $136 million jackpot.
"She says, 'Forget about it. You won nothing,'" Perosi told ABC News today.
Perosi, who chose the winning numbers at random, pinned the ticket to a wall in his basement, where he keeps all of his lottery tickets.
It was only in April, some six weeks later, that Perosi had car trouble and was in his basement with time to spare.
"I said, 'Let me check those tickets…I didn't see anybody in the news or the paper that won,'" Perosi recalled. "The first one I checked, all the numbers matched.
"I'm looking at the computer and the ticket and the computer and the ticket," he said. "I went to breathe in and no air would go in. I was by myself and I said, 'Oh, my God, my heart has stopped."
Perosi says he began to walk in circles around his house – trailed by his three dogs – while he called his only child, 27-year-old Anthony Perosi III.
"I said, "Come over here immediately. Don't ask why. Just come over,'" Perosi said.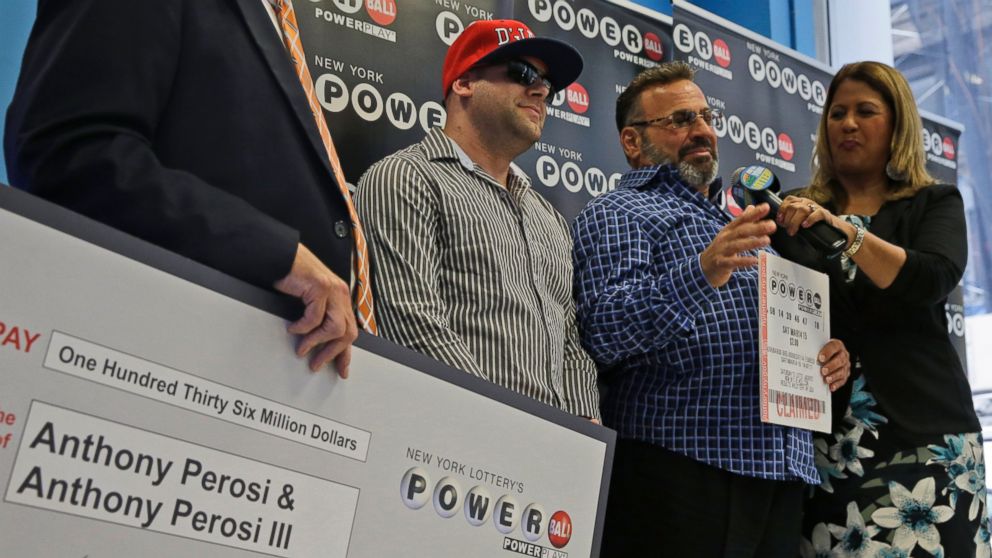 Father and son checked the numbers together and then began hysterically crying when they realized they were now multimillionaires.
"It was crazy," Perosi said.
The pair claimed their $136 million prize, in the form of an oversize check, at a news conference today with the New York Lottery's Yolanda Vega.
Perosi opted to take the winnings in a lump sum payment, and to split that payment with his namesake.
The younger Perosi, a salesman for a food service company, will take home $16.5 million after withholdings, according to New York Lottery officials.
"He's going to buy a nice car and wants to buy a new house and a house on the shore," Perosi said of his son, who also plans to keep working.
Perosi, a plumber for the past 38 years, says he plans to keep working too, "just maybe not as hard."
"There's really nothing I ever wanted, anything expensive, I'm not that type of person," said Perosi, whose net check will total $38.6 million. "I drive a Ford F-150 and I never had a need for a Bentley or a Rolls-Royce.
"I'm just a simple person," the Staten Island native said.
One purchase Perosi may need to make is a new cellphone to replace his flip phone.
"When I first won I got over 133 text messages and I don't text," Perosi said. "I didn't know that many people knew me.
"They all said, 'It couldn't happen to a nicer person,' which was very nice," he said.