To move forward with its first-ever SUV, the famed British luxury automaker Rolls-Royce turned to its illustrious past for inspiration.
Early sketches of classic Rolls-Royces were reworked and tweaked again. Five hundred engineers labored on the Cullinan SUV project, which took nearly five years to complete.
"We took our time because we are Rolls-Royce," Torsten Muller-Otvos, the company's CEO, told ABC News in Jackson Hole, Wyoming, this month. "Others have rushed it a little bit. We only had one shot and it had to be perfect."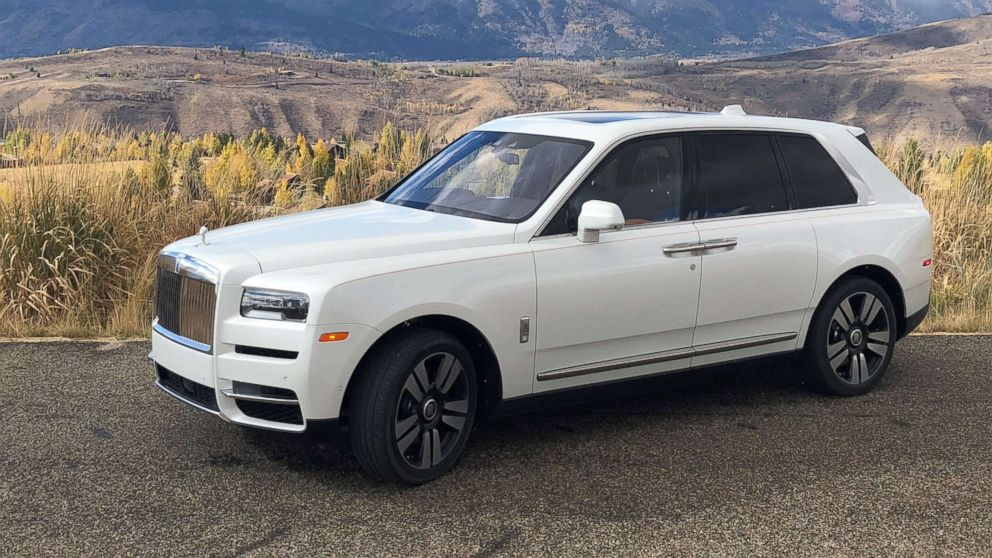 Rolls-Royce has so much faith in the Cullinan that it's hiring 200 additional artisans to work at its ultra-modern facility in idyllic Goodwood, England.
Specially trained woodworkers, seamstresses and craftsmen spend hours assembling vehicles that are one-of-a-kind. Last year 3,362 Rolls-Royces were delivered to customers and 2018 is on track to be a big year for the company — deliveries for the third quarter were up 13 percent over the same period in 2017. The first Cullinans will be shipped to customers in January.
"Everyone understands this is an extremely important segment. The Cullinan is securing jobs in Goodwood," said Muller-Otvos.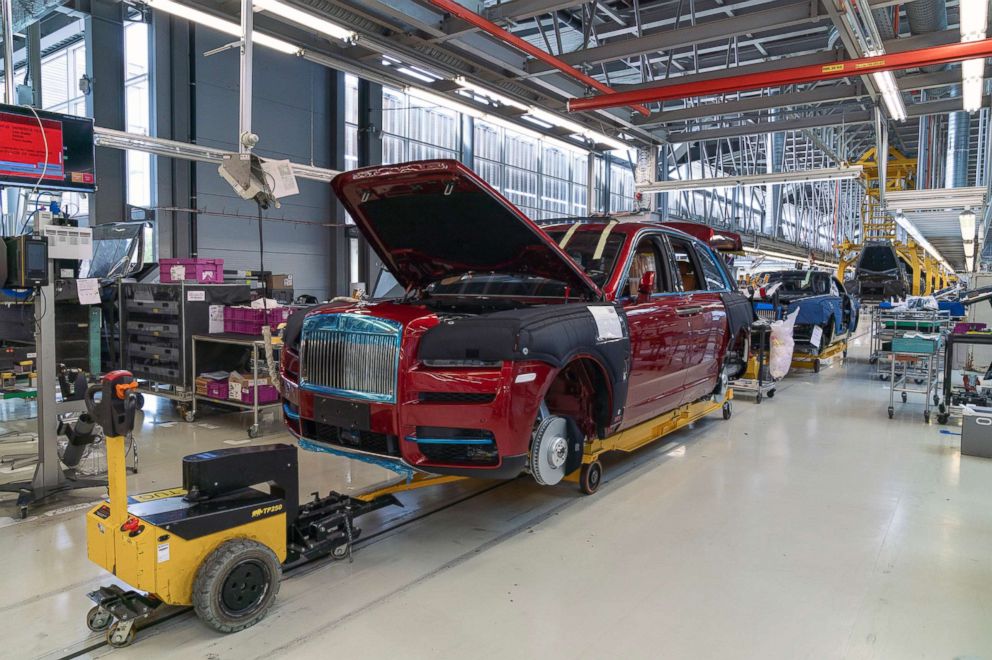 A Palace on Wheels
One downside to the Cullinan is its price, which starts at $325,000 and can easily reach half a million dollars. It has all the trappings you would expect in a Rolls: buttery leather, the finest wood, metal dials and knobs, massage rollers (there are eight massage settings to choose from), hidden umbrellas and back seat footrests. Just because it's big doesn't mean it's loud and obnoxious.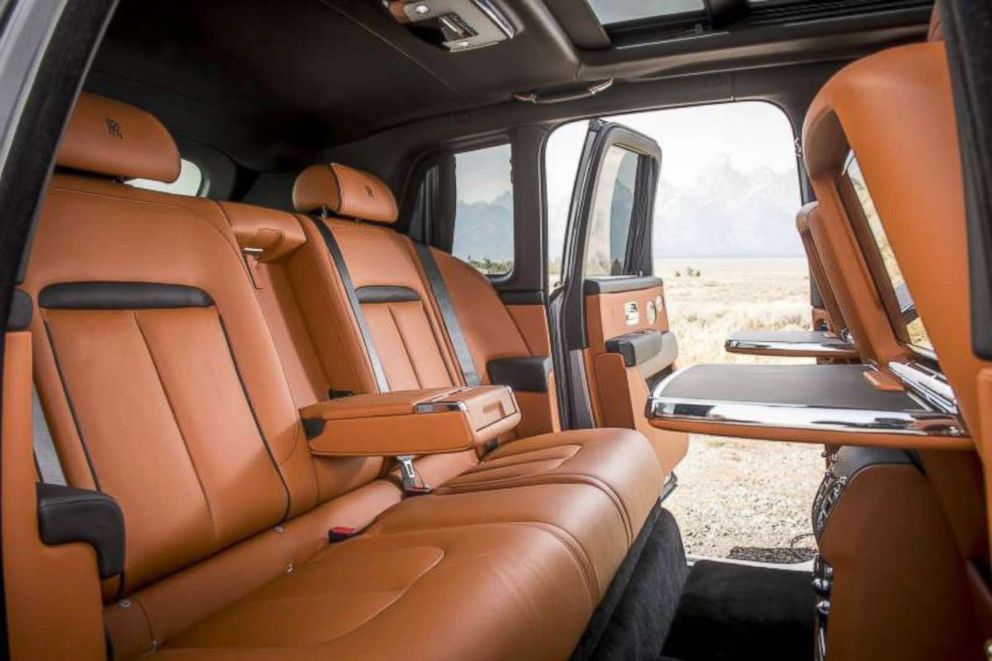 You're literally driving in a gilded, soundproof palace on wheels. The company thought of everything for this vehicle: sensors and cameras scan for wildlife and wayward pedestrians on deserted, country roads or frenetic city streets.
But it's obvious that Rolls-Royce's customers are changing along with the company. Owners are getting younger – the average age in North America is 45 – and more customers actually drive their cars rather than hiring a chauffeur. They also want "big" utilitarian vehicles that can withstand any weather or road condition. But there will never be a Rolls for the masses.
"We have a clear strategy and that's high prices," said Muller-Otvos. "We are not tempted to rush into volume. When you start to bring more volume into the market you dilute the brand. Customers don't want to see their own brand at every street corner."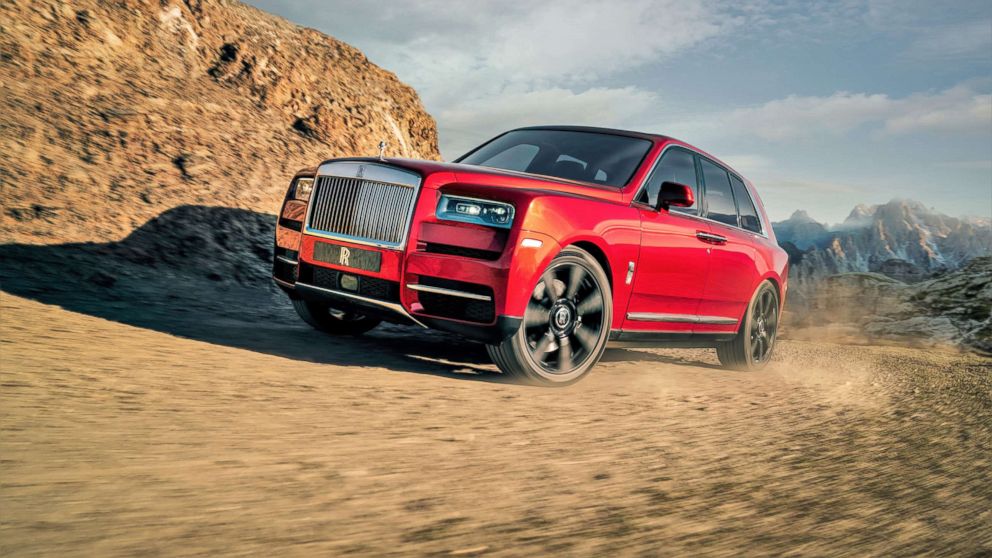 The SUV, however, does not yet offer everything a loyal Rolls client has come to expect. There are only 36 paint colors to choose from versus the 44,000 standard colors available for the other models; the popular starlight headliner is not an option; and company executives are debating whether to include a Black Badge version.
Bespoke options are somewhat limited, a potential downside for those who want to embroider their family crest onto the seats.
The Cullinan "is such a departure for Rolls-Royce," said Richard Carter, the company's director of global communications. "The anguish we went through."
Customer demand played a role in the decision to build an SUV. But Rolls-Royce also had to keep up with the times, even if an SUV was a radical move for the brand.
"We are constantly looking at our segments, what is changing in consumer trends," Muller-Otvos said. "The SUV segment is booming and it was expected to reach one day into the ultra-luxury segment."
The carmaker left one traditional component of Rolls-Royces conspicuously absent from its latest model: the chauffeur.
The Cullinan was not designed to be experienced from the back seat. Nor was it intended to be driven on quaint country roads.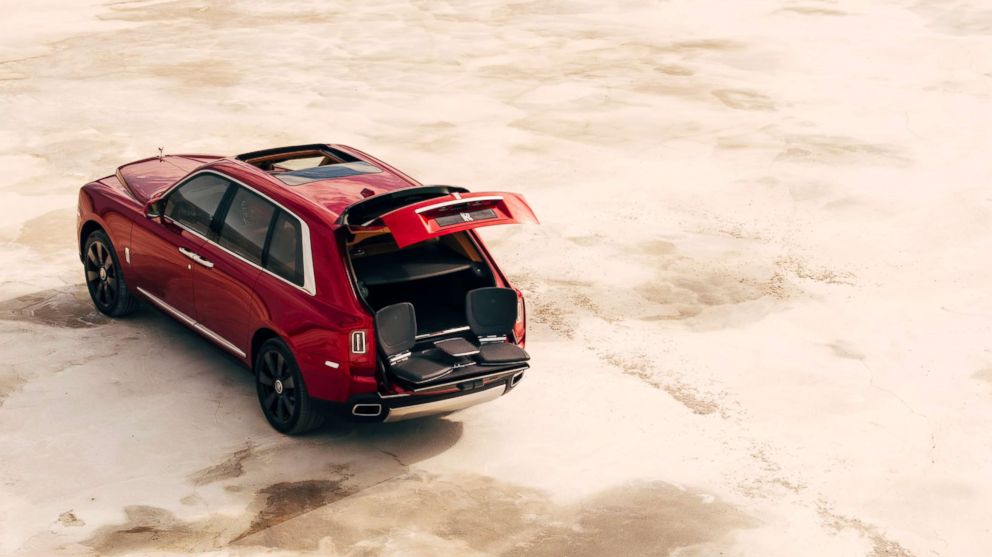 The company wants its customers to drive it off-road and up mountains.
Scaling mountains
Earlier this month I got to drive the Cullinan, named after the largest diamond ever found, in Jackson Hole, Wyoming.
My aim was to scale Snow King Mountain, Wyoming's first-ever ski slope.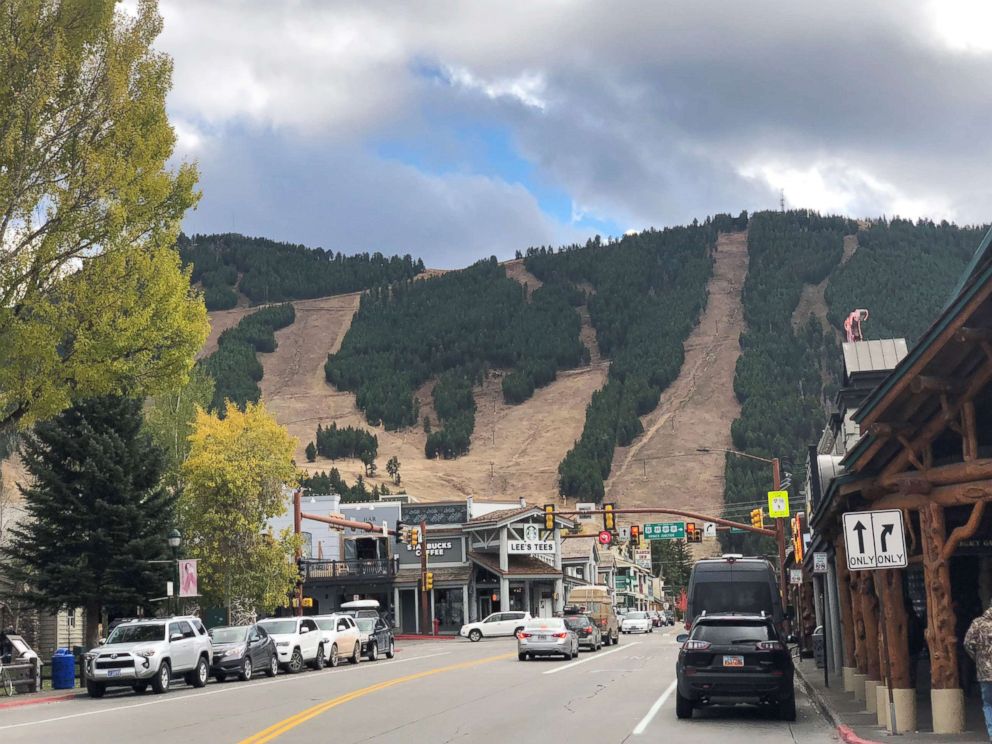 I peered out the windshield and up the slope of the mountain, curious to see how the Cullinan would handle the steep inclines and dirt roads littered with rocks and boulders.
As I ascended ever higher, the Cullinan was at ease, crushing obstacles in its path to pieces. The mountain lions wisely kept their distance from this beast of a vehicle. It pirouetted around hairpin curves, graceful as a ballerina.
The town of Jackson became a blur of tiny dots from the mountain's apex. The Cullinan, covered in dust, needed a bath. My first off-road experience. And in a Rolls-Royce. Can we do that again?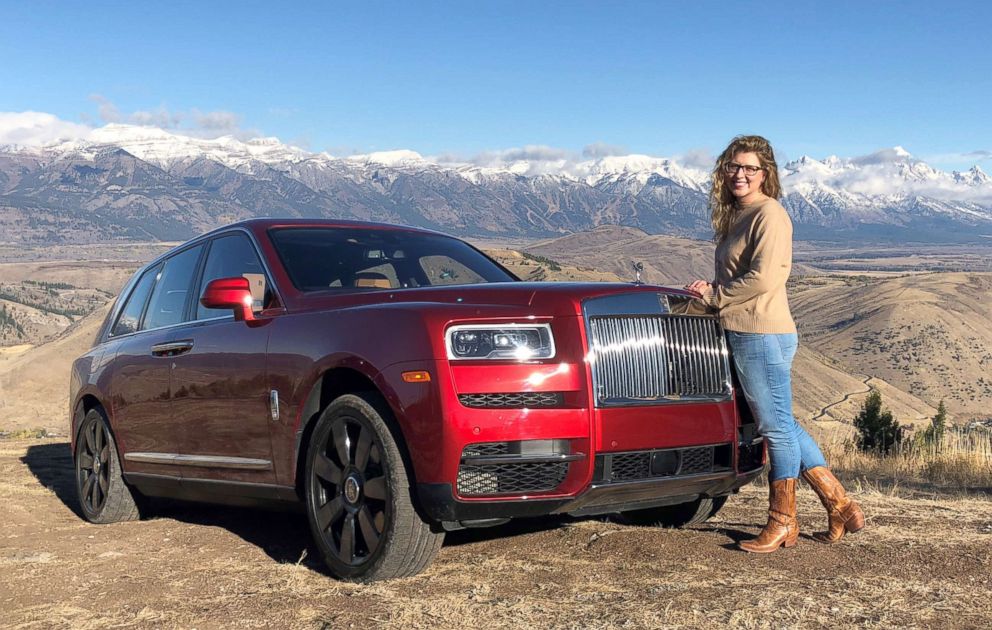 Rolls-Royce appears to have gotten it right: new Cullinan customers will have to wait a year to get theirs. The majority will likely be ordered by U.S. drivers, Rolls-Royce's largest market. The Cullinan will also make a splash on the streets of London, where the company's Wraith and Ghost models are frequently on display outside the swankiest restaurants and boutiques.
"The Cullinan will become the new 'it' car for a certain level of wealth," Karl Brauer, executive publisher at Cox Automotive, told ABC News. "People will be stepping on each other to get it."
The lengthy wait for the Cullinan was a right move by Rolls-Royce, according to Brauer.
"It's a very well-executed vehicle," he said. "It's not just an SUV with a Rolls-Royce grill."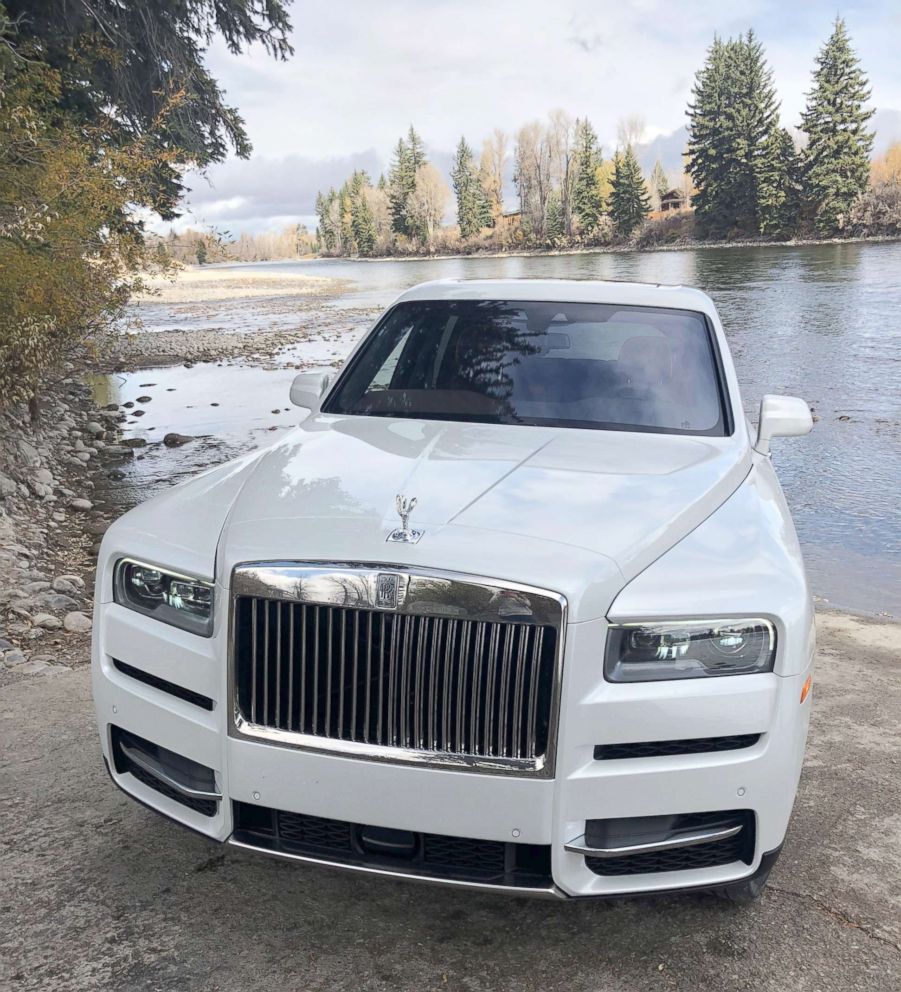 Under the hood
The Cullinan may not be as elegant or comely as some of the other Rolls-Royce models. But looks aren't everything, remember.
The suspension, drive train and rear wheel steering are purely Rolls-Royce, Muller-Otvos pointed out.
"It's not a camouflaged whatever," he said.
Top speed is a governed 155 mph and the V12, twin turbo 6.75-liter engine outputs 563 bph. The spacious trunk might be a good place to store extra fuel — the EPA gives the Cullinan a combined fuel economy of 14 mpg.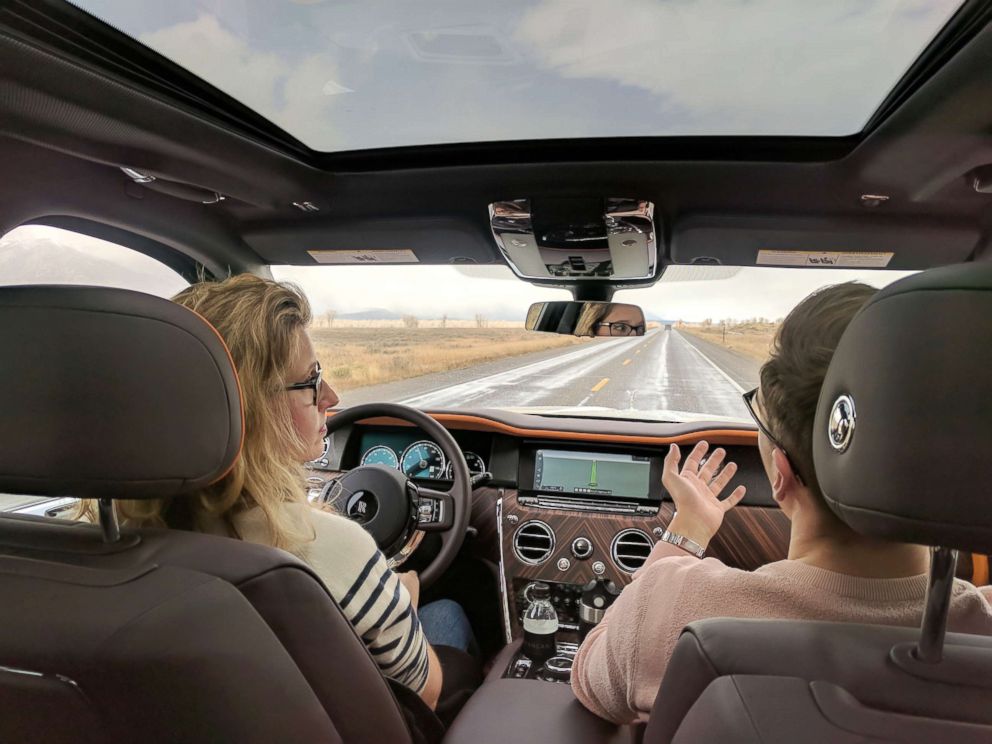 For Felix Kilbertus, head of exterior design at Rolls-Royce, the years-long process of creating the Cullinan was grueling. Now he's excited to turn the cynics into believers.
"You walk up to the car and you're kind of curious," he told ABC News. "It's assertive, graceful, approachable. You can immediately relate to it."
The locals in Jackson certainly seemed impressed with the Cullinans that took over their picturesque ski town this month. What's not to like? It is a Rolls-Royce, after all.