Same-Sex Couples Foot More of Their Wedding Bills Than Straight Counterparts
Same-sex couples often see less financial support from their families.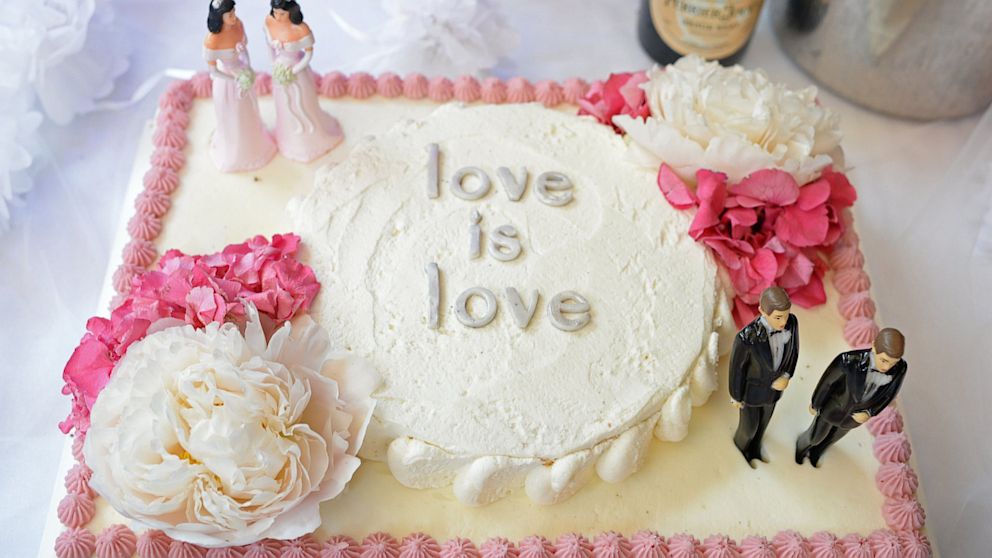 July 4, 2013 — -- Same-sex couples are more likely to pay for the majority of a wedding themselves, according to a survey by wedding site TheKnot.com and gay news source The Advocate.
According to the survey, released last week, a large majority -- 86 percent -- paid for the wedding themselves, compared with 40 percent of straight couples. The survey also found same-sex couples are more likely to evenly split wedding planning responsibilities -- more than half (55 percent) split the planning evenly, compared with 19 percent of their straight counterparts.
Read About Reported Differences in Same-Sex Marriages
Diane Anderson-Minshall, editor-at-large with The Advocate, said the Supreme Court's decision striking down the Defense of Marriage Act is a "great opportunity" for wedding businesses.
Twelve states and Washington, D.C., permit same-sex couples to marry.
Anderson-Minshall said she was not surprised by the survey finding that same-sex couples pay for their own weddings more frequently, as opposed to the traditional model of couples' asking parents to chip in for the big day.
"When you have same-sex couples, regardless of the configuration, those people have not had the same support from their families and same relationship recognition that straight couples do have," she said.
Anderson-Minshall, 45, of California, married a woman 22 years ago who is now a man. They have had five wedding ceremonies.
Whether same-sex couples call the big day a commitment ceremony or wedding, often, "families are not seeing it that way," she said.
Anja Winikka, site director of TheKnot.com, said for all couples, the older they are, the more likely they will pay for a wedding themselves and spend more money than younger couples.
Winikka said the wedding industry, for the most part, is dominated by local businesses, many of which target the same-sex market.
"Adding more couples into the pool of engaged couples is positive, obviously, and indicates that the weddings industry can only look to gain," she said.
Hotel chains, honeymoon destinations and other vendors have long marketed to same-sex couples.
The Knot launched its first free digital magazine devoted to same-sex weddings June 24 with two cover versions: one with a female couple and another with a male couple. The magazine's sponsor is spirits brand St. Germain.
Traffic to TheKnot.com doubled last week after the Supreme Court's DOMA decision; and a similar increase in traffic to the website took place after New York allowed same-sex civil unions in the state.
Retailer Target is running banner ads on TheKnot.com geared toward gay and lesbian couples.
Same-Sex Couples Flock to Marry in California
Mark Novak, vice president of HotelCoupons.com, said the DOMA ruling had a ripple effect across the country, pointing to a doubling in size of San Francisco's Gay Days Celebration annual event.
"This growth is going to continue, especially in regards to honeymoon travel," Novak said. "LGBT-friendly destinations like Las Vegas, Key West and Napa and Sonoma are going to quickly see a huge increase in the number of honeymoon travelers visiting, while travel to destinations like Orlando and New York will certainly increase, but more slowly."
While business interest in same-sex weddings has been heightened by the Supreme Court's decision, The Advocate's Anderson-Minshall says the real boom in same-sex weddings will likely take place in a year, after couples get engaged and plan their weddings.
"What we have now is nothing like what we are going to have in a year," she said.
But Anderson-Minshall cautions that businesses should refrain from stereotyping same-sex couples and their weddings.
"Stop thinking of them as gay weddings and just think of them as weddings where both people are either male or female. A wedding is a wedding," she said.
"What we want is really what everyone else has had."