Peggy Klaus -- a take-no-prisoners, no-nonsense career and communications coach -- wants to help people like Boston College graduate Jon Cifuentes find a job in this tough market.
Klaus says getting a job is an art form, but one that can be taught.
"I bet he's feeling a lot of anxiety," Klaus said.
So are thousands of other recent grads. Generation Y is wondering why it's so hard to get that first job.
"There's sort of apathy among college students," said Cifuentes, who graduated this spring and was meeting with Klaus. "It's not an exciting time to be a college grad."
Cifuentes may not be optimistic, but he is one of the lucky ones. He managed to get an interview at a small Internet company called Experience.com -- a Web site that offers career services for college students. But Cifuentes was one of more than 200 applicants for the position and the interview was less than 24 hours away when he met with Klaus.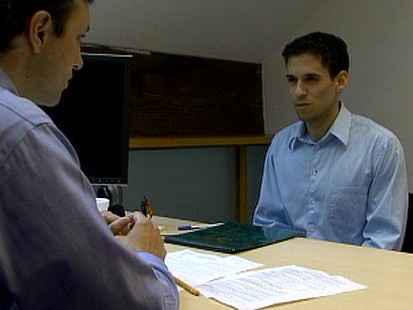 "This is really about getting your best self to come out," she said, not wasting any time, "both in tomorrow's interview and the interviews in the future."
Jon said he hasn't had a lot of luck with the people interviewing him.
"He just made me feel uncomfortable from the get go," he said of one interviewer. "He had to check the resume twice for my name."
"It's great you brought this up," Klaus said. "Edit your idea that interviewers are going to be engaging and smart and scintillating, and have done their homework about you. I wish could tell you different, but Jon, you've really got to get over that."
Which brings Klaus to her first lesson: Drive the Interview. That means telling the interviewer what you want the interviewer to know about you, and asking questions. Asking about the company is important, Klaus said, and "not nosy."
"It's a wonderful trait to have," she said.
"I think young kids, graduates can be a little self-absorbed," Klaus said.
When Klaus began talking to Cifuentes, she noticed a big problem right away. He was struggling with his answers.
"Do you have some core beliefs?" she asked.
"So core values?" he responded. "I don't see how … no, I mean, I'm not saying I don't have core beliefs, but …"
If he seems like he's winging it, he is. Jon said his normal preinterview ritual isn't to rehearse, it's to do nothing and just relax.
"Think of it this way. Would an athlete ever get out on the playing field before warming up?" Klaus said. "Yet you as an interviewee are thinking, well I can just walk into an office and be on."
Klaus makes Cifuentes follow lesson No. 2 -- Practice Answering Stock Interview Questions. She said questions like "What motivates you?" and "Why do you want this job" and "Why would we be crazy not to hire you?" come up in every interview.
Many people say they don't practice because they don't want to appear rehearsed, but Klaus said that's often just an excuse for not preparing.
Next, Klaus videotaped Cifuentes' introducing himself, and they didn't like what they saw. Many of his answers sounded like questions, because of his upward inflection.
Klaus said she hears this a lot in young people and women, "and what that does … is make them think he's not very confident."
So lesson No. 3 is Don't Turn Answers Into Questions.
But as Cifuentes improved his tone, another problem revealed itself. He peppered his answers with the word "like."
"The word 'like' can stop pretty quickly once they get into the work force," Klaus said. "Because it's not reinforced."
Klaus said lesson four is Lose the 'Like.'
Klaus also reminded Cifuentes to keep good eye contact, a key to creating a good first impression, which is formed in the first seven seconds.
"He did OK but his eye contact was all over the place," Klaus said. "He looked very unsure of himself."
When Cifuentes went in for his interview the next morning, Klaus would be speaking to him through an earpiece and the interview would be recorded.
"I'm feeling tired and kind of drained of my energy level, but very optimistic about tomorrow," he said.
The next morning he was nervous but said he was "ready to go."
This wasn't a totally natural job interview. The Web company, Experience.com, was fully aware of the cameras placed in its interview room, but everyone tried their hardest to be as real as possible.
Cifuentes met with Cliff Libby, vice president of university sales and services at Experience.com.
"Through everything I've done, from being a little kid and going out and mowing lawns and having my own little business when I was little, to finding my way into management roles, that self-starter ability kind of shines through," Cifuentes said.
Klaus said that was "great bragging!"
When asked about the tasks he has been responsible for and the results, Klaus reminded Cifuentes to "be specific."
And as the interview continued, Cifuentes seemed like a new person.
"He really looks comfortable," Klaus said. "I mean look at his face. He is smiling. He has facial expressions, right?"
Cifuentes was smiling, avoiding the "likes" and acing those stock questions he stumbled on the day before.
When asked what attracted him to the company, he said, "I think a lot of things attracted me to it. Experience has a really interesting message, they're trying to connect students to information. I think that to be a part of that would be really cool."
And as Klaus predicted, the next question was "Why should we hire you?"
"I bring a wealth of startup experience first of all in both the product development and the Web development," Cifuentes said.
Peggy reminded him to mention work ethic and initiative, and he added, "I learned how to work hard from a very young age."
Klaus also reminded him to ask questions about the company, and stress his willingness to do grunt work.
"You're working for the customer," Cifuentes said, when asked if he would be willing to answer phone calls and e-mails.
After the interview, Cifuentes thought he did pretty well.
"There are some points in there when I was listening to Peg in the ear screaming 'good job' and I was like 'shut up I'm trying to listen'! It was definitely a different experience doing an interview but it was a good one."
And Peggy couldn't be prouder. "It was like a wonderful before and after!" she said.
Libby was impressed with the performance.
"I like his experiences," Libby said. "He is comfortable in entrepreneurial settings. He is a good communicator."
Libby also said he was "very impressed" at how Cifuentes kept his composure with cameras present.
"Kudos to him. I give him high marks."
But will he give him a job? Cifuentes is still waiting to hear.
Klaus said that graduates need to lower their expectations. A college degree is not enough.
"It is not enough, and you are never done paying your dues," she said. "You always have to be learning and sharpening your skills. You may think to yourself, 'Well, I did a great job at the interview last week,' but you still should prepare for this one. As I said to Jon, it doesn't stop here sweetheart."