These days, there's no shame in admitting it: You might watch this year's Super Bowl broadcast not for the game but for the suprising, titilating and sometimes downright zany commercials that take over your TV in between the gridiron action.
Advertisers themselves gravitate toward the Super Bowl for a different reason: Super Bowl games consistently rank as among the most-watched network broadcasts ever; last year, more than 98.7 million viewers tuned into the game, according to the Nielsen Company. The numbers are irresistible to advertisers in an increasingly fragmented media landscape and that's why some shell out millions for spots often just 30 seconds in length.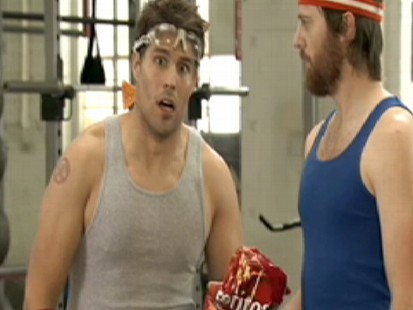 CBS, the network airing the game this year, announced earlier this week that it had sold out of all its Super Bowl ad airtime. The network declined to comment on reports that it sold ad spots for between $2.5 million and $2.8 million, but a source at CBS said that some 30-second spots were sold for more than $3 million.
Some familiar Super Bowl advertisers are off the roster this year: recession-battered General Motors won't be running any ads and neither will Pepsi-Cola.
Pepsi spokeswoman Nicole Bradley said the company chose not to advertise in the big game this year in favor of other marketing strategies, including the Pepsi Refresh Project, a new program awarding people grants for "ideas that wll move the world forward."
"The Super Bowl broadcast can be an amazing stage for advertisers if it aligns with their brand strategy," she said. "In 2010, each of our beverage brands has a strategy and marketing platform that will be less about a singular event, more about a movement."
Pepsi-Cola parent company PepsiCo will still have a Super Bowl presence this year, however, through commercials for its Doritos brand chips.
Fans Pick Doritos, Budweiser Ads
Both Doritos and Super Bowl advertising favorite Budweiser are participating in a Super Bowl advertising trend this year, ad experts say: Asking customers to weigh in on ads online before they've made their TV debut.
"The trend is actually to try to use social media to build communities," said Larry Woodard, an ABCNews.com advertising columnist and the CEO of the ad agency Vigilante. "They're just trying to capture people, capture data and have them have an experience with a brand."
The slumping economy has made advertisers more eager to try to engage consumers online, Woodard said.
"If you're in a recession and the commercial is expensive, then you have to try to get some mileage out of it," he said.
Doritos
Doritos will air three commericals during the Super Bowl this year and all three will be the work of Doritos customers themselves. For the fourth year in a row, the chip company has run a contest encouraging consumers to produce their own Doritos ads for the Super Bowl.
This year, out of 4,000 entries, Doritos picked six finalists then asked Americans to vote online for their favorite ad. The winning three entries will get air time during the game and, if those commercials earn top ratings by USA Today consumers panel, the commerials' creators could receive hundreds of thousands to millions in cash prizes.
Budweiser
There was an uproar by Budweiser fans last month when it appeared the brewer would not include its beloved Clydesdale mascots in this year's Super Bowl ads.
But hooves were back on the beer company's agenda as of earlier this month, when Budweiser unveiled a Facebook page showing three possible Super Bowl spots, including one featuring the Clydesdales, and asking Facebook users to vote on which one would make it to the big game.
Whether the Clydesdales won out is still uncertain, but at the right, check out clips from two other Budweiser ads, including one starring cycling champ Lance Armstrong, that are in the Super Bowl lineup.
Fictional Characters Star in HomeAway.com, Coke Ads
Budweiser may have Lance Armstrong, but sometimes a famous fictional spokesman can be just as good as a real one. Both HomeAway.com and Coke this year chose to feature beloved fictional characters in their ads.
HomeAway.com
How does a little-known Web site make a big impact? Recruiting actors who played the lead roles in one of the most memorable comic movies of the 1980s may be a good start. In a commercial for vacation rental Web site HomeAway.com, Chevy Chase and Beverly D'Angelo reprise their roles as the Griswolds, a couple led their family on a disasterous roadtrip in the film "National Lampoon's Vacation."
Coke
This Coke ad makes a nod to today's tough economic times with some help from Fox's "The Simpsons." In the commercial, the character of Mr. Burns, the show's greedy billionaire, loses his fortune.
GoDaddy.com, kgb Still Advertise Despite Initial Bans
Domain name registrar GoDaddy.com and text-message information service kgb both have had ads rejected by CBS. The GoDaddy ad featured an effeminate football player-turned-lingerie designer, while the kgb ad did a literal take on the phrase "head up the ass." But both companies also submitted ads the were accepted by CBS.
GoDaddy.com
In "Movies," Indycar racer and GoDaddy spokeswoman Danica Patrick spoofs classic '80s films "Weird Science" and "Flashdance" while showing a bit of skin.
kgb
It's Baldwin vs. Baldwin in this kgb commercial. In the ad, Stephen and William Baldwin race to figure out how to save themselves with just one parachute on hand. Stephen Baldwin turns to Web browsing to search for information, while William Baldwin texts kgb. You can guess who wins.
E-Trade's New Baby, Bridgestone's Whale
Who needs famous faces when you've got adorable infants and exotic creatures? Below, E-Trade returns to the airwaves with its famous talking-baby theme while Bridgestone recruits a sea creature in distress to advertise its tires.
E-Trade
Here's the thing about babies: they tend to grow up. That's why fans of E-Trade ads will notice something different this year: the baby fronting the online investing company is not the same one made famous in E-Trade ads from years before.
"We've had tremendous success with the campaign to date, but babies grow up and we needed to cast new talent because we were needing new footage to work with," a company spokeswoman said.
Fans of the original E-trade baby, take heart: the new one is pretty cute too, as evidenced in these commercial outtakes released by the company.
Bridgestone
Animal ads are all the rage this year, according to Barbara Lippert, an ad critic for Adweek. Expect to see chickens, dolphins, a beaver and a groundhog all starring in this year's commercials, she said.
Tire maker Bridgestone, meanwhile, has chosen a whale of an ad, literally: a killer whale features prominently in its commercial.
But what exactly does a killer whale have to do with selling tires? This Super Bowl preview clip from Bridgestone provides some hint, but you'll probably have to wait until the game for the full answer.
Word Play With Dr. Pepper, Volkswagen
Both Dr. Pepper and Volkswagen have a little fun with language in their Super Bowl ads. The soft drink company puns it up with the band Kiss while the German automaker presents a variation of the classic "punch buggy" game with "PunchDub."
Dr. Pepper
What does a little kiss look like? If you ask the people at Dr. Pepper, it's a band of miniature doppelgangers of members of the hair band Kiss. In this ad, Gene Simmons and company join their little friends to rock out on stage.
Volkswagen
For years, spotting a Volkswagen Beetle was cause for players of the game "punch buggy" to slug each other in the arm. In this new ad, the German automaker suggest a new version of the game: "PunchDub," which expands the roster of punch-worthy vehicles to all Volkswagen models.
Volkswagen is one of several foreign automakers with Super Bowl ads running this year, filling some of the gaps left by recession-crunched American auto companies like General Motors.