How That 'Jeopardy!' Super Computer Could Make IBM Billions
First Watson won 'Jeopardy!' and now it's coming to your iPhone app.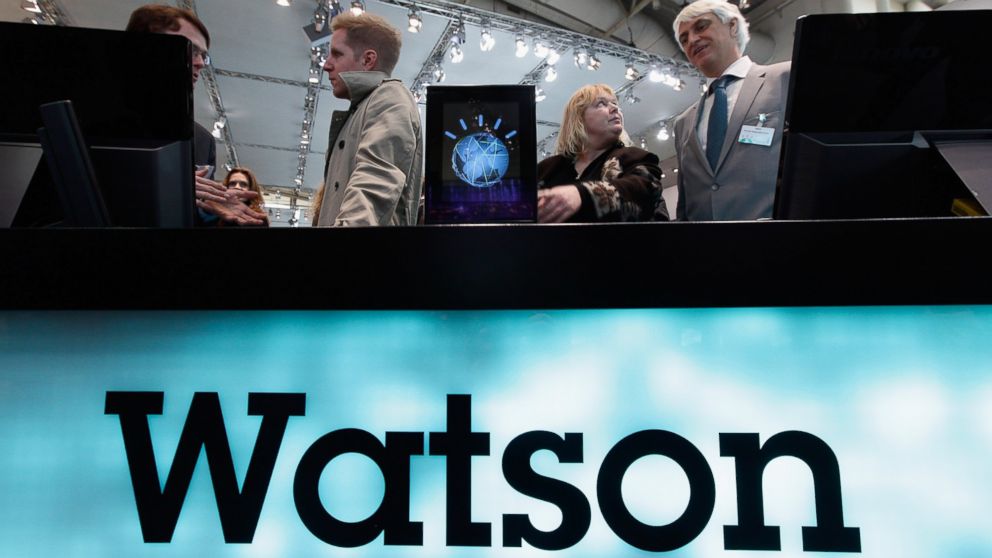 Jan. 9, 2014— -- intro: Three years after IBM's Watson computing system beat Jeopardy! champions Ken Jennings and Brad Rutter on national television, IBM announced it's backing a new business unit with $1 billion to commercialize Watson's cognitive developments. Some of the existing and potential applications of Watson might freak you out.
One of the basic consumer-oriented applications of Watson is that it will make the number of inquiries a consumer has to make to get the answer or product they are looking for "dramatically smaller," said Robert High, IBM Fellow, vice president and chief technology officer.
That's because Watson gets smarter and is learning to reason, otherwise known as cognitive computing. Guruduth Banavar, IBM's vice president of cognitive computing, said a third of the IBM Research group is focused on cognitive computing.
"It is not a super search engine," IBM CEO Virginia Marie "Ginni" Rometty said of Watson while announcing IBM's new unit in New York. Rometty has said she hopes Watson will create $10 billion in annual revenue within 10 years.
The Watson Group is focused on research and development for cloud-delivered applications and commercial services. Soon iPhone developers will be able to use Watson in the next apps they develop.
Here are just some of the ways that Watson could make money for IBM and revolutionize the way we live:
quicklist:title: Shoppingcategory: Fluid Inc. media: 21479309text: Kent Deverell, co-founder and CEO of Fluid Inc., which is using Watson's development platform in cloud computing, says his company, with the help of Watson, can help retailers react with consumers "in a way they have never before."
Deverell said a large majority of shoppers don't become buyers because they lack confidence in their selection without the advice of a great sales associate.
Companies like The North Face will use Fluid's service, FluidXPS, that is powered by Watson. An online shopper will be able to ask a question on the North Face website, such as, "What do I need for a 14-day hiking trip?" And through a dialogue, like with an expert personal shopper, Deverell says its system will ask clarifying questions and educate a shopper effectively to find the necessary items.
A few years from now, Deverell says "we'll all be shopping this way."
quicklist:title: Cookingcategory: Recipes media:text: While Watson is learning about the world as it is, its next step is creativity. Florian Pinel, a senior software engineer with IBM, is working on an application that tries to create novel and tasty recipes built around a knowledge base of food.
Watson already knows the molecular makeup of foods and its nutrition. Pinel is creating an application that allows a user to choose a type of cuisine, such as Thai or vegetarian, and other characteristics, such as manner of cooking (like sautéed), and then an algorithm can walk you through possible ingredients, proportions and more.
Watson, for example, can create trillions of combinations of ingredients based on your preferences, like novelty, aroma and pairing abilities. Watson, for example, knows that bay leaf is a common ingredient in Thai cuisine, Pinel explained.
quicklist:title: Medical category: MD Buyline Inc. media:text: Watson's first prominent application was in the field of health, with its first commercial use case with WellPoint in Aug. 2011. Watson helps reduce the time for treatment authorization and provides relevant information to allow doctors to begin treatment sooner. In March 2012, Watson began partnering with Memorial Sloan Kettering Cancer Center in New York to provide oncologists with the growing amount of health data and research around the world.
MD Buyline Inc., which has provided hospitals with evidence-based information for purchase decisions for the last 30 years, is now developing what it calls the Hippocrates Procurement Advisor powered by IBM Watson, to give medical equipment buyers access to cross-referenced recommendations, device research and "semi-automated" medical device reports.
quicklist:title: Travelcategory: Kayak.com media:text: Terry Jones, chairman of Kayak.com and founder and former CEO of Travelocity.com, said that travel purchase websites have created transparency in pricing and given greater power to consumers, but many sites lack advice that can help create a memorable travel experience.
"I want an experience when I go on vacation," Jones said, admitting that he will use live travel agents for leisure travel.
In asking questions, such as, "Where should I go for a romantic vacation that includes the beach with my wife in January?" a traveler can have a dialogue with Watson in which it clarifies that he wants to also spend time on land, so Punta Cana in the Dominican Republic, may be a better option than Bali, Indonesia, with a 97 percent level of confidence.
quicklist:title: Bankingcategory: DBS Bank media:text: On Thursday, IBM announced an agreement with DBS Bank in Singapore, in which one of the biggest banks in Asia will use IBM Watson for its "next-generation" client experience.
Targeted for a roll-out in the second half of this year, the IBM cloud-based Watson Engagement Advisor will improve the guidance DBS Bank provides to its clients.
In Photos: Lamborghini Veneno Roadster Debuts at CES in Las Vegas
quicklist:title: Finance category: Tradingmedia:text: IBM also says Watson can assist traders with "up-to-the -minute" financial, economic, product and client data for more personalized recommendations.
quicklist:title: Home buying category: Customer servicemedia:text: Besides retail and digital life applications of Watson, High said a third consumer application for Watson is customer service.
For a home buyer, Watson can help understand a location, provide information about mortgage rates, or "the kinds of questions you have that go well beyond the product," High said.
Watson could help you with questions like, "Do I have enough income?" and other ways a business could help personalize their "engagement scenario" with a customer, High said.
quicklist:title: Healthcategory: Welltok: CafeWell Conciergemedia:text: Welltok Inc., based in Denver, is another business that has created a product line with an add-on plug-in powered by Watson. Its CafeWell Concierge service is an app that is like a health concierge in your back pocket. A new mom can register through her health provider under an anonymous user name and get awarded for healthy behavior, such as lower healthcare premiums, and receive tips about exercise and nutrition.
A business executive could land in Austin airport and find restaurant and menu options that fit her diabetic restrictions.
Though Welltok is available to certain health plan participants under providers like Aetna, she can invite her friends who are not under the health plan to participate with her.
quicklist:title: Joblessnesscategory: And Moremedia: 21466502text: Jeanne Sullivan, general partner with StarVest Partners, said the commercial and social applications of Watson have the potential to make "great, profound" changes.
She said one application could help the unemployed find the right opportunities, helping solve joblessness.
"So many people don't have an idea of the array of opportunities," she said.
She added, "Why don't we go further and fix world hunger?"