Nuclear Waste: Yucca Mountain Gets Reprieve As Storage Site
Nuclear waste may yet be stored in Nevada's Yucca Mountain.
August 15, 2013, 10:52 AM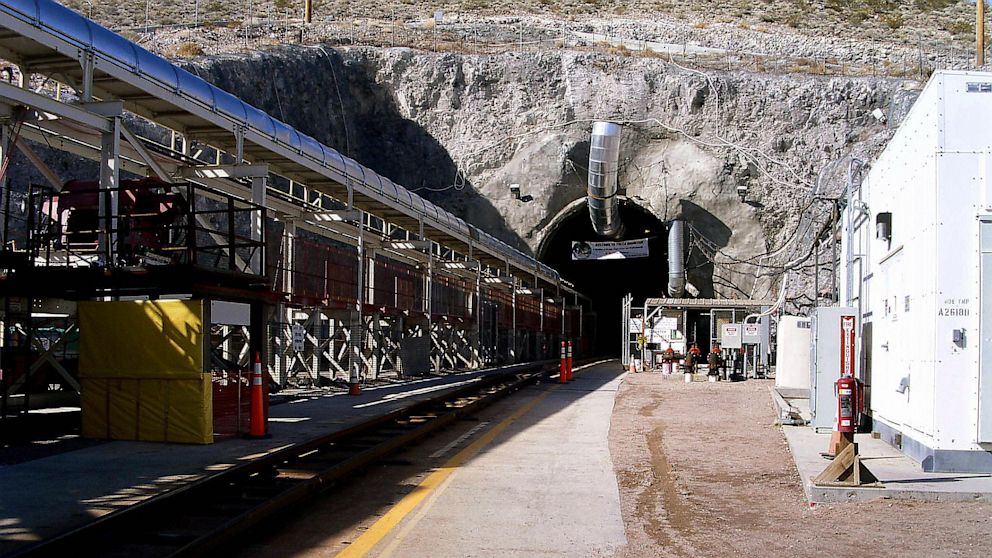 Aug. 15, 2013 -- An appeals court decision has re-opened the possibility that the nation's alarmingly large and growing piles of nuclear waste might someday be stored inside Nevada's Yucca Mountain, a decades-old political and regulatory football.
Though U.S. taxpayers, according to the General Accounting Office (GAO), have already spent $15.4 billion on this repository, it has sat idle, empty and unfinished ever since the Obama administration in 2010 stopped funding for it. Its re-activation is opposed by Senate Majority Leader Harry Reid and virtually every other major politician in Nevada.
PHOTO STORY: YUCCA'S NUCLEAR NEIGHBORS
Yucca Mountain's supporters include Rep. Fred Upton, Republican of Michigan and chairman of the House Energy and Commerce Committee. Upton, in a statement, called the court's decision a significant milestone for the project and "a clear rebuke" to the Nuclear Regulatory Commission (NRC) for having failed to carry out the Nuclear Waste Policy Act of 1982.
That act instructs the Department of Energy to investigate creation of a geologic repository for nuclear waste. By the GAO's estimate, the U.S. now has more than 75,000 metric tons of such waste, housed at 80 different sites in 35 states. The amount, predicts GAO, will more than double by 2055.
The appeals court ruled earlier this week that NRC, by stopping work on Yucca Mountain, had flouted the law.
APPEALS COURT: OBAMA VIOLATING LAW ON NUKE SITE
A senior aide on the Senate Energy Committee, speaking on background, told ABC News he dismissed the possibility that the court's decision would change Yucca Mountain's fortunes. "It's a good talking point for people who want to see the thing restarted," he said, "but I don't expect to see it have any long-term effect."
One reason why, he says, is that although the decision compels the NRC to resume its examination of the Yucca Mountain's suitability for waste storage, the amount of money it has for that purpose, $11 million, may not be enough. And in addition, he says, the court's decision doesn't cure the larger problem: "Nevada doesn't want this thing."
At the end of July, the Senate Energy Committee, chaired by Oregon Sen. Ron Wyden, held hearings on bipartisan legislation—the Nuclear Waste Administration Act--that would address the problem of nuclear waste storage, both short-term and long-term. It is backed by Wyden and by Ranking Member Lisa Murkowski of Alaska, both Republicans. It also has the support of Sen. Dianne Feinstein, Democrat of California, and Republican Lamar Alexander of Tennessee, among others.
The act implements a number of recommendations made by a presidential blue ribbon commission appointed to study the storage problem. Those include soliciting states and Indian reservations to volunteer sites that would be alternatives to (or additions to) Yucca Mountain. Other sites will be needed, says the committee staffer, because the current volume of U.S. nuclear waste exceeds what Yucca Mountain could accommodate, even if it were completed.
"Simply continuing to pass the burden of safely disposing of nuclear waste to future generations," said Wyden in a statement, "is not an option. Our goal with this legislation is to get the permanent repository program back on track."
The issue, warns Murkowski in the same statement, is also one of financial liability: Under the 1982 act, the federal government entered into a legally binding contract with the operators of nuclear power plants. The government promised to take and store their nuclear waste, starting in 1998. The plants, in exchange, began paying storage fees, which now run about $765 million a year.
But while the power industry lived up to its end of the deal, the government, by failing to open a repository, did not live up to its.