— -- One of the most highly anticipated films of the year is set to make a big splash on Thanksgiving. It's Disney's new animated feature film, "Moana."
Here are 14 things you should know about "Moana."
1. Auli'i Cravalho will be the voice of Moana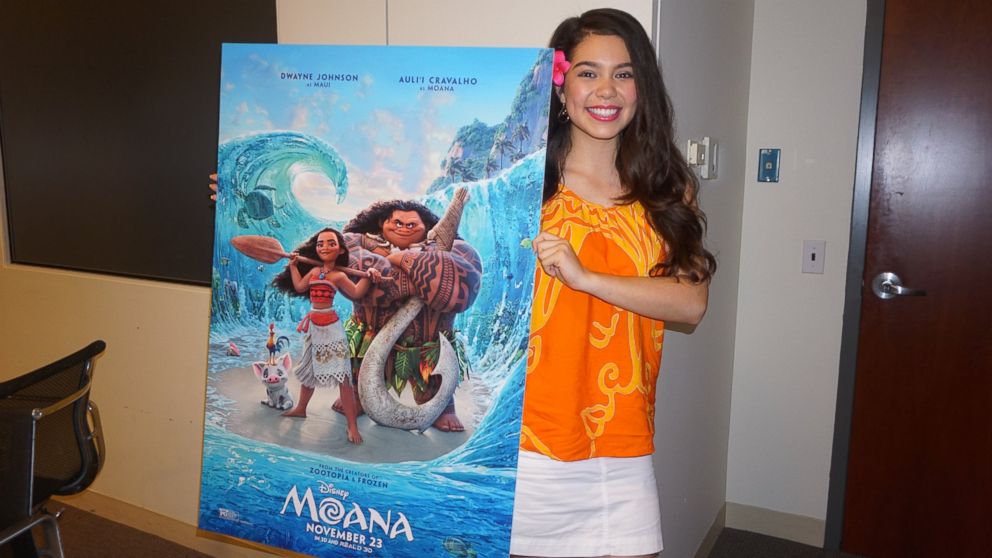 Hawaiian native Auli'i Cravalho, 15, has landed the coveted role as the voice of Moana. She's a newcomer, but get to know the name, because she'll now have a place in history as the voice of a Disney title character. When she stopped in New York to talk about her role, she offered this clever breakdown about how to pronounce her name.
"It's o, like you stub your toe, lee, like Bruce Lee, and add another e," she told ABC News.
2. Both Moana and Cravalho will be 16 when the film is released
Cravalho recorded the voice of Moana when she was 14 years old. But as timing would have it, Cravalho will be celebrating her sweet 16 this month.
http://giphy.com/gifs/birthday-cake-happy-ZWRq3t3NDdEtO
"I'm turning 16 the day before the film [is released], and Moana's 16," said Cravalho. "Best sweet 16 ever! I think I'm spending it on a plane. But I think I'm going back in time so, you know, like, the time zones change, so I'm going to have a really long 16th birthday. I'm going to sneak a cupcake on the plane."
3. Moana is not a princess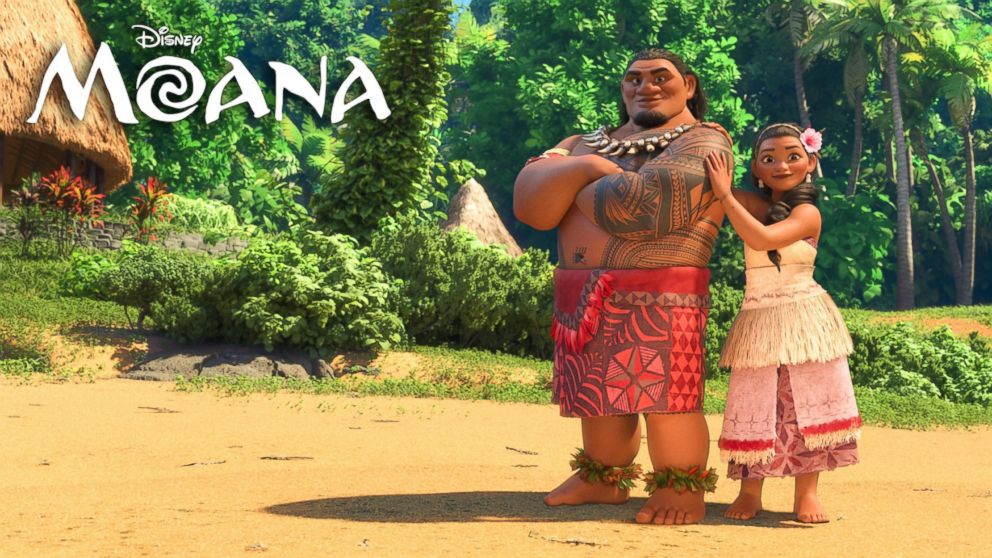 Moana is not a princess, but her father, Chief Tui, does rule the land.
"She's the daughter of a chief, and she's a heroine," Cravalho said. "I think this day and age we need more heroines, more heroes and heroines."
Still, heroine and all, she may sort of fall under the princess umbrella. The character Maui says in the film, "If you wear a dress and have an animal sidekick, you're a princess."
Cravalho may be considered one of the luckiest teens on the planet. Not only did she snag a leading role in the newest Disney film, but she's starring opposite Dwayne "the Rock" Johnson, who voices Maui the demigod.
http://giphy.com/gifs/14ynvxqdwZ4WOc
5. This is Cravalho's first professional acting stint, and it almost didn't happen
"I wasn't initially going to audition. I was a freshman in high school, which was confusing as it was. I was just trying to get through freshman year," Cravalho said. "But as it turns out, my friends and I actually put together an a capella audition. We were trying to become the entertainment for a nonprofit event. We didn't get in. But the woman who was going through those auditions was also the casting director for Disney. She contacted my mom and I and asked if I wanted to try out. I was the last girl that she cast on the last day of casting, so it was just kind of meant to be."
Watch a clip of Moana in action:
6. Moana has special powers
Elsa from "Frozen" has the power to manipulate ice and snow. Rapunzel has the power to heal with her hair. Moana has a special power too.
http://giphy.com/gifs/disneymoana-disney-animation-moana-l2Sqj5f7IYVj4sSEU
"Moana is a heroine. And she's the heroine of her own story. Which I think is a pretty awesome power," Cravalho said. "But she's also best friends with the ocean. The ocean is actually a character in our film. So her being best friends with the ocean is a big thing. When Maui kind of gets out of hand, the two work together to become a pretty awesome force."
7. Maui has special powers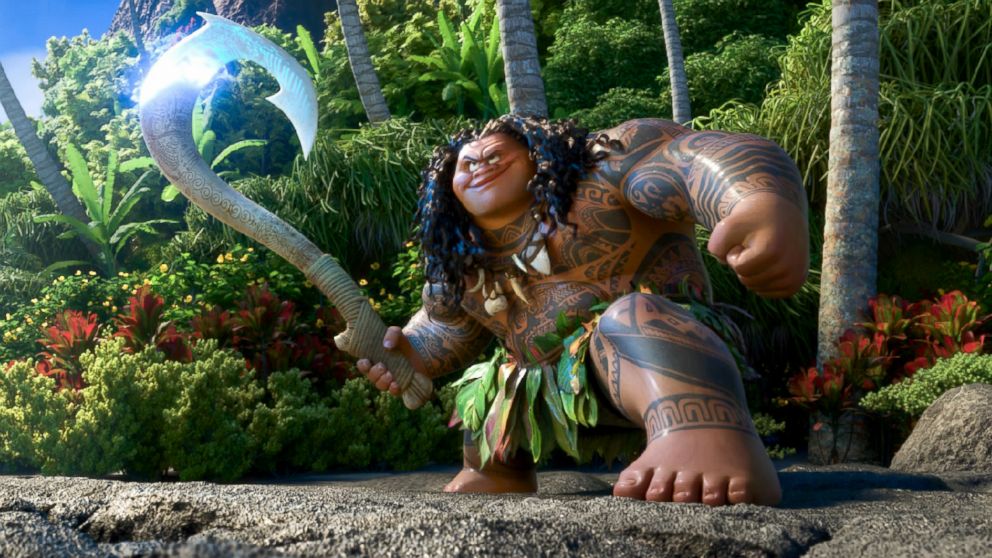 Maui the demigod is a shape shifter. His special powers come with the help of a magical fishhook.
8. Cravalho and Johnson sing in the movie
Cravalho and Johnson show off impressive singing skills in the movie, though she says she has had no special training.
"I credit my singing voice actually to my mom. She didn't give me a binky when I was growing up, so I screamed, and I developed wonderful lungs. You'll be hearing a lot of my singing voice in the film. You'll also be hearing Dwayne sing. He's really good."
Watch a clip of Maui (Johnson) singing:
9. Cravalho didn't meet Johnson until after production of the film was completed
For many animated films it isn't necessary for the voice actors to be in the recording studio at the same time. Cravalho recently met Johnson for the first time, long after they recorded their tracks.
"I met him two months ago at a content shoot. I thought I'd be recording with him in the booth, like, 'What's up, Maui? Heeey.' But no," joked Cravalho. "I cut him some slack, since he's the busiest man in Hollywood. But he's wonderful. We met at the content shoot, and he's really kind, not that I was expecting him to be mean. But he's had so much success, yet he still has that down-to-earth, that aloha spirit that I think I can see in him."
10. Moana has sidekicks, not pets
Sidekicks are still a thing. Those loyal mice were always nearby for Cinderella, and Sebastian was on hand for Ariel. Moana has two sidekicks in this film.
http://giphy.com/gifs/disneymoana-disney-animation-moana-l2Sq8wyY1Zfndp6Lu
Cravalho said of Pua the pig, "He's wonderful. He's kind of Moana's sidekick on the island, where if she wants to go out sailing, he'll be there with a paddle. He's her No. 1 companion. And then we have Hei Hei, played by Alan Tudyk, actually played by a human being. He's a dumb chicken, which provides a lot of comic relief and not entirely helpful but an interesting companion nonetheless."
Watch Tudyk in the recording studio:
11. Despite the strong resemblance, Moana was created before Cravalho was selected for the part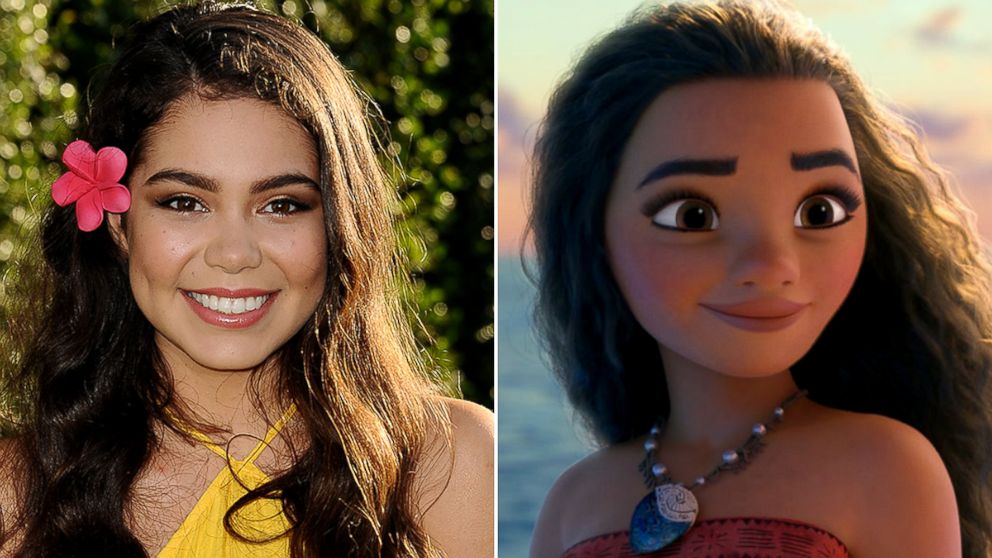 "She was actually fully created before I even stepped into the film. So there are mannerisms that have been added to the character. For instance, when she's nervous she touches her hair. And I think she might have a dimple," said Cravalho. "And her laugh and her smile, they can maybe credit to me. Otherwise, her face and most of her personality was just a part of her before I even stepped in."
12. Cravalho and Canadian singer Alessia Cara recorded versions of Moana's song "How Far I'll Go"
In the movie Cravalho belts out a version of the Lin-Manuel Miranda song "How Far I'll Go." But the version that you'll likely hear on the radio was recorded by Canadian singer Alessia Cara. Traditionally with Disney soundtracks, a professional singer also records a cover of one of the songs from the film.
Watch Cara's version of the song:
13. Opetaia Foai of Te Vaka provided traditional Polynesian music for the film
"This film was five years in the making because the directors and the animators and writers actually traveled to different places in Polynesia to be more inspired by true Polynesia," Cravalho said. "So you'll definitely see some of the flora and fauna and the music from Opetaia Foai from Te Vaka, who's going to really put in that feeling. Music just takes me on a journey."
Watch a clip of Opetaia Foai:
14. Moana will not have a romantic interest, perhaps taking a cue from Elena of Avalor
It seems Disney may be steering away from the "meet a prince, fall in love, live happily ever after" themes. Moana will not have a love interest in the film. Similarly, earlier this year, Disney's first Latina princess, Elena of Avalor, made her debut. She also does not have a love interest.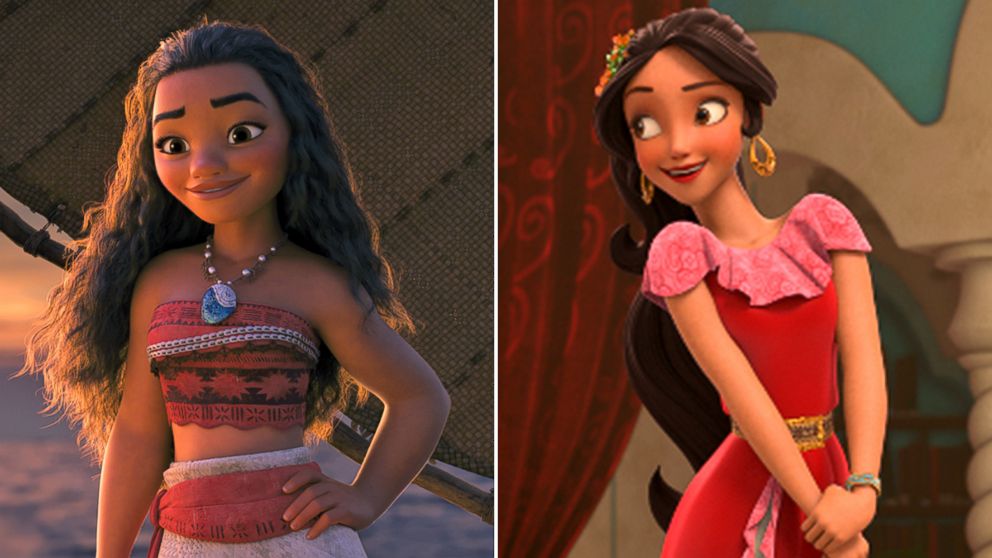 Moana will be in theaters on Nov. 23.
Disney is the parent company of ABC.