At Reckless Records in Chicago, the King of Pop is certainly selling like one. Whether it's CDs, DVDs or vinyl, anything with Michael Jackson's name on it has been flying off shelves for more than a week.
"Pretty much the minute everyone found out [he died], everyone was rushing here," said store employee Angela Ziles. "And within the next couple hours, we were pretty much sold out."
Call it "The Day The Music Didn't Die."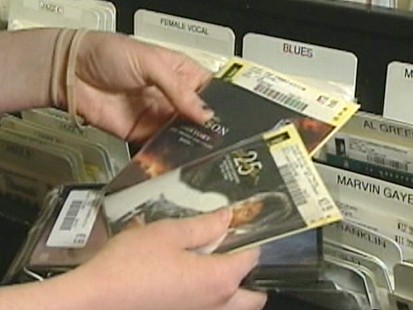 In this age of declining album sales,
Jackson CDs have exploded in popularity
. Sales of his solo albums are up a staggering 4,000-percent, from 10,000 copies sold the week before his death to 422,000 sold for the week ended June 28, according to Nielsen SoundScan.
Amazon's Top 10 music sellers are all Jackson albums. And this artist born from Motown and music videos is now a digital sensation, becoming the first performer to sell over a million Internet tracks in a week. He sold 2.6 million, in fact.
"I think there's such an emotional connection to Michael Jackson," said veteran music journalist Alan Light. "There's a span of people who really feel Michael Jackson's a part of their own personal history."
Sony, Jackson's record label, has been scrambling to meet demand. Its New Jersey plant has been churning out CDs around the clock, and employees told us they were even asked to work on the July Fourth holiday.
"Right now it's pretty crazy," said worker Josh Hickey. "It's back up to overtime. They are calling everybody in."
For an artist whose work was often overshadowed by his dubious personal life, this surge in popularity is perhaps the ultimate vindication.
"I think there's such a feeling of relief that people can think about and focus on his music again after all of these years of being so distracted by the freak show around him," said Light.
And retailers expect the trend to continue for weeks or even months as details about the singer's death slowly come to light.