The minute you walk in the front door of the Gold Class Cinemas in South Barrington, Ill., you notice that something is different about this theater. First off, you find a concierge instead of a ticket booth. Then, another surprise: tickets cost $35! It's cinema sticker shock.
Gold Class Cinemas boasts eight screens, but it looks more like a boutique hotel than a multiplex. And good luck finding the concession stand. The theater doesn't have candy, but it does have a bar, with treats that make your regular theater seem downright cheap.
"We have some beautiful Bollinger champagne," said Kirk Senior, the CEO of Village Roadshow Gold Class Cinemas.
Or you can check out the rest of the extensive wine list.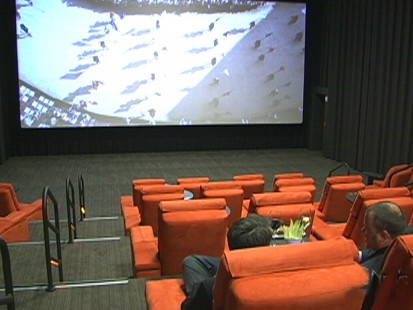 In case you haven't already figured it out, Gold Class Cinemas is not exactly following
the current economic trend.
At a time when those $10 or $12 tickets at the mall movie theater seem unaffordable, this place has decided to charge more than three times as much. Recession be damned.
"When people experience Gold Class, they realize what they paid for," Senior said.
Senior's company, an Australian media conglomerate, opened the theater near Chicago in October. They have another near Seattle and hope to open 50 more in upscale communities across the U.S. over the next five years. According to the company's Web site, Village Roadshow operates approximately 660 cinemas in four countries.
Senior is betting that -- despite the bad economy -- movie buffs will be willing to pay for the experience.
"We have a full-size commercial kitchen," he said, which means they can offer a menu more befitting a bistro than a movie theater, including calamari, crispy lobster rolls and even crème brulee.
Luxury Theater Perks: No 'Obnoxious People'
Instead of a high school kid scooping popcorn, there's a full-time chef. So how much is this movie night going to cost you?
Two tickets will run you $70, plus $20 for two glasses of wine, $17 for crab cakes, another $17 for some Wagyu beef sliders and $14 for ravioli. That crème brulee for dessert will run you another $9.
The grand total is $147, and that's without the tip. Compare that to what you pay at a normal concession stand.
All of your food is delivered right to you on your custom-made, $3,500 ultra-suede seat. And if you need a refill, just push the call button. If you get a little cold, they'll even bring you a blanket.
"We haven't had anyone fall asleep," noted Senior, "because we show fantastic movies."
It seems there are plenty of people willing to spend the money. Chris Galvin spent "about $200" on "five drinks, four appetizers and two movie tickets."
Galvin and her group of friends say the high price is worth it, because it actually weeds out annoying customers.
"I'm not a big movie-goer, because I don't like kids crying, and cell phones going off and obnoxious people," she said.
That's just one reason Senior thinks this place will work. But the biggest reason, he says, is that right now, more than ever, people need a place to get away.
"Back during the Depression, movies were a big form of escape," he said.
Asked if he thinks the movie business is recession-proof, Senior said, "I think it certainly is, and people come in those front doors, and they say forget about the rest of the world. Forget about whatever worries I might have. I'm escaping, and I'm just going to enjoy myself for the next few hours."
You could say it's a sort of $35 therapy session -- coming soon to a theater near you.