If Eminem wants to extend his acting career beyond "8 Mile," his performance at the MTV Movie Awards ought to serve as ammo.
Today, the head writer for the show confirmed that the rapper knew a bare bottom Sacha Baron Cohen was going to descend into his lap at Sunday's ceremonies, putting an end to a slew of speculation about whether Eminem's show of anger and sudden exit were planned.
Comedy writer Scott Aukerman claimed in a post on his blog that the incident was staged and rehearsed in advance. However, according to The Associated Press, Aukerman's post has since been removed.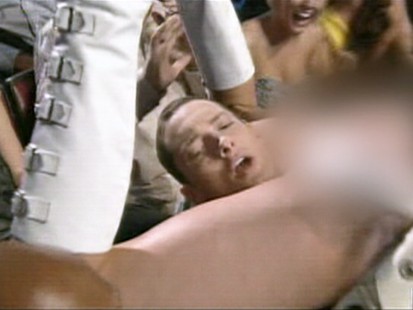 Baron Cohen's
pants-less descent from the rafters of the Gibson Amphitheatre into the outstretched, seemingly outraged arms of
Eminem
was the most memorable moment of this year's ceremony. Dressed as Bruno, his gay Austrian fashion reporter alter ego, Baron Cohen flew into the arena on a wire wearing a pair of white wings and a blond wig.
Giving Eminem a front-row view of his hindquarters, Baron Cohen cracked, "Is the real Slim Shady about to stand up?," while the rapper shouted, "Are you serious? Are you f****** serious?" as he and his entourage attempted to bat Baron Cohen away.
Before "Bruno's" bottom could bob in front of his face again, Eminem and his crew made a run for the exits and didn't return to the show.
Representatives for Baron Cohen declined to comment on the incident. Representatives for Eminem did not return phone calls or e-mails.