Forty years after a generation-defining celebration of music, peace and free love called Woodstock took root in a muddy New York farm, archivists are reimagining, repackaging and rehyping the experience in spiffy 21st-century fashion.
Nearly a dozen multimedia projects — including an expanded version of the Oscar-winning Woodstock documentary, a new Ang Lee film and a six-CD box set — will roll out this summer, all commemorating 1969's Woodstock Music & Art Fair.
More than 400,000 free spirits flocked to Max Yasgur's dairy farm near Bethel from Aug. 15 to 18 to commune with 33 musical acts, including Jimi Hendrix, Janis Joplin, the Grateful Dead, Jefferson Airplane, Joan Baez, Santana, The Who and a nascent Crosby, Stills, Nash & Young. Even if you weren't at the festival or any of several anniversary gatherings, it hardly seems to matter now, given the plethora of material headed to the marketplace.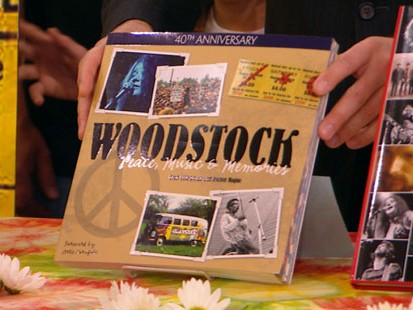 "Over the years, it has become legend and bigger than life and a little overexposed in some ways," says festival producer Michael Lang, whose The Road to Woodstock memoir (Ecco, $29.99, out Tuesday) is one of several new books that will join the four-dozen already in print. "But the thing that is consistent over the years is that people say it changed their lives in a significant way."
Those transformative forces will be explored most notably in Warner Home Video's ultimate collector's version of director Michael Wadleigh's documentary Woodstock: 3 Days of Peace & Music (Blu-ray, $69.99; DVD, $59.98; two-disc special edition, $24.98). The four-hour director's cut has been remastered and expanded with two hours of 18 unreleased performances by 13 acts, including Creedence Clearwater Revival, Joe Cocker, Johnny Winter and Santana, and an extra hour of interviews with chroniclers such as Martin Scorsese and Hugh Hefner.
Wadleigh says the added performances don't get the multi-camera, split-screen treatment that made the original film so distinctive, "but they don't suffer for it — they're more peaceful. All of them are of high-quality and revelatory."
Other Key Projects
•Lee's Taking Woodstock, a comedy starring Liev Schreiber, Demetri Martin and Eugene Levy, hits theaters Aug. 14. It's based on the autobiography of Elliot Tiber, who offered his festival permit to the organizers.
•Woodstock 40 Years On: Back to Yasgur's Farm, a 77-track, six-CD box set ($79.98) that touts itself as the most comprehensive collection of performances, will be released Aug. 18 by Rhino. The label also has just released remastered CD versions of the original triple-album Music From the Original Soundtrack and More: Woodstock and its 1971 double-album sequel, Woodstock Two.
•Sony's Legacy Recordings is releasing five two-CD Woodstock Experience packages from festival performers ($19.98 each, Tuesday). One disc is a remastered version of a classic studio album; its mate features the artist's complete festival performance. Among titles: Jefferson Airplane's Volunteers, Joplin's I Got Dem Ol' Kozmic Blues Again Mama! and Sly & the Family Stone's Stand!
•Cable channels VH1 and History have collaborated on a two-hour rockumentary, Woodstock: Now & Then, to premiere Aug. 14 on VH1 and VH1 Classic (9 ET) and Aug. 17 on History (8 ET).
•Lang also has joined with Genesis Publications to produce a $533 limited-edition (1,000 copies) book, The Woodstock Experience, featuring unpublished lyrics, materials from his archives and an unused festival ticket. Other books include disc jockey Pete Fornatale's Back to the Garden: The Story of Woodstock (Touchstone, $24.99, July 7), a collection of first-person accounts; Woodstock: Three Days That Rocked the World (Sterling, $35, July 7), a day-by-day, act-by-act guidebook; and Woodstock Vision: The Spirit of a Generation (Backbeat Books, $35), photos from festival photographer Elliott Landy.
•Two anniversary concerts will be staged in August at the original site, now home to the Bethel Woods Center for the Arts and The Museum at Bethel Woods. On Aug. 14, Richie Havens, the original festival's opening act, will perform; the next day, a Heroes of Woodstock concert will feature eight acts, including the Levon Helm Band, Jefferson Starship, Ten Years After and Canned Heat (tickets, 800-745-3000 or bethelwoodscenter.org). The museum also commemorates the event with special exhibits and a lecture series.
•Sony and Woodstock Ventures have just relaunched Woodstock .com to make it a social networking site that will include WikiStock, an interactive encyclopedia.
Despite the flood of products and celebrations, Lang says the festival's most enduring legacy are the ideals it celebrated. "We are at a moment now when a lot of those seeds planted in the Woodstock era are beginning to flower," he says. "From the green movement to sustainable development and organic gardening, all these things seem to be coming back to us now after wandering in the wilderness these many years."