Almost six months after the fact, Chris Brown has publicly apologized for allegedly beating and bruising his pop star girlfriend Rihanna.
In a video posted on his YouTube page today, the 20-year-old R&B singer apologizes to his fans, claims to have apologized to 21-year-old Rihanna "countless times," reiterates that he's seeking help and explains why he didn't open up sooner.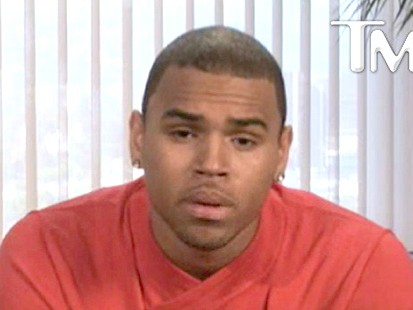 "Since February my attorney has advised me not to speak out, even though since the incident I wanted to publicly express my deepest regret and accept full responsibility," Brown begins.
"Although I would do some interviews and answer some questions in the future, I felt it was time you heard directly from me that I am sorry. I have tried to live my life in a way that would make those around me proud of me, and until recently, I think I was doing a pretty good job. I wish I had the chance to live those few moments again, but unfortunately I can't."
"I cannot go into what happened, and most importantly, I'm not going to sit here and make any excuses. I take great pride in me being able to exercise self-control and what I did was inexcusable. I am very sad and very ashamed of what I've done."
"My mother and my spiritual teachers have taught me way better than that. I have told Rihanna countless times, and I'm telling you today that I am truly, truly sorry, and I wasn't able to handle the situation both differently and better."
Brown, clad in a red jacket and speaking directly to the camera, goes on to add that he's seeking help to ensure "that what occurred in February can never happen again." He concludes the two-minute long video with the assertion, "I intend to live my life so that I am truly worthy of the term 'role model.'"
Rihanna's publicist said the singer has no comment on Brown's video. Her lawyer did not immediately respond to ABCNews.com's requests for comment. The two stars have not been spotted together in months, and both have been romantically linked to other celebrities.
Brown's Apology Prelude to New Single?
In June, Brown pleaded guilty to felony assault by means likely to cause great bodily injury. He was sentenced to five years probation, 180 days of community labor, and ordered to complete a year of domestic violence classes.
Brown lost a host of endorsements and angered many in the music industry when he was accused of beating, biting and choking Rihanna Feb. 8 in the predawn hours before the 2009 Grammy Awards. Though he issued a statement through his representatives later that month saying he was seeking help, today's video marks the first time Brown has publicly uttered the words "I'm sorry" regarding the incident.
But he hasn't kept completely quiet about it. Brown seemed to mock the controversy in two videos that surfaced on YouTube in late May.
"Everybody that's haters, they just been haters," Brown says in a clip shot at Shaquille O'Neal's house with rapper Bow Wow. "All my real fans, I love you all. I ain't a monster."
Prior to that, the platinum-selling singer announces, "I've got a new album, gonna be coming soon. ... I'm about to drop a single this summer for y'all. We ain't going nowhere."
Midway through summer, there's still no sign of a single from the album tentatively titled "Graffiti." Of course, dropping a video apology prior to the song would be the perfect way for Brown to get fans and haters alike to perk up their ears.