Out of the hospital and on the mend, rocker and reality-TV star Bret Michaels has opened up about his harrowing battle with a subarachnoid hemorrhage.
"I thought someone had shot me in the back of the head, like a burglar," he told People magazine about the hemorrhage that hit him April 21. "And the pain ... if you can imagine a migraine times 10. I knew I was in trouble. ... I was not going to have my family wake up and see me dead on the living room floor."
Michaels had just spent the day with his girlfriend, Kristi Gibson, and their daughters, Raine, 9, and Jorja, 5. He was terrified of losing them.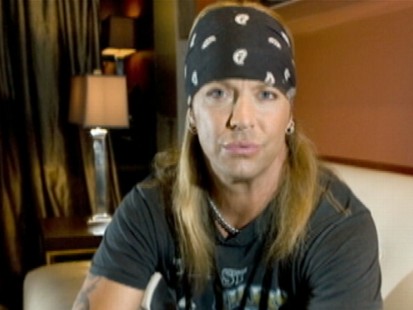 "[At the Phoenix hospital] the doctor said, 'Do you have kids? ... I would bring them to the hospital,'" Michaels told People. "And I said in these exact words, 'Am I dying? If I'm dying, I want to see my kids, but if I have a chance, I don't want them to see me in this condition.'"
Now, with a new lease on life, Michaels said he wants to spend more time with the people he loves.
"What I want to do is make a positive bucket list," he said. "There's just so much more that I want to do and experience. [Getting married], for sure, is something I have never done. Kristi's such a great person. We'll see if that happens. But, yes, that may be one of the big things on the list."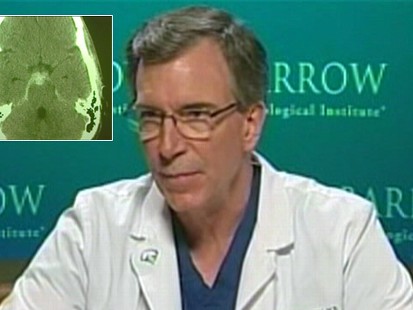 Dr. Joseph Zabramski led the team that treated Michaels at Barrow Neurological Institute at St. Joseph's Hospital and Medical Center in Phoenix for a subarachnoid hemorrhage -- in Michaels' case, a bleed at the base of his brain stem.
Zabramski told People he still doesn't know what caused Michaels' hemorrhage, saying it "occurred for no reason at all."
At a news conference Tuesday, Zabramski said Michaels would continue to receive care outside the hospital because he has yet to fully recover.
"He can walk but he's not walking very well," he said.
Still, that Michaels was able to weather the hemorrhage as well as he did impressed his doctors. The condition, which occurs suddenly, kills 15 percent of its victims before they reach the hospital. Another 20 to 40 percent of sufferers do not survive the resulting complications of the hemorrhage.
Michaels Has Multiple Health Issues
Michaels also suffered a complication called hyponatremia -- sodium loss -- as a result of the hemorrhage, and he had undergone an emergency appendectomy a week before the hemorrhage struck. What's more, he has Type 1 diabetes, a condition that some neurologists said would make his treatment more complicated.
"Bret's sheer will to live and fully recover is undeniable," an e-mail statement released April 30 by Michaels' publicist quoted Zabramski as saying. "He has an unbelievable fight in him.
"It was a combination of Bret's fight to stay conscious during the hemorrhage and get to the emergency room and the immediate medical attention provided by our staff at Barrow that enabled us to stabilize his condition," Zabramski said.
Zabramski said during the news conference that he recommended Michaels wait at least four to six weeks before resuming normal activity.
Michaels' father had previously said his son's speech was slurred and his vision was blurry when he spoke to him shortly after he was hospitalized.
But, Zabramski said Tuesday, the rocker had no problems with slurred speech although he was still experiencing severe back pain.
In addition to his musical career, Michaels can be seen each week as a top contender on Donald Trump's NBC reality show "The Celebrity Apprentice." He previously starred in VH1's "Rock of Love With Bret Michaels."