— -- Bobby Brown acknowledged in an interview with ABC's Robin Roberts that he felt he and his late ex-wife, Whitney Houston, had failed their daughter, Bobbi Kristina Brown, who died last year in a way eerily similar to her mother.
"We should have been better," Bobby Brown said in the interview, for a special edition for "20/20." "We could have been better."
Houston died on Feb. 11, 2012, after being found facedown in a water-filled bathtub with drug paraphernalia nearby. The Los Angeles County coroner ruled her death an accidental drowning.
Bobbi Kristina Brown's death, on July 26, 2015, was ruled to be from lobar pneumonia and lack of oxygen, resulting in brain damage. The 22-year-old was also found in a water-filled bathtub with a mix of drugs and alcohol in her system. She spent six months in a coma before she died.
The Brown family thought she was being manipulated by her friend Nick Gordon, who was rumored to be Houston's adopted son. Bobbi Kristina Brown called him her brother.
"It's not a mystery to me," Bobby Brown told Roberts. "The same thing that happened to my daughter is what happened to Whitney ... There's only one person that was around both occasions, only one person who says they were there to protect them ... and he didn't."
Bobby Brown Through the Years
Bobby Brown sat down with ABC News' Robin Roberts for a special edition of "20/20" to discuss his journey and his new book, "Every Little Step." Tune in on Tuesday, June 7 at 10 p.m. ET on ABC.
Last month Bobby Brown joined the conservator of his daughter's estate in a $10 million wrongful death civil suit against Gordon. Gordon strongly denies he had anything to do with Bobbi Kristina Brown's death, and his attorneys told ABC News in a statement that the lawsuit is "slanderous and meritless." No criminal charges have been filed against Gordon.
After Houston's death, Bobbi Kristina Brown and Gordon's relationship became murky and questions arose over whether they were involved romantically.
In 2013, Bobbi Kristina Brown claimed in social media postings that she and Gordon were married.
"I'm tired of hearing people say, 'Eww you're engaged to your brother or If Whitney was still alive, would we be together or would she approve of this.' Let me clear up something. We aren't even real brother and sister, nor is he my adoptive brother," Bobbi Kristina Brown wrote on Facebook before she said they had tied the knot.
She also tweeted a picture of her hand on top of his, with both sporting rings on their ring fingers.
"@nickdgordon! #HappilyMarried• SO#Inlove• if you didn't get it the first time that is," she captioned the photo, which had a thumbs-up symbol at the top left reading "Yerp," slang for yes.
But her father's lawyer Christopher Brown of Brown & Rosen told ABC News in February 2015 that "Bobbi Kristina is not and has never been married to Nick Gordon." There has been no legal documentation to prove the couple was ever married.
When Bobbi Kristina Brown was in a coma, the Browns and the Houstons were at times at odds over her care, but they came together to try to protect her privacy.
Bobby Brown raised some controversy among family members when he told fans during a April 2015 concert that his daughter was "awake." His wife and manager, Alicia Etheredge-Brown, and his attorney later clarified the statement to say Bobbi Kristina Brown had been moved to a rehabilitation center and her level of awareness at that time was unknown.
But Bobby Brown stood by what he said.
"She was definitely following me when I walked around the room, when I talked to her, when her siblings talk to her," Brown told Roberts. "She was definitely following us."
"It was reassuring," he continued. "For me, at that time, it reassured me that she knew and she was in a hospital and something had happened. She wasn't able to tell me what happened, but she definitely was awake and aware."
Bobbi Kristina Brown died three months later. She was buried beside her mother in a Westfield, New Jersey, cemetery.
"The last thing I told her, I just said, 'Let go.' I said, 'It's OK, you can go with your mom. Daddy'll be all right. I love you. You can rest now,'" he said. "Hardest thing I had to do in my life was tell my daughter to let go ... I don't wish that on my worst enemy or any enemy. That is the worst pain in the world."
Bobby Brown's new book, "Every Little Step," will be released on June 13.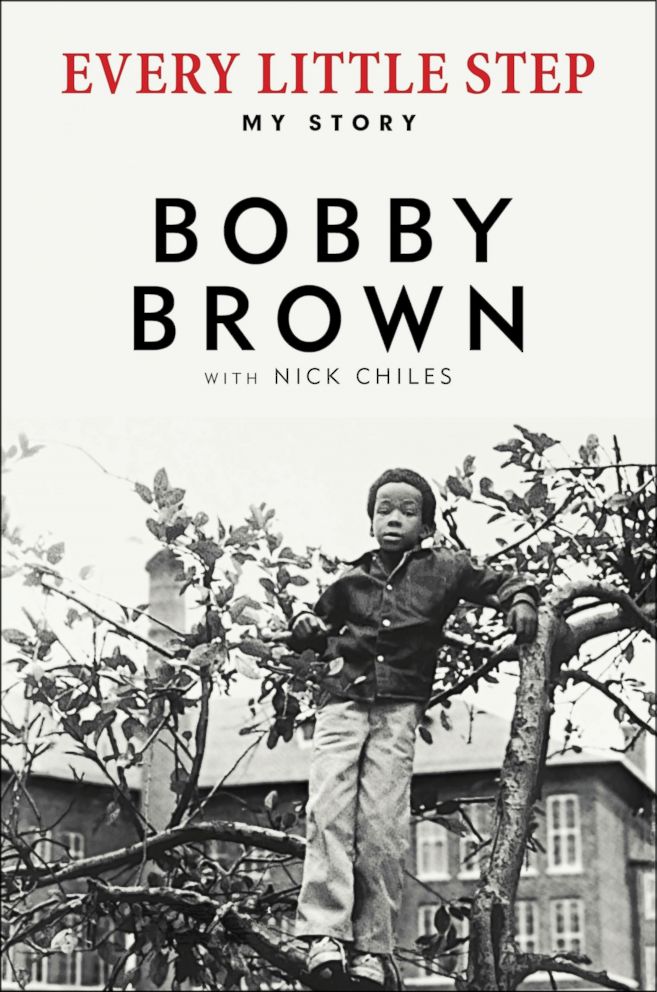 ABC News' Michael Rothman contributed to this report.