Bon Jovi surprises students at Fairleigh Dickinson University's graduation ceremony
He performed the song "Reunion" at Fairleigh Dickinson University's graduation.
— -- Bon Jovi surprised 2,600 students with an acoustic performance during Fairleigh Dickinson University's commencement ceremony Tuesday at MetLife Stadium in New Jersey.
The unsuspecting graduates, who were the winners of a nationwide contest to have Bon Jovi crash their commencement ceremony, screamed and shouted in their seats as the singer walked on stage.
"Today marks the end of one chapter in your life and the start of another," Jon Bon Jovi told the proud graduates. "Enjoy the book. You're the one writing it."
"Our student response was incredible and thanks to their participation, FDU was the national winner," the university's president, Christopher Capuano, said after Bon Jovi's performance of his new song, "Reunion." "I'm sure that is something that we will all remember for a very long time."
The singer appeared on "Good Morning America" today as he was gearing up for the big surprise, hiding inside the MetLife stadium locker rooms.
"We had a nationwide contest to have Bon Jovi perform at your graduation," he explained. "I had written a song for a commencement I was giving, and since then it had turned into a record, a song on our new album called 'Reunion.' And so we're going to pop up and surprise the school who had the most votes to get us to come."
The song's chorus includes the lyrics, "Write your song, sing along, love your life ... Learn to laugh, dare to dance, touch the sky ... Take pictures each step of the way ... Make this the best of the rest of your days ... Start your revolution and I'll see you at the reunion."
Bon Jovi caught up with "Good Morning America" co-anchor Michael Strahan before the surprise performance, where the rock icon offered his graduation advice, saying he would tell the former students to "be careful of the words that you say, not only to others, but to yourself."
"Don't take any criticism too heavily, but don't accept the praise too loudly either," Bon Jovi added. "Be humbled in your approach to things."
He said that he hopes his song "Reunion" will be "a song that you'll be able to sing and relate to, and hear on the radio, and go 'That was a part of my graduation.'"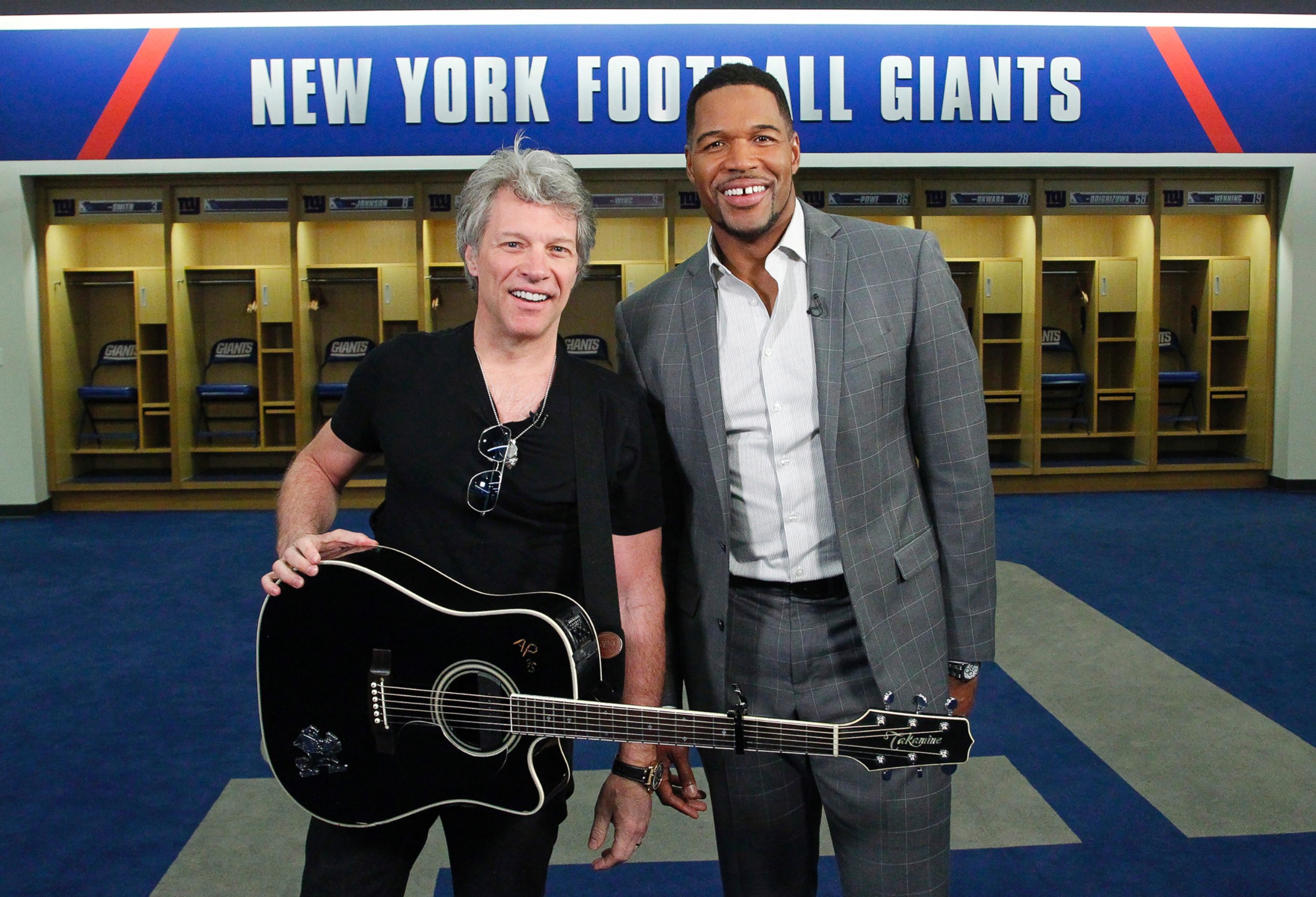 The contest, which partnered with MTVU, asked college seniors to share their best college moments on Twitter using the hashtag #JBJReunionContest.
Bon Jovi is no stranger to celebrating college graduations this week.
"Two of my kids are graduating college this week," he said on "GMA." "Stephanie has got her film degree and Jesse's got his political science degree, so daddy's going to two graduations."
As he was exiting FDU's commencement stage after his performance, he wished the class of 2017 "Good luck."