— -- News broke today that Angelina Jolie Pitt had filed for divorce from Brad Pitt after two years of marriage, citing irreconcilable differences, according to the filing obtained by ABC News.
The couple, who have six kids together, have been linked for the better part of 12 years.
When the duo met on the set of "Mr. & Mrs. Smith" in the mid-2000s, Pitt was married to Jennifer Aniston. But Pitt and the "Friends" star split in 2005 and he's been with Jolie ever since, growing their family and tying the knot in 2014.
Here's a timeline of the couple's major milestones over the past decade, including interviews, baby announcements and personal health choices.
Mr. & Mrs. Smith
Pitt and Jolie met on the set of this action comedy. Pitt was married to Aniston and Jolie Pitt told Vogue in 2006 that at that time, "I was quite content to be a single mom."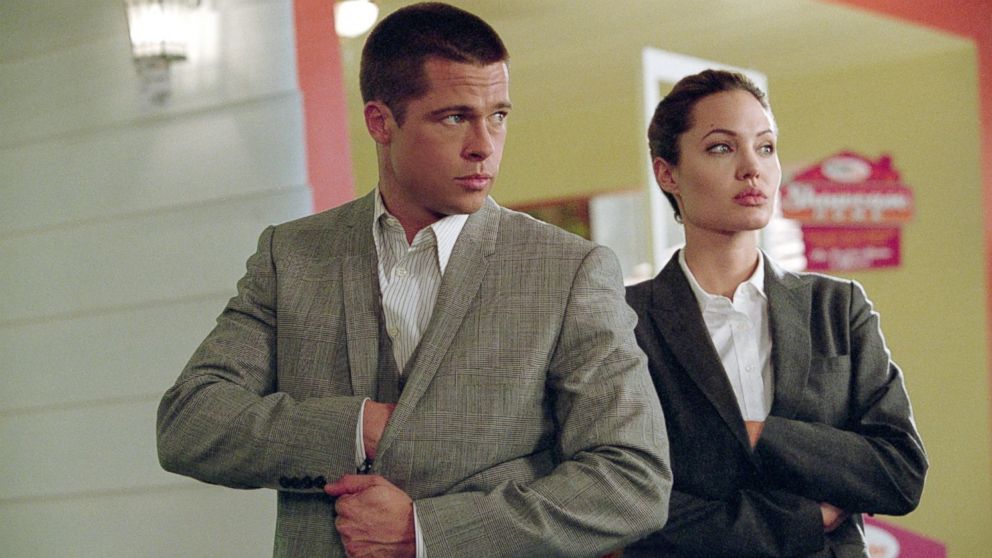 Jolie Pitt also admitted that she was surprised by her co-star.
"Because of the film, we ended up being brought together to do all these crazy things, and I think we found this strange friendship and partnership that kind of just suddenly happened," she added to Vogue.
She said by the end of the shoot, the two realized something romantic was there.
W Magazine
In the summer of 2005, Pitt and Jolie posed for a spread in W magazine, which was titled "Domestic Bliss."
The duo were seen praying, eating, sleeping and spending time together in the pictures, set in Palm Springs, California. The magazine and the pictures were almost a coming out for the A-list couple.
Aniston, Pitt's ex, spoke to Vanity Fair about the pictures, famously saying, "There's a sensitivity chip that's missing," though she didn't think the spread was intentionally meant to be hurtful.
Becoming a Family
In 2006, Jolie Pitt and Pitt confirmed that the two were expecting their first child together later that year.
"They're in love and want to create a life together," a friend told People magazine at the time, after the reports were confirmed. Jolie Pitt gave birth to daughter Shiloh in May of that year, which brought the children count to three, with Maddox and Zahara already part of the family.
Expanding Their Family
From 2007 to 2008, the family adopted another boy, Pax. Jolie Pitt then revealed on the red carpet in 2008 that she was pregnant yet again.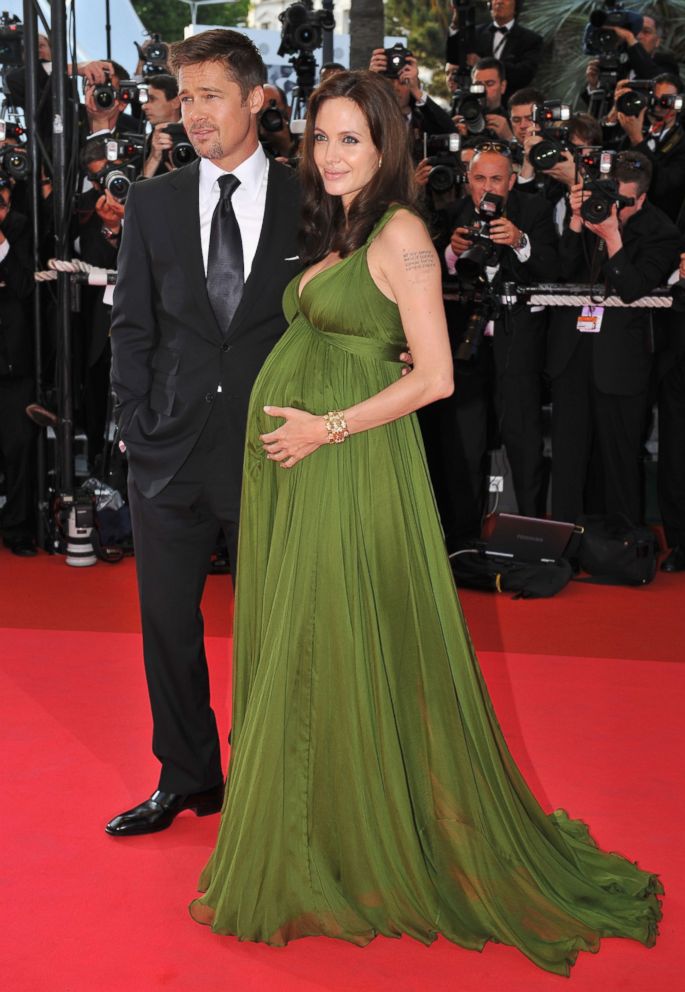 Twins, a son Knox and daughter Vivienne, were both born on July 12.
Now with six kids, "It is chaos, but we are managing it and having a wonderful time," Jolie Pitt told People magazine, who shared the photos of the twins for the first time.
Pitt joked, "[It's] still a cuckoo's nest."
"A Great Love Affair"
In 2010, Jolie gushed about her new life with Pitt and their six children.
"I always wanted a great love affair," she told Parade magazine.
"The children certainly tie us together, but a relationship won't hold if it's only about the kids. You also must be really interested in each other and have a really, really wonderful, exciting time together. We do," she added. "Brad and I love being together. We enjoy it. We need it, and we always find that special time. We stay connected. We talk about it. It's very important."
"A Promise"
In 2012, after years of speculation, Jolie Pitt stepped out with a ring on that finger and Pitt's rep confirmed the news that they were engaged.
"Yes, it's confirmed," Pitt's manager Cynthia Pett-Dante told multiple outlets, including USA Today and People magazine. "It is a promise for the future and their kids are very happy."
"My Medical Choice"
One year after the duo got engaged, Jolie penned an op-ed for The New York Times in May 2013 titled "My Medical Choice," where she detailed her mother's cancer battle and her risk of getting the disease.
"I decided to be proactive and to minimize the risk as much I could. I made a decision to have a preventive double mastectomy," she announced to the world.
She added in the column that would start a national dialogue, "I am writing about it now because I hope that other women can benefit from my experience."
She also cited Pitt as a major source of support through the entire process.
"I am fortunate to have a partner, Brad Pitt, who is so loving and supportive," she wrote. "Brad was at the Pink Lotus Breast Center, where I was treated, for every minute of the surgeries. We managed to find moments to laugh together. We knew this was the right thing to do for our family and that it would bring us closer. And it has."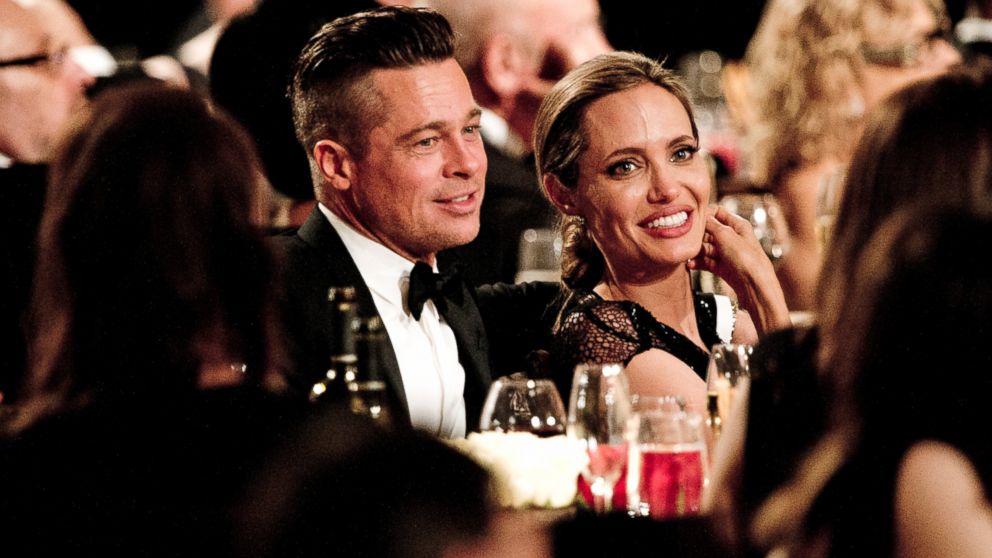 Here Comes the Bride
In August 2014, the duo finally tied the knot in a small wedding in France, which featured their six kids.
Maddox and Pax walked Jolie down the aisle, Zahara and Vivienne threw rose petals, and Shiloh and Knox served as ring bearers for the ceremony held at the couple's Chateau Miraval.
Even Jolie's wedding dress was inspired by her children and featured drawings from the kids on it.
The Quiet Life
Just last year, Jolie wrote another op-ed for The Times, revealing she had her ovaries and Fallopian tubes removed because of cancer fears.
"I will not be able to have any more children, and I expect some physical changes. But I feel at ease with whatever will come, not because I am strong but because this is a part of life. It is nothing to be feared," she wrote.
That same year, the two opened up about attempts to live a quiet life at home with the kids.
"We wake up, we make breakfast. In our domestic life, we're mom and dad," Jolie told the Wall Street Journal magazine.
Pitt gushed about his wife as a mother to their kids, saying, "She has an incredible knack for inventing crazy experiences for them, something new, something fresh. I may be the bigger goof of the pair, but she invents the stage."
The Split
In a court filing on Monday, Jolie filed for divorce from Pitt, citing irreconcilable differences and requesting custody of the six children.
"This decision was made for the health of the family. She will not be commenting at this time, and asks that the family be given their privacy during this difficult time," Jolie Pitt's attorney Robert Offer told ABC News.