— -- Celine Dion said her life is a "different kind of hard" four months after the death of her husband, René Angélil, who passed away after a long battle with throat cancer.
"I saw him suffer, and that is the worst," Dion, 48, told ABC News' Deborah Roberts. "Today for me, I don't wanna say that it's not as hard. It's a different kind of hard."
She added, "It's like I don't live with him physically, but I live with him inside of me."
Angélil died Jan. 14, just two days shy of his 74th birthday. The music impresario had been Dion's manager for decades and her husband since 1994.
"I miss him when he was well. I miss him the way that I knew him, without the sickness," Dion said, adding that it's hard to make decisions and she finds herself wondering what Angélil would do.
Watch more of Deborah Roberts' interview with Celine Dion tonight on "Nightline."
"After a while, am I gonna have signs all the time, or do I have to make decisions as a woman, as a mother, as an artist?" Dion said she asks herself. "You're never ready for something like this to happen. Even though you expect it, when it hits you, you're not prepared. It's hard."
Family Life After Angélil
The couple had three sons together: 5-year-old twins Nelson and Eddy and 15-year-old René-Charles.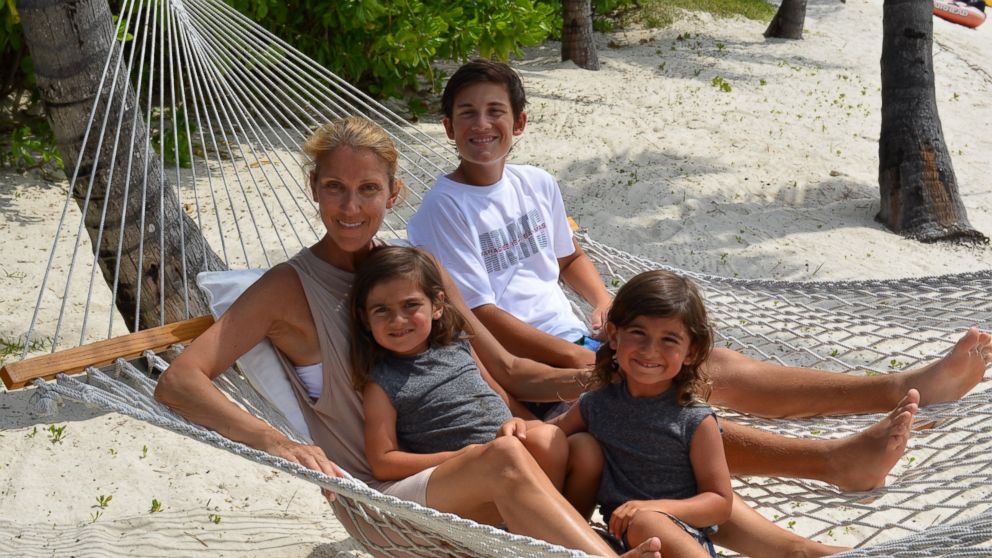 "Every night, we kiss him good night," Dion said of her sons' ritual for their dad.
"Eddie starts. Two fingers, one finger," Dion said, making a kissing gesture. "And he said, 'I love you, Papa, so much. Happy Easter. Happy Halloween. Happy Christmas. Happy up, Papa. I love you so much. I miss you.'
"So Nelson goes, and he repeats almost the same thing, but he adds more stuff, and then I do the thing too, and I said, 'Good night, my love,'" she said.
She and her family suffered another blow on Angélil's birthday, two days after his death, when her brother Daniel Dion died of a similar type of cancer.
"I said to myself, 'For his birthday, my husband came and got my brother because my brother was too weak to fly on his own,'" she recalled.
'The Show Must Go On'
In keeping with Angélil's wishes, Celine Dion returned to the stage at her Las Vegas residency six weeks after his death.
She said he was always there watching her as she performed. Now, she said, when she is onstage alone, there is one song that reminds her of her husband.
"When I sing 'The Show Must Go On,' because when I was sick or when he was sick ... even before I sang the song, he kept saying, 'Show must go on,'" Dion said. "So because René said, 'The show must go on,' and that he gave me a lot of strength.
"And you know what? I'm at peace."
Dion plans to sing "The Show Must Go On" when she receives the Icon Award at next week's 2016 Billboard Music Awards in Las Vegas. Then she will travel to Europe to promote her new single, to be released at the end of May, and her new album, to be released in August.
"For me, this is so much right now that I don't look at the schedule so much," Dion said. "I trust my team, and I trust René, he who lives within me, and I do my very best."
Watch more of Deborah Roberts' interview with Celine Dion tonight on "Nightline."