An unsuspecting classroom of fifth graders in Chicago recently got the surprise of a lifetime when Chance the Rapper waltzed into their school.
The "No Problem" rapper arrived to screams and tears from students at Adam Clayton Powell Paideia Academy, overwhelmed at the sight of him entering their room.
While he's best known for his success as the first streaming-only musician to win a Grammy, 24-year-old Chance went to the school to teach kids about the importance of a skill he considers priceless: Coding.
"For me coding is one of the main kind of cheat codes or finesses to get further in the industry or further to what you want to do," Chance told the class.
Watch the full story on "Nightline" TONIGHT at 12:35 a.m. ET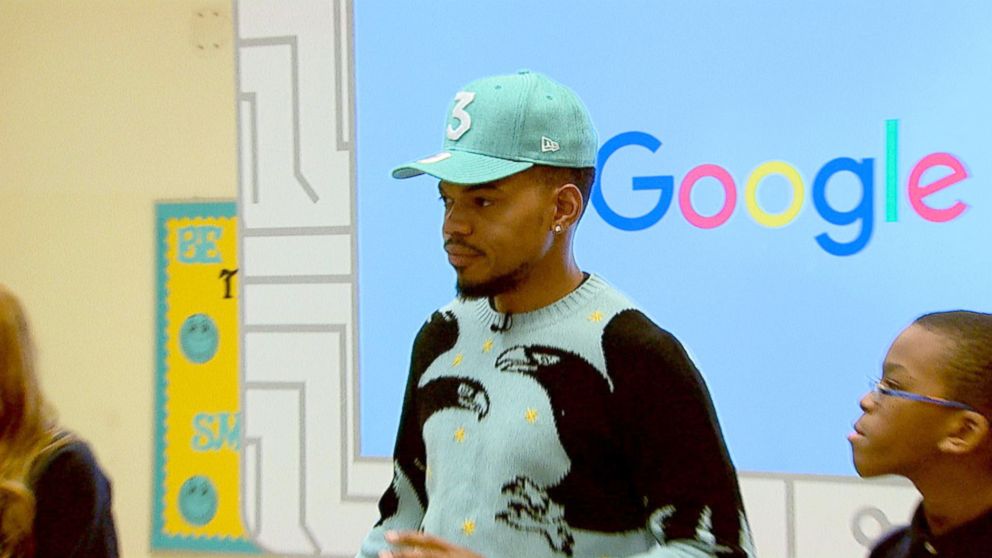 Coding is used across almost every industry and jobs in coding-related fields are growing at a faster rate than any other occupation, according to the Bureau of Labor Statistics.
One of the students, 11-year-old Dyamond Davenport, told ABC News' Rebecca Jarvis she wants to follow Chance's advice.
"Chance said that it would be good for us to do it, so I want to follow his footsteps and do what he told us to do because it could lead to a big thing for us," she said. "We need it."
Principal Sheila Barlow said that Chance the Rapper "means opportunity" to her students.
"They see someone that looks like them that's not flashy, he just seems like a really down-to-earth guy who came up the same way that they did," she said. "So it just shows them the end or what the possibility would be for someone who's coming through with Chicago public schools."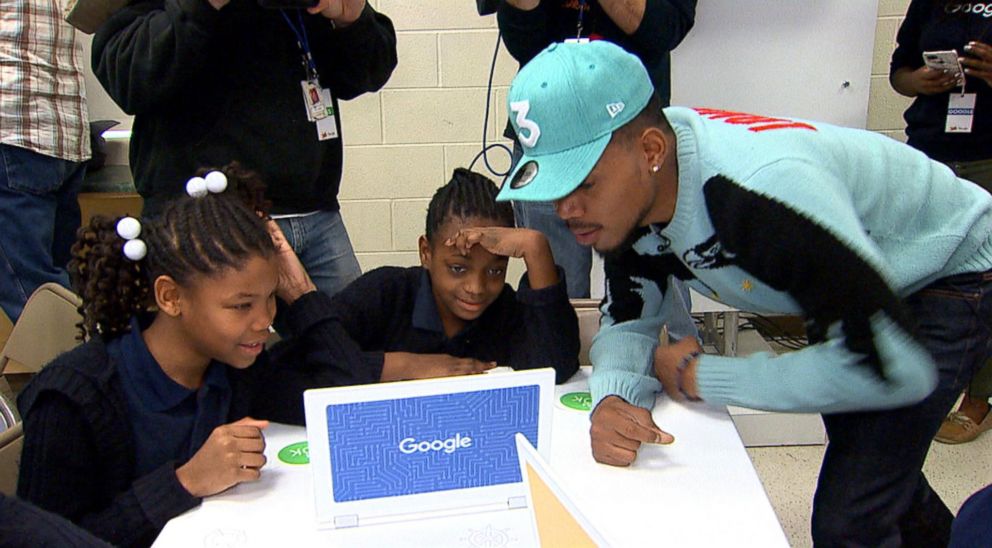 Despite the connotation of his stage name, Chance said his tactical use of technology has been instrumental to his success on a less traditional road, without a record label.
"I figured out that I could move how I wanted to move -- to a lot of places that other artists in my genre and other artists period hadn't gotten to do independently because of stuff like Soundcloud and YouTube existing," he said.
Learning about his streaming fan base, he said, has helped his career.
"I don't know if I'm breaking a big industry secret right now," he told Jarvis, "but most people that are signed don't know where their fans live or how many plays they got on iTunes or the ... demographics for how many males or females listen to their music."
One thing Chance said he likes about using sites like SoundCloud is the access he has to his audience.
"The type of metrics that they were providing to me allowed me to cater specifically to people that I knew were listening and know what time is the best time of day to drop my music," he said.
"These are my industry secrets right now," Chance continued. "That's why I'm staying ahead of the game."
Those "secrets," paired with technology from music recording programs, are ways Chance said he's improved his sound.
Chance said four of his songs on his third mixtape "Coloring Book," released in May 2016, use a programming tool to create preset harmonies and chords without having to lay down multiple tracks.
"There's these things called harmonic engines within a recording program and what you do is when you record your vocals you use this harmonic program and it adds harmony to your voice," he told Jarvis. "You can use this harmonic preset in whatever recording program you're using to create a big chord without having to sing it again."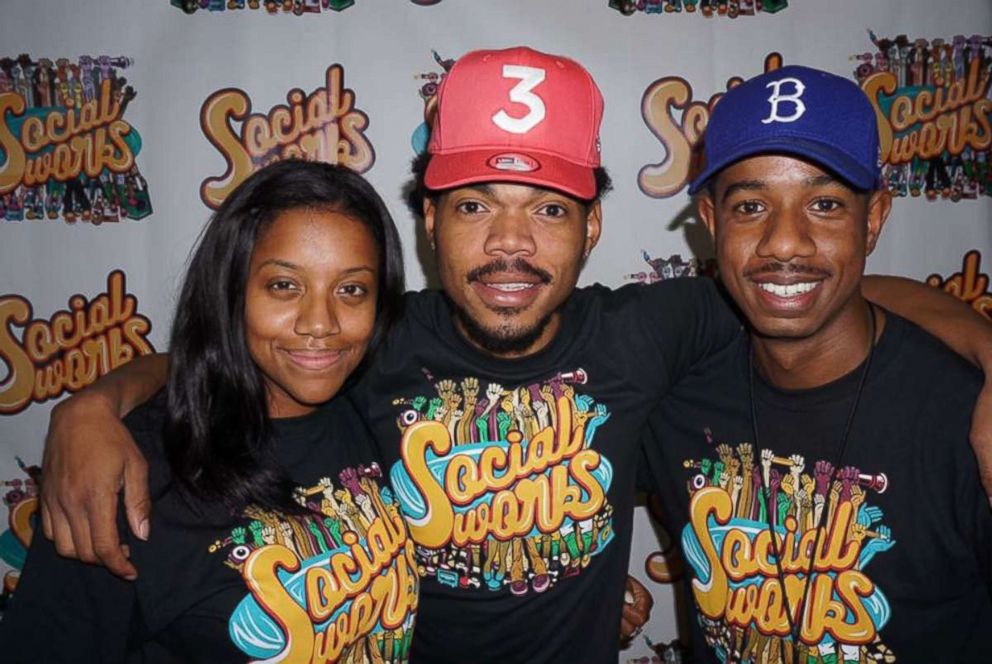 The Chicago-born rapper uses his platform and success to pay it forward through his charity SocialWorks, which he co-founded with childhood friends Essence Smith and Justin Cunningham.
The non-profit is dedicated to empowering youth through the arts and creating accessible public spaces in high need areas of Chicago.
During his visit to Adam Clayton Powell Paideia Academy this past December, Google announced a $1.5 million donation to Chicago Public Schools and SocialWorks to be used for computer science education across Chicago Public Schools.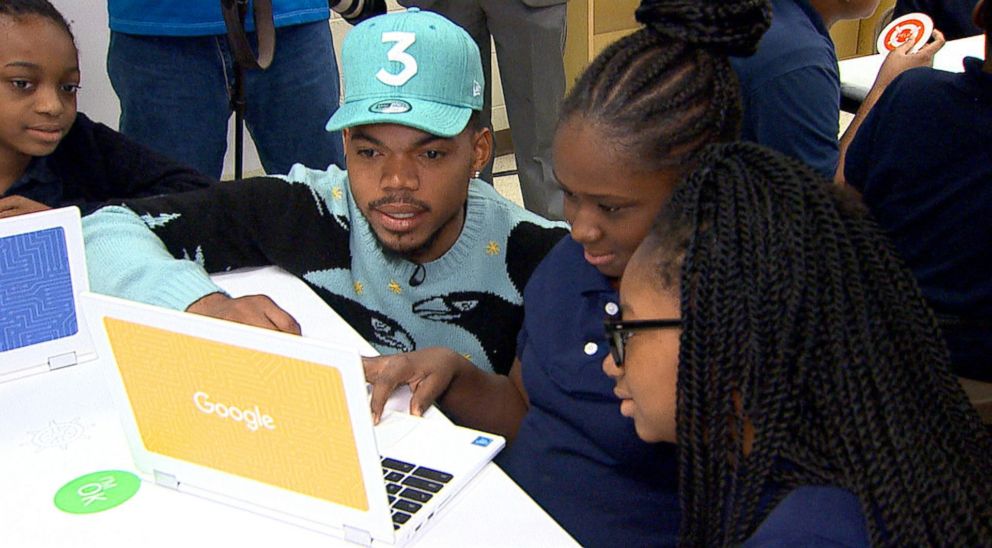 "Google has a very specific, streamlined way of making sure this money is seen by people that need to see it," Chance said, adding that it's been "amazing" to see how Google has been able to hone in on specific Chicago neighborhoods that need more funding and face greater access issues.
Justin Steele, a principal at Google.org helping to lead the efforts, told another excited fifth grade student Sy'mone Chappelle that "anywhere you have a computer you can do coding."
Steele said he loves the excitement around coding and that Chance's influence could change creativity for kids on a deeper level.
"By teaching them coding skills, they can be not just creators of the content, but they can be creators of the platforms and the technology underneath it and that's really powerful," he explained.
Chance said he hopes his visit will impact not only this particular fifth grade class, but future generations.
Fellow Chicago native and music legend Kanye West once visited Chance's school for an impromptu performance, and although Chance said he only heard about the surprise, it still left an impression.
"It's still a big deal to me. He was there where I went to school," Chance recalled. "I think it's awesome to be here today because there are a lot of kids in the auditorium that, when they grow up, are going to be in the same profession that I'm in."
He believes showing up really helps to inspire the next generation.
"I think it does take a little bit of seeing, you know, that stuff actualize," Chance said, "to stop you from thinking, 'This is just a fantastical thing that's inside the TV,' and, you know, precisely how accessible it is."