— -- It's been 30 years since "Dirty Dancing" premiered, which means it's been 30 years since moviegoers were impressed with the stellar dance moves of Jennifer Grey and the late Patrick Swayze.
The movie follows Frances "Baby" Houseman, played by Grey, as she visits an upstate New York resort with her family. Of course, Baby falls in love with Swayze's Johnny Castle, the camp's beloved dance instructor with a bad boy reputation.
Although the film, which grossed $150 million worldwide, was a bonafide hit, it was the dancing that really stole the show. Especially memorable was the film's final dance scene, choreographed to the song, "(I've Had) The Time of My Life," which earned an Oscar for best original song.
Mere mortals could probably never do it better than Grey and Swayze. But just in case you want to try, Sydnie Mosley, a New York City-based choreographer and artistic director of Sydnie L. Mosley Dances, has broken down the steps so you can recreate the scene, and truly have the time of your life.
Super dip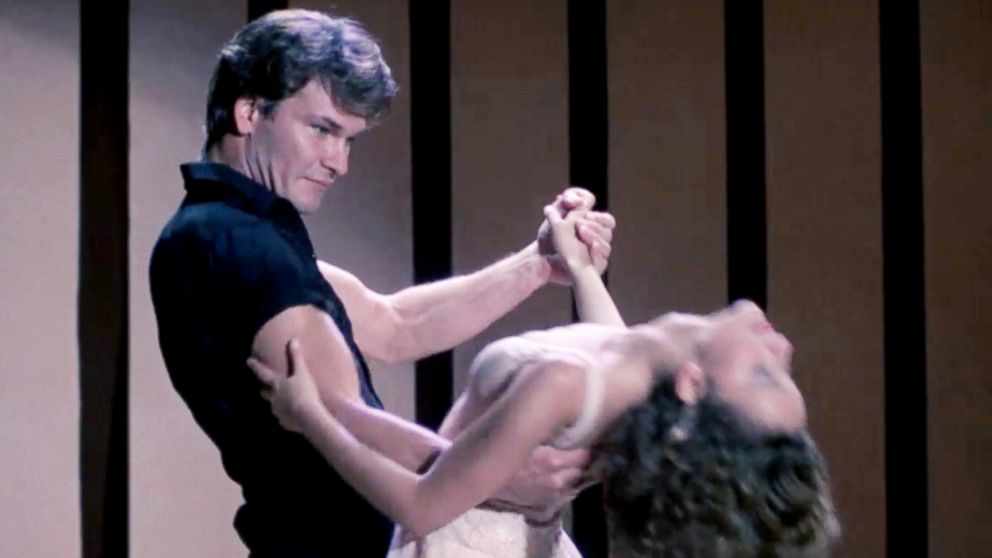 To start, first pick who's going to be Baby and who will be Johnny. Next, Johnny slowly walks up to Baby, who's simply standing "parallel" and performs a backward dip.
Mosley suggests that before you attempt this dip, "warm up your back."
"This is definitely a 'let Johnny lead' kind of moment. It's such a tender moment between them and he's literally holding her back and guiding her," she said.
It's also important not to forget your facial expressions. "It's everything," she laughed.
https://giphy.com/gifs/dirty-dancing-k73l8xBS328nK
"What makes this scene magical -- in comparison to when we see them do the dance earlier in the movie -- she's gone through her personal change and...they've developed a relationship so she trusts him. That trust has manifested physically," Mosley said.
Before the tempo picks up, Baby turns around with her back toward Johnny. She lifts her left arm, letting it fall passionately against Johnny's neck. Don't get caught up in your partner's gaze here, this is only to set up the turn, which is to come!
A bit of footwork
https://giphy.com/gifs/patrick-swayze-dirty-dancing-emile-ardolino-qz1Ix90pJ50Ry
Whoever is in the role of Johnny, you'll spin Baby out, performing a "three-step turn," Mosley said, then another turn back in.
If you're trying this at home, get into the salsa spirit because the next few steps are "salsa with mambo mixed it," she explained.
Next, Baby and Johnny both turn out, facing the audience with their arms in second position or wide out. They're just "putting one foot directly in front of the other," Mosley said.
https://giphy.com/gifs/80s-movie-patrick-swayze-gfr0onjcLrec8
In this dance sequence, Mosley said it's important to remember to "hold your frame," meaning keep your arms stiff and neat. "It's what you would do in almost any partner dancing," she added.
At one point, Baby does a bit of salsa before throwing her hands in the air, shaking her hair side-to-side. Mosley noted, however, there's something going on that many dance novices may not pick up.
"She's moving her spine in this S-shape, meaning from her rib cage, shoulder to head...in that sequence," Mosley said.
Your time to shine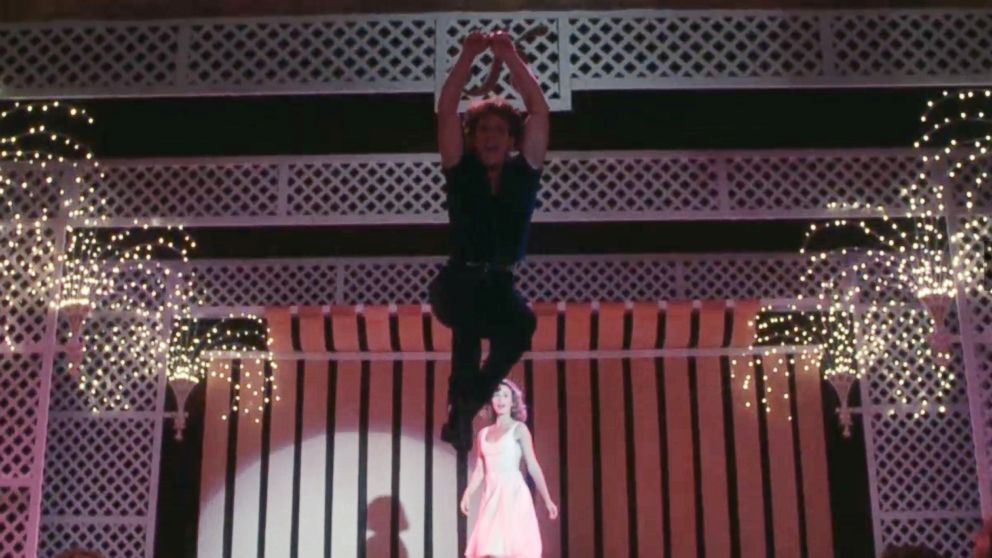 After that difficult partner work, it's time for a solo moment for Johnny. Use your torso to get both feet high when you jump off your imaginary resort stage. "Think about bringing your knees to your chest," Mosely said.
Next, Johnny performs a triple tour. "It's when you jump and rotate your body all the way," Mosley explained. "That's ballet. That's straight up ballet."
https://giphy.com/gifs/love-dancing-BlNWH6h3jaisM
Take one long look at your partner, before doing a simple kick, kick, slide, ball change. Ball change is just dance jargon for transferring the weight of your feet.
After two pelvic thrusts, and two knee spins, pretend you're a rock star, throwing your head. A few more kick, kick, ball changes will lead you to the iconic lift moment.
Lift it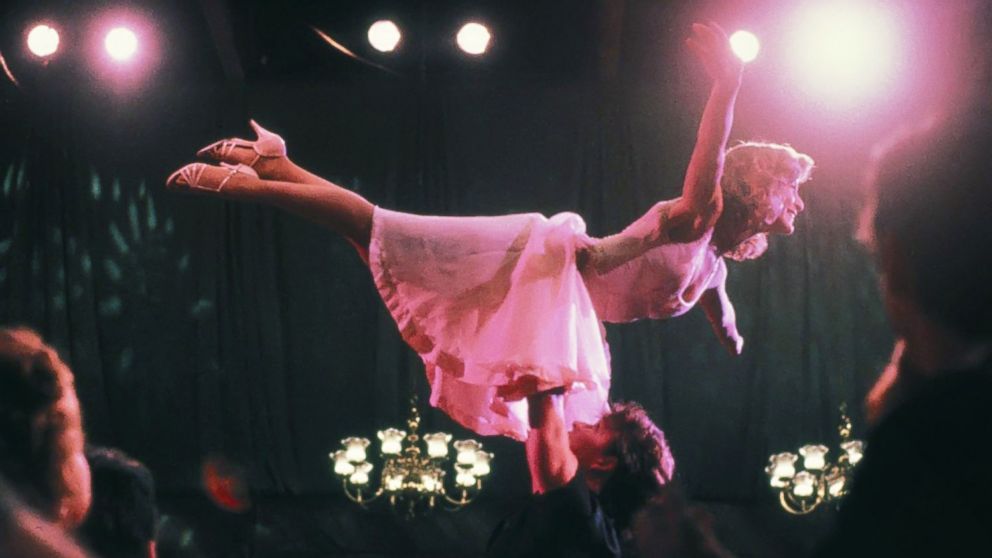 After Johnny's dance students help Baby get offstage, Mosley said, "she really just runs, plies [or bends her knees] and jumps. He catches her at her hips on the bony part, that flat bony part of her hips, and presses her directly in the air."
Although this moment is definitively the most iconic dance move from the film, Mosley doesn't suggest trying this at home.
"The guy really needs to know what he's doing," Mosley said. "It's about finding that point of balance in the air. If she goes too far over his head, then she's going to fall forward, behind his back."
https://giphy.com/gifs/lionsgatehomeent-baby-johnny-dirty-dancing-3oEjHSZl68c22AgRhe
"And she does have some responsibility because she has to hold her body up," Mosley explained. "She's not just there like a limp towel. She's extending from her fingers to her toes, but he's the one that's getting her into the air."
If all of that seems too difficult, just enjoy Grey and Swayze do their thing.