Comedians have always reveled in lampooning politicians, but some have taken their humor into new territory, and it's not clear whether they are taking their material to a grander stage or a soapbox.
Comedy Central's Jon Stewart and Stephen Colbert are mocking Glenn Beck's recent Washington "Restore Honor" rally, which featured Sarah Palin, with a joint Oct. 30 counter demonstration called the "Rally to Restore Sanity" and the "March to Keep Fear Alive."
Bill Maher of HBO's "Real Time" is threatening to show a video of Delaware Tea Party Republican Senate candidate Christine O'Donnell every week until she comes on his show. One recent clip featured her talking about how she once "dabbled" in witchcraft. Maher bluntly describes his threat as a "hostage situation."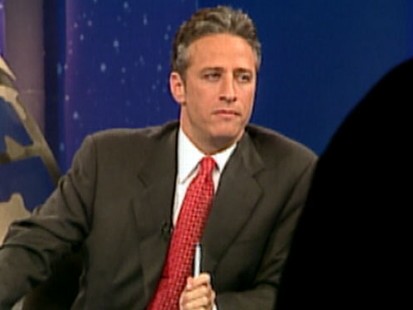 Conservatives aren't laughing, and say the "jokes" cross the line to tactics on behalf of Democrats and liberals.
Beck declared on his radio show "The Glenn Beck Program" that Stewart and Colbert have "shown [their] colors" and will "activate the youth" to "vote with the labor unions."
Fox's conservative grump Bill O'Reilly last week dubbed the comedians' rally one of his dumbest things of the week.
And conservative commentator Tucker Carlson, who once sparred with Stewart on CNN's "Crossfire," told The New York Times that Stewart's "Rally to Restore Sanity" is only masquerading as a massive stand-up routine.
"He'll try to pass this off as an extended bit, but on some level it's real," Carlson said. "Stewart's basically a deeply self-serious character and increasingly less funny."
Democrats clearly like Stewart's routine. The Democratic Senatorial Campaign Committee recently gave what was tantamount to an endorsement of Stewart by offering donors the chance to win tickets to a taping of "The Daily Show."
It also seems to raise the question whether comedians, particularly Stewart, may be taking themselves seriously these days. Leading a rally on National Mall is a far cry from Stewart's own frequent admonition to viewers that his show is "just a fake news program" and no one should rely on it for current event updates or ascribe any sort of political mandate to it.
Mark Eaton, a writer and performer for The Capital Steps, a musical political satire group based in Washington, thinks the shift from comedy to political fervor is a natural one.
"A comedian rallying people is no different from a former governor from a very cold state who looks good in Gucci rallying people," he said referring to Sarah Palin. "Anything that sparks people's interest in and keeps them informed of news, how can that be a bad thing?"
Conservatives Not Laughing at Jon Stewart's Jokes
Funnyman Marc Maron, a veteran of liberal Air America radio, considers political jokers like Stewart and Maher to be leaders. "People are generally under-interested in the political process, but they watch these shows," he said. "Those guys are educators."
Maron's own contribution to the political dialogue was to sit next to former Republican National Committee chairman and Bush adviser Ken Mehlman during a cross country flight. While Mehlman, who recently announced he was gay, took a nap, Maron tweeted photos of himself next to Mehlman with Maron's shirt unbuttoned enough to reveal a nipple and captioned it "Soooo hot."
Maron said he considered conducting an interview with Mehlman for his weekly podcasts called WTF because decided against it partly because, "I'd have to sit there for six hours."
Instead, he admits, "I opted for the low road."
The Twitter ambush of Mehlman and the Washington rallies are new stages for comedians and their satire suggests they are serious while they are trying to be funny, says Jeffrey P. Jones, the author of "Entertaining Politics: Satiric Television and Political Engagement."
"To see them as comedians who've gotten serious is a mistake. American television has typically not done satire. We've seen comedy as separate from politics and what's going on is that they're stepping into a new realm," Jones states.
It's not just liberal comedians who are taking to the political stage. Brad Stine is a politically conservative Evangelical Christian standup comic who spoke at the Republican Senators retreat in 2007. He's sees no problem with Stewart and Maher blurring the distinction between punchlines and politics.
"Everyone is trying to persuade you," Stine said, "but if comics do it in a way that is funny, and not mean, then we're doing something great for the culture. Comedy is the best vehicle for changing people's perspectives."