A Day in the Life of Allyson Felix on the Road to the Rio Olympics
A breakdown of what it's like to get ready for the 2016 games.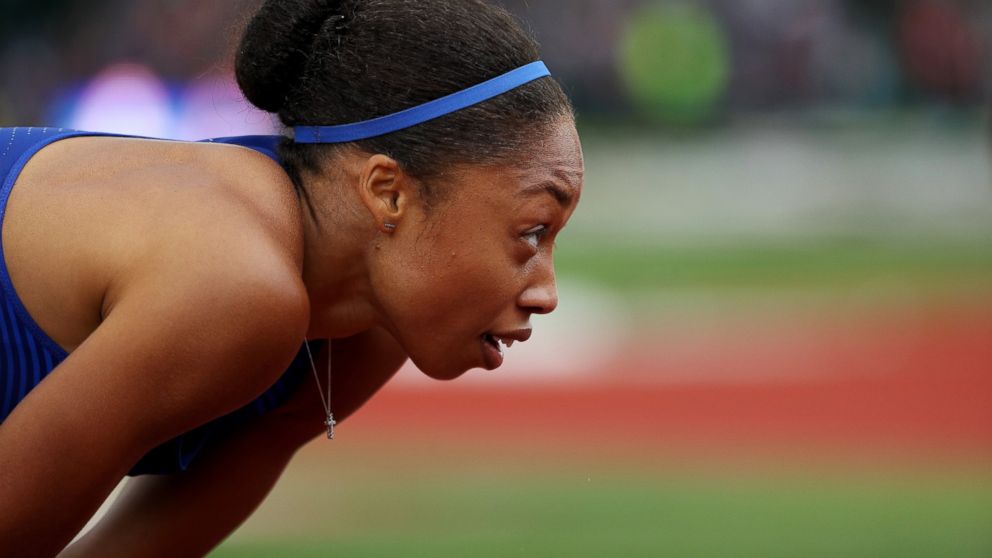 — -- With the Rio Olympics set to begin later this week, track and field star Allyson Felix spoke to ABC News about what her crazy schedule is like these days.
Warning, this is not for the weak of heart. Felix, 30, is a four-time gold medalist and is ready to take Rio de Janeiro by storm.
Here's a breakdown of her bonkers day.
Wake Up Call
"I use my phone [as my alarm and] my alarm normally goes off right around 7 a.m.," she said. "I usually do emails in the morning and catch up on news, and watch a little bit of SportsCenter. Takes about an hour for me to get ready. I have breakfast and am usually out the door!"
A Champion's Meal
"Typically I have a simple breakfast with oatmeal and fruit. I keep it light because I'm going right into training," she added.
The Work Begins
"I go to therapy first at 9 a.m., and will be there for about 2 hours. I do rehab exercises -- so getting treatment and doing a little bit of core work. Then from there, I go to the track. I get there at 10:30 a.m. and will do an hour of warmups/stretching/drills."
"My coach shows up then and I do a range of training (speed, tempo) so I could be there for 1-2 hours," she said in an email to ABC News. "From there, I take a break and eat lunch. Then I get to the gym right around 1:30/2 p.m. -- in gym for hour and a half doing free weights, plyometrics, using my own body weight for exercises."
Recharge
"Lunch is usually a salad with some protein. Snacks can be cashews/almond/yogurt -- things that are easy to fill in my bag. Dinner I usually eat a home, but sometimes I'll go out to eat as well. Dinner is a bigger meal -- I eat a lot of fish and red meat," she said.
Do You Ever Relax?
When she has breaks throughout the day, Felix will "read something or listen to music."
She also has Wednesdays off. But it's not all fun and games. "I'll go to the chiropractor and massage therapist. Get a mani/pedi and sometimes go to beach and relax or catch up on some TV," she said.
Sleep Time -- Anywhere?!
"I have the gift of sleep -- can sleep anywhere, any time!"
Your Partnership with Procter & Gamble "Family Home" and Bounty
"I've also always been drawn to P&G's 'Thank You, Mom' campaign because of how they celebrate moms, who are often overlooked. I'm really proud of the Raising an Olympian film about my mom and I that you can find on the P&G YouTube Channel."
Thanks mom, here's photos of Allyson as a kid!