— -- Duchess Kate showed her competitive instinct as she and Prince William went back to their roots, highlighting their charitable endeavors supporting young people's mental well being in North Wales.
The duchess rappelled off a wall and held the safety rope while William did the same in Snowdonia National Park on Friday, joining a mountain rescue team and students from Holyhead High School.
Kate assured the second in line to the throne that she had his back, when he asked, "Are you holding me?"
"I've got you," she laughed, as a harness held him in place, then asked her husband, "William, how much do you love me?
"I'm quite enjoying this actually," she said. "For once I'm in control."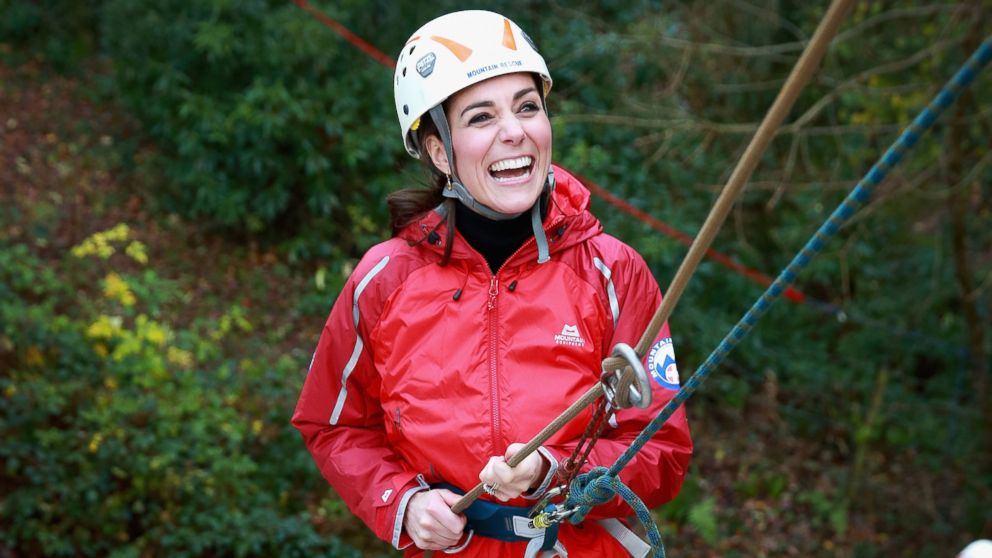 The couple, who are known to be quite competitive, appeared to be having a great time with one another and the crowd. Kate is reportedly the better tennis player, and beat William sailing in a match-up in New Zealand on their last royal tour Down Under.
Once at the bottom after William rappelled down, Kate said, "Not that we're competitive but if he does that, then I'm having to do it, too."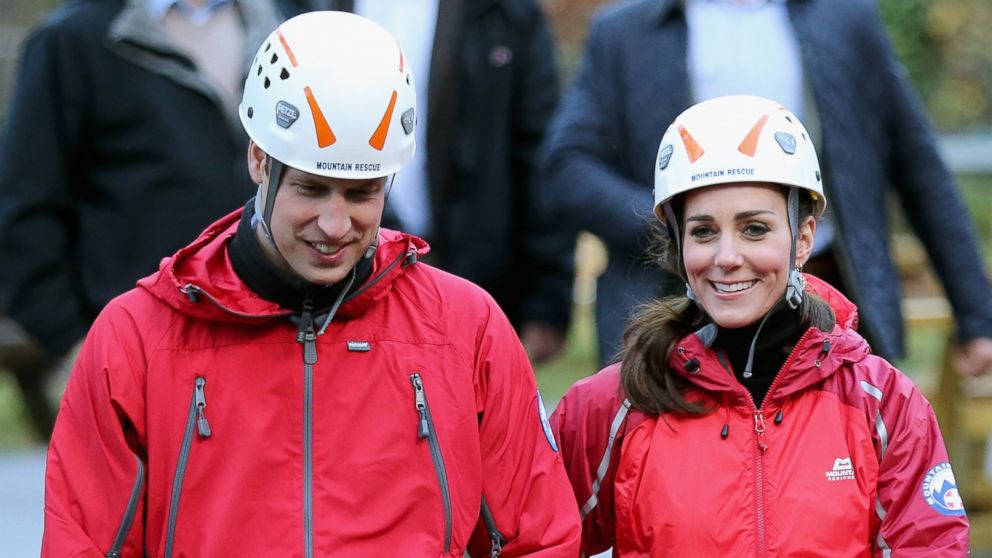 And as always, wellwishers in Wales asked the duke and duchess about their expanding family. Kate revealed that 6-month-old Princess Charlotte was growing up.
"They are doing well thanks," she said. "Charlotte is getting bigger and getting on well with her noisy big brother."
Prince George is starting to get excited about Christmas, although his parents have yet to start planning, she said.
"I haven't yet," Kate told one resident of North Wales. "But George will be starting to talk about Christmas soon."
The duke and duchess were given gifts of knitted woolen sheep for their children -- one with a blue ribbon for George and one with a pink ribbon for Charlotte.
George is apparently fixated with helicopters. A welsh woman told ABC Royal Contributor Victoria Murphy that when Prince George asked his mother about helicopters, she told him to go ask his father.
She also shared she hopes that George and Charlotte will join the Scouts and Rainbows, the equivalent of Boy Scouts and Brownies in the UK. Kate is a volunteer with the Scouts
The couple, who spent the first years of their courtship living in Anglesey, where William worked as an RAF Search and Rescue pilot, clearly relished being back in the Welsh countryside. William and Kate have been making their way around the country trying to destigmatize mental illness. They visited a photography exhibit sponsored by the charity Mind, which encourages young people to express themselves through their art about their experiences and challenges living with mental illness.
Mind CEO Paul Farmer praised the royal couple for giving a voice to the voiceless.
"They are shining a light on the millions of people who experience mental health problems and people who are struggling to get the right kind of support," Farmer said.