— -- The two "Dancing With the Stars" protesters who stormed the dance floor Monday when Ryan Lochte completed his first dance routine addressed the incident with the media after their release from jail Tuesday.
The incident is also being addressed by the show, with a "Dancing With the Stars" representative telling ABC News, "A full evaluation of security procedures" is taking place, and "any changes deemed necessary" will be made.
Sam Sotoodeh and Barzeen Soroudi were released from the Los Angeles Police Department Metropolitan Detention Center Tuesday at 11:00 a.m., with their bail set at $1,000 each. They are due back in court Oct. 4. They have not entered a plea.
During Monday's show, the two interrupted the broadcast by going on the dance floor and screaming "liar" at the Olympic swimmer. They were arrested for misdemeanor trespassing, according to the Los Angeles Police Department. Lochte, his pro partner, Cheryl Burke, and host Tom Bergeron were not touched by the two men protesting Lochte's involvement in an incident a few weeks ago in Rio de Janeiro during the Olympics.
Lochte has said several times since the Summer Olympics in Brazil that he exaggerated certain parts of his story about being robbed at gunpoint in Rio de Janeiro. The United States Olympic Committee has banned him for 10 months in connection to the incident, meaning he'll miss the 2017 world championship.
Outside of the jail, the protesters told ABC News that their intention was never to hurt Lochte. They just believed what he did embarrassed Americans and wondered why the show chose him.
An ABC rep for "DWTS" had no additional statement about Lochte's casting and USA Today previously reported that the show and Lochte had begun talks for him to participate on the show prior to his fiasco in Rio.
"Everyone deserves a second chance, but we had to say our protest, as well," Soroudi told ABC News.
He added that police were very professional and "courteous" with him and Sotoodeh.
Sotoodeh added that he had an issue with Lochte's casting because "you have had people such as U.S. veterans who have lost a limb [on past seasons of the show] ... certainly they are stars."
He added that he hopes the protest sheds light on Lochte and that "he should not be rewarded" for lying in Rio.
Show host Bergeron spoke on "Good Morning America" Tuesday about the "shocking" turn of events, sharing his first-person account. His interview included an exclusive video that shows a different angle from what viewers saw before he cut to a commercial break.
Here are pictures of the encounter on the show.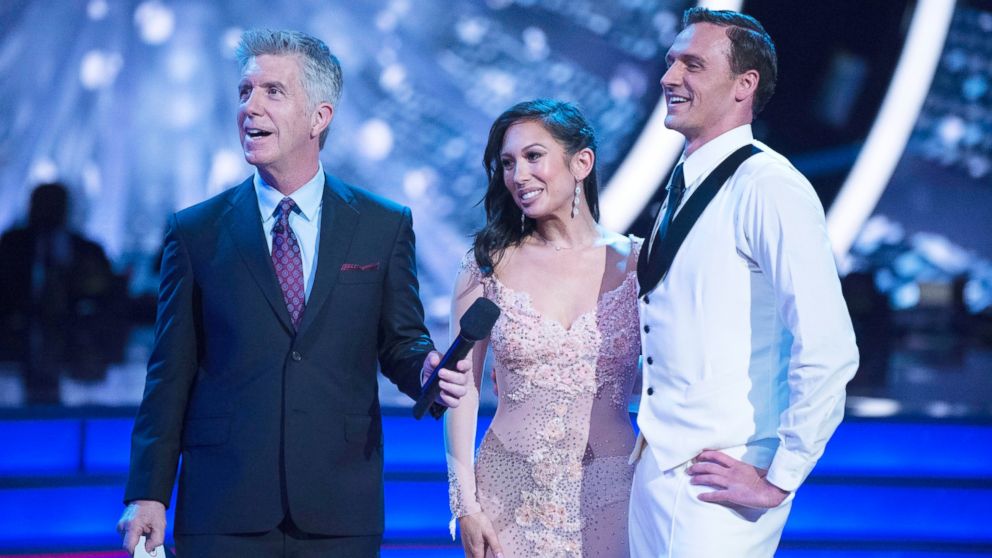 The two men rushed the dance floor. The judges realized what was happening, and security intervened "It wasn't really until I saw [judge] Carrie Ann [Inaba]'s expression change that I got the sense something more was going on," Bergeron said.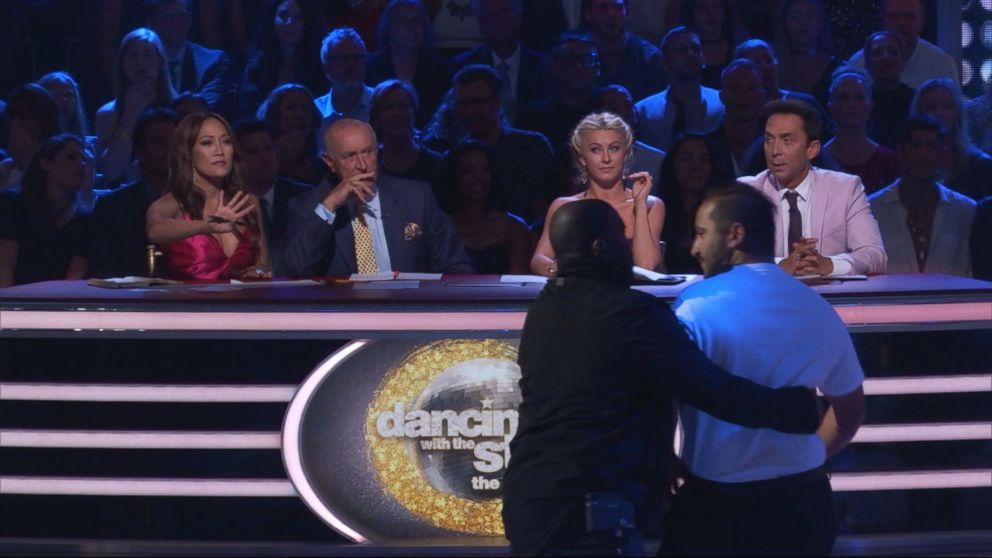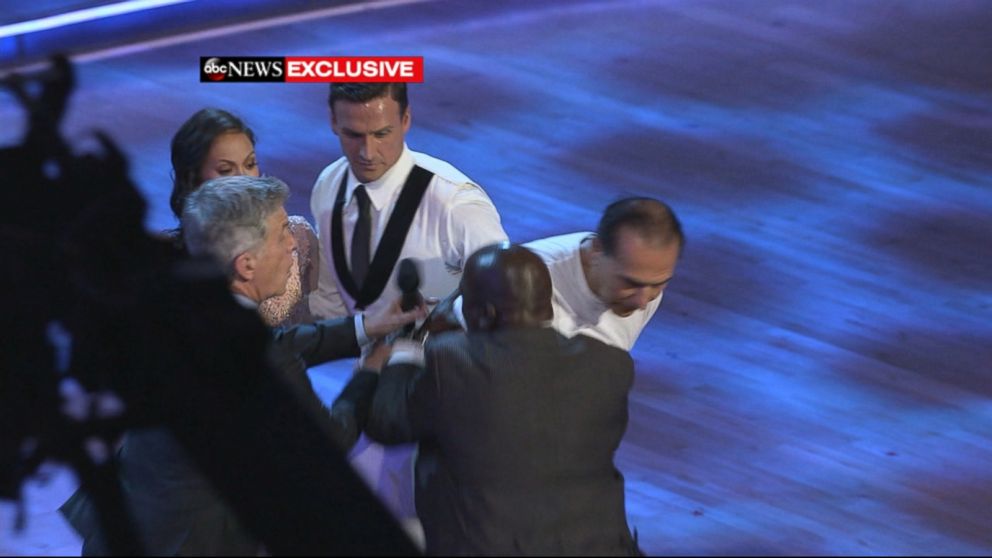 Bergeron said he was impressed by how security handled the situation so swiftly, making sure all cast and audience members were safe.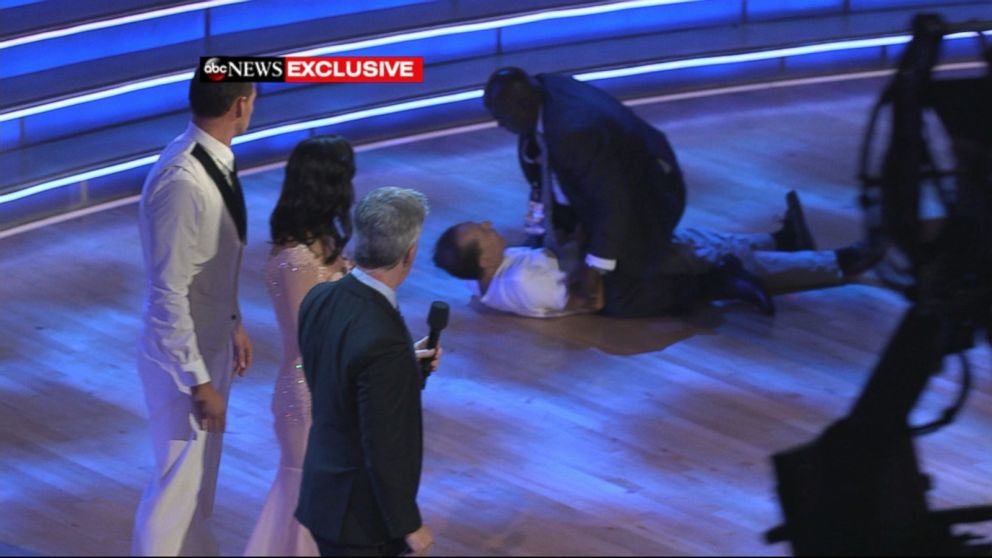 The two men were removed from the dance floor.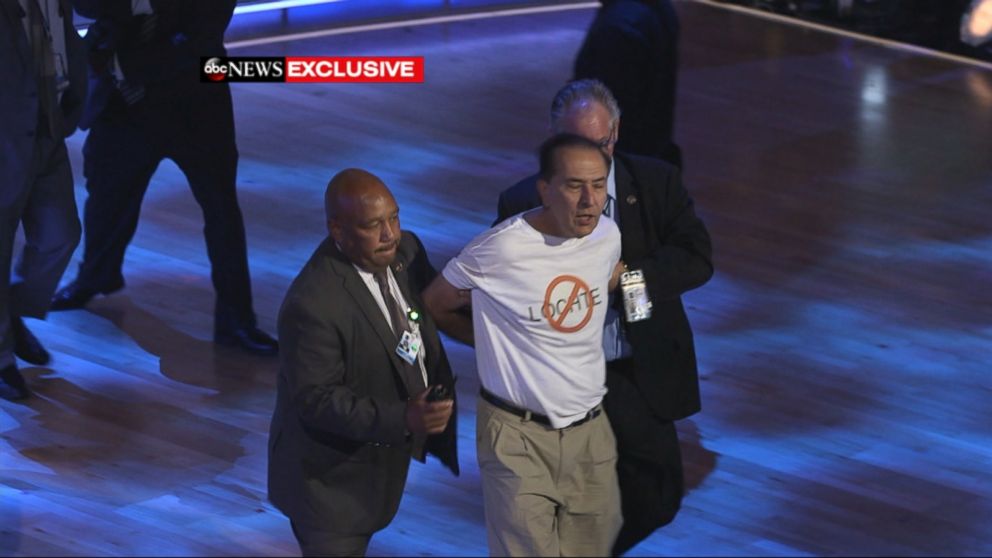 The men, along with other protesters, were escorted out of the studio.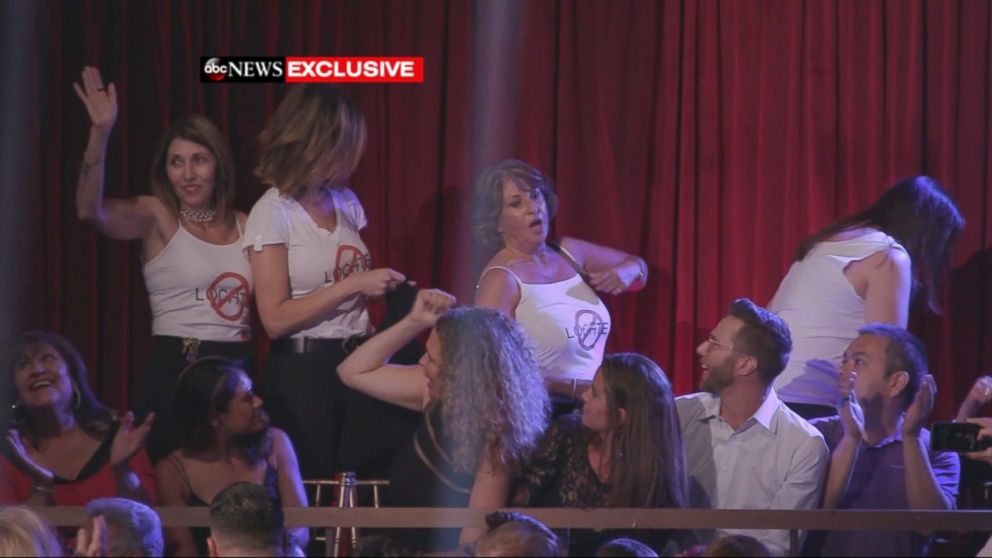 "It was really unnerving, and again, I applaud our security team for making it very short," Bergeron said on "GMA."
Lochte also told ABC News after Monday's show that the protest and negativity "broke my heart."
"Dancing" returns next Monday.