In "The Twilight Saga: Eclipse," Bella Swan (Kristen Stewart) is torn between her family, her best werewolf friend, Jacob Black (Taylor Lautner), and her vampire boyfriend, Edward Cullen (Robert Pattinson).
But in reality, the forlorn Swan should have something to smile about.
Her new movie already is setting box office records. It grossed $30 million from midnight opening screenings Wednesday. And screaming "twihards" are expected to clamor for the film this holiday weekend.
Still, Swan slumps through "Eclipse" with a furrowed brow. Her father prefers that she spend more time with friends like Black, but Swan would rather persuade Cullen to "change her" from a human into one of his kind.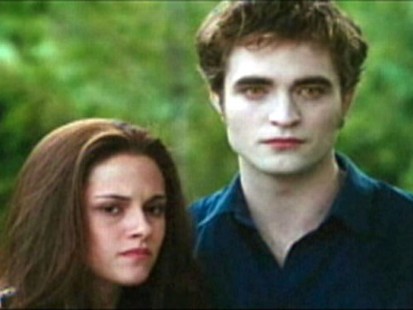 Cullen gives her an ultimatum: If Swan marries him he'll make her a vampire. Without spoiling the plot, fans should be delighted when Bella's dream becomes more of a reality in the third installment of this franchise.
Teenage angst aside, Twilight movie mania has reached such a fever pitch that even Supreme Court nominee Elena Kagan's world is colliding with the fictional realm inhabited by Swan.
This week, Sen. Amy Klobuchar, D-Minnesota, said to Kagan, "I keep wanting to ask you about the famous case of Edward vs. Jacob or the vampire vs. the werewolf," to which Kagan laughed and responded, "I wish you wouldn't."
For Swan and Kagan, two women currently saturating our television airwaves, this week could be pivotal. Swan's film could keep breaking box office records this weekend, and Kagan soon could become the
fourth woman
Supreme Court Justice in U.S. history.
Teenage girls worship Swan, sleeping outside of premieres in downtown Los Angeles and crying in the presence of Stewart, the actress who plays her.
Suffice it to say, Kagan doesn't have the same teenage fan base. But popularity aside, surrounded by images and sound bites from both women, who should impressionable young girls choose to emulate?
Twilight's Bella Swan: Female Role Model?
According to Liz Abzug, president of the Bella Abzug Leadership Institute and daughter of the late Bella Abzug, one of the most influential and recognizable female politicians and leaders of the late 20th century, "the bottom line is that [women] need more role models" and in a certain sense both women fit the bill.
"Bella Swan is seeking her vision, to become a vampire" Abzug told ABCNews.com. "She is grabbing onto it passionately.
"On the other hand, Elena Kagan is clearly a role model," Abzug said. "My mother would be supportive of Kagan because they have similar careers and backgrounds. Her father knew my mother. But Bella would also wonder about Kagan's positions on feminist issues."
According to Kathryn Kolbert, director of the Athena Center for Leadership Studies at Barnard College, "role models are women who are courageous, mature and bold, and forge a path toward leadership."
Kolbert argued the landmark case Planned Parenthood v. Casey before the U.S. Supreme Court, but can appreciate Swan and Kagan as influential women.
"I commend Hollywood today," Kolbert said. "Strong women 30 years ago were invisible on the big screen. That doesn't mean that I support the pop culture focus on vampires who are still very sexualized, where a woman's success is still tied to a love object.
"We have to be careful with how Hollywood, fiction and the media portrays women," Kolbert said. "It's a mistake to make any prominent woman speak for all women. Kagan is different than Sotomayor and Ginsburg. Clinton is different than Palin."
What would Bella Abzug think of Swan?
"First of all my mother would laugh and say 'Ah she's a Bella too!'" Abzug said. "At the same time, [mom] would wonder if Bella Swan is a good role model because she forsakes her independence to become a vampire and be with Edward. She'd like her to pursue her career and her dreams."