It's the question on the lips of so many people sucked into Tiger Woods' downward spiral:
Why is Elin Nordegren, the Swedish nanny and former model who married Woods five years ago and bore their two young children, still with him after at least nine women have said they had affairs with the professional golfer?
Well, it turns out, Nordegren may have moved out of the couple's Windermere, Fla., home in the Isleworth gated community into a nearby house, according to ABC's Orlando affiliate WFTV.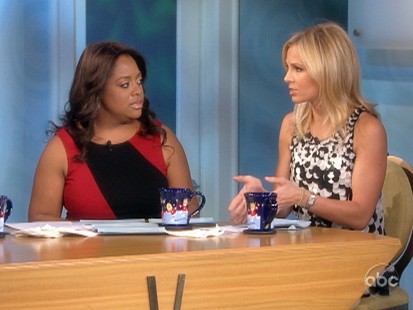 What's more, Swedish newspapers today reported that Nordegren bought a $2 million home dubbed Faglaro Mansion on a small, secluded island reachable by ferry from Stockholm.
The news comes on the heels of WFTV's report that she may have told police that Woods had been drinking before he crashed his SUV into a tree near their home Nov. 27.
As for why she didn't up and leave when the other women started emerging from the woodwork: It's all about the Benjamins, or at least the prospect of them, New York divorce attorney Raoul Felder said.
"Money," he said. "That's what it's all about, $75 to $80 million is what Elin stands to get now. Before all this, according to the pre-nup [speculation], it was a $20 million deal at the end of 10 years."
Now, to make an understatement, Woods stands to lose a lot more.
Below, get to know the nine women who've revealed their apparent relations with the golf star.
Mindy Lawton and Holly Sampson
Over the weekend, a porn star and a pancake house waitress added their names to an ever-increasing list of women who have come forward or been called out for reportedly having affairs with golf superstar Tiger Woods, bringing the tally to nine -- that the world knows about, for now.
Tabloids over the weekend named porn star Holly Sampson and pancake waitress Mindy Lawton as two of the names on Tiger's steamy scorecard, raising the question of how Woods would have been able to keep so many affairs secret for so long.
Sampson, 36, is a busty blonde and Los Angeles resident. The star of the films "OMG, Stop Tickling Me" and "Flying Solo 2" has not denied an extramarital affair with the golfer, whose squeaky clean reputation has been tarnished since a bizarre early morning car accident two weeks ago raised questions about the stability of his marriage and was followed by a slew of allegations about alleged affairs.
Denver-based lawyer Andy Contigulgia, representing Sampson, declined to comment and did not return calls from ABC News.com.
Most of the women linked to Woods are models or work at some of the country's swankiest nightclubs, but Lawton, 33, who disclosed her alleged relationship to Britain's News of the World, worked for $8 an hour at a Perkins restaurant in Orlando.
"Sometimes I looked like a rag doll after we'd made love," she told the paper. "He really did like it quite rough. He wanted to spank me and loved pulling my hair as we had sex. He also liked me to talk dirty to him, but hair-pulling was what really turned him on.
For one year, beginning in 2006, Lawton said she and Woods regularly saw each for sex, partying at Orlando's Blue Martini club and having sex in the golfer's home and in his car parked in a church parking lot.
One of those backseat trysts was reportedly caught on film by photographers working for the National Enquirer in 2007. The story was quashed and the affair covered up when Woods agreed to appear on the cover of Men's Fitness, a title also owned by American media, in a quid pro quo with the publishing company, according to U.K.'s Mirror tabloid.
"He had such a big sex drive and wanted it fulfilled," Lawton told News of the World.
"I guess I was giving him what his wife wasn't. Tiger is so used to getting his way. What Tiger wants, Tiger gets," she said.
Lawton said she stopped hearing from Woods two years ago when his wife Elin Nordegren gave birth to the couple's first child, a daughter named Sam.
Calls to Lawton by ABC News.com were not immediately returned.
Cori Rist and Jamie Jungers
Blonde bombshell Cori Rist, a 31-year-old Manhattan clubgoer, and Jamie Jungers, 26, a lingerie model were both named by tabloids over the weekend as also engaging in affairs with the golfer.
According to the New York Daily News, Rist met Woods at New York City hot spot Butter last year and have continued an affair since. She has a 7-year-old son.
Jungers, 26, who has modeled for the lingerie line Trashy Girls, reportedly met Woods just months after his wedding when he invited her to join his VIP table at the Bellagio hotel in Las Vegas.
From there the couple spent the night at the MGM Grand Mansion hotel, kicking off a months-long affair, according to the Mirror.
As Woods was reportedly cheating on his wife, Jungers was engaged at the time to businessman and Woods fan Derek Schmidt.
"On the night Jamie met him for the first time, I had just bought the new Tiger Woods computer game. The following morning she told me she had met Tiger Woods and he gave her his number ? and like an idiot I got really excited about it," Schmidt told the Mirror. "I knew Tiger had come on to her and asked for her number. I knew that he called her whenever he came to Las Vegas. But she insisted that nothing was going on."
Two Women Yet to Reveal Names Reportedly Among Tiger's Tally
Tabloids have reported the existence of two other unnamed women. One, a 26-year-old waitress from Orlando, has hired lawyer Michael O'Quinn and claims to have had a two-year affair with the golfer but has not yet come forward publicly. The other anonymous woman is allegedly a London-based British broadcaster, whom the London Sun has called a "cougar."
Jamiee Grubbs, Kalika Moquin, and Rachel Uchitel
Those women join the three others whose names were made public last week ? Jaimee Grubbs, 24, Kalika Moquin, 27, and Rachel Uchitel 33.
Of those women, only Grubbs has come forward to admit an affair. Moquin will neither confirm nor deny a relationship and Uchitel has denied an affair.
Grubbs gave US Weekly recorded voice mails and text messages she said were sent by Woods.
She told the magazine she met the golfer in 2007, two months before Nordegren delivered their first child.
US Weekly released a voice mail recording provided by Grubbs that she said Woods left on her phone three days before his car accident. On the recording, a man Grubbs said is Woods asks her to remove her name from her outgoing voice mail message because his wife found his phone and might try to contact her.
"Hey, it's Tiger. I need you to do me a huge favor," Woods says in the message. "Can you please, uh, take your name off your phone? My wife went through my phone and may be calling you. If you can, please take your name off that and, um, what do you call it, just have it as a number on the voice mail. Just have it as your telephone number. You have to do this for me. Huge. Quickly. Bye."
Grubbs also claimed to have some 300 text messages from Woods.
The waitress told US that she had not seen Woods for more than a year until October, when they met in Newport Beach, Calif.
"He gave me a huge hug and said, 'I've missed you. You look amazing,'" Grubbs told US. "We cuddled, watched 'Angels and Demons,' then had sex. It was very romantic."
Grubbs' admission and the release of the voice mails prompted Woods to release a statement on Dec. 2, vaguely apologizing for "transgressions" and has not commented on any of the allegations since.
I have let my family down and I regret those transgressions with all of my heart," said Woods in the statement. "I have not been true to my values and the behavior my family deserves.
"I am not without faults and I am far short of perfect," said Woods. "I am dealing with my behavior and personal failings behind closed doors with my family. Those feelings should be shared by us alone."
Moquin, alleged by Life & Style magazine to be carrying on an affair, with would not comment when reached by ABCNews.com.
The tabloid reported that Moquin, a Missoula, Mont., native met the golfer at the Bank, a nightclub at the Bellagio hotel where she works as a marketing executive.
"She's a marketing director at Bank. She throws parties, she hangs out with celebrities; that's her job," said co-worker, Bo Karlen.
The first of the cheating reports came just hours after Woods' car accident, when The National Enquirer named Uchitel, 34, a Las Vegas nightclub promoter.
Uchitel has denied rumors of an affair. She employed Gloria Allred, a California attorney famous for her high-profile clients.
"Not a word of it is true," Uchitel told the New York Post, about the allegations. "It's the most ridiculous story. It's like they are asking me to comment if there are aliens on Earth."
Uchitel began working nightclubs following her fiance's death on 9/11.
A call to Mark Nejame, a lawyer for Woods, wasn't returned.