Nearly four months after LPGA golfer Erica Blasberg was found dead in her home, the investigation into what caused her death is finally coming to a close.
Her family, however, is not counting on the report, which is expected by next Wednesday, to bring the answers they seek -- namely why their healthy 25-year-old daughter died -- as long as Dr. Thomas Hess, the person last believed to have been with her, refuses to answer questions.
"Will the report be comprehensive enough without Hess' cooperation?" the golfer's father, Mel Blasberg, told ABCNews.com. "I doubt it."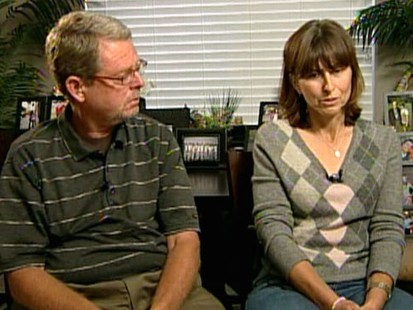 Mel only learned about Hess through the course of the police investigation. To this day, he's not certain what Hess' relationship with his daughter was, other than that they sometimes golfed together. But the more details that emerge about Hess' involvement with Erica, the more suspicious Mel has become.
Hess called 911 from Erica's home in Henderson, Nev., outside Las Vegas, on the afternoon of May 9, the day she was found dead. Reportedly, he spoke to her the night before she died. But since his initial interview with authorities, Hess has hired a lawyer and refused to answer any more questions, Mel said.
Four days after Erica's death, police raided Hess' home and medical office, seizing computers, video cameras, a cell phone, and white plastic trash bags, similar to one found near Erica's body, according to "The Early Show." A prescription, written by Hess, was discovered in Erica's home, although it's unknown whether he was her doctor.
"He's central to Erica's death in terms of being there before she died, and their relationship clearly went beyond doctor-patient," Mel said.
Erica's father stopped short of saying Hess, who is still practicing family medicine in Las Vegas, is responsible for his daughter's death. But he said he does believe Hess is being less than forthcoming about what happened the weekend of Erica's death because of his "inapporopriate relationship" with her.
Henderson police spokesman Todd Rasmussen told ABC there is currently no person of interest in the investigation. There was initial speculation that Erica committed suicide, but no cause of death has been released.
As the "death investigation" has dragged on, Mel says he has become increasingly frustrated.
"I'm not happy with the length of the investigtion," he said. "I'm trying very hard not to to believe that it has been compromised.
"I think the police are totally intimidated by the high profile of the case. I believe it's a concern that there's a doctor very much at the center of this investigation."
Golfer Erica Blasberg: Death Investigation Leaves Angry Father
"I really believe where they are right now is trying to figure out what they want to do, if anything, with Hess," Mel Blasberg continued. "Even though there are ample areas to pursue, they might feel it's not worthy to pursue criminally."
Regardless of what police ultimately find, Mel said his family will pursue the matter with Hess in civil court.
"In Erica's best interest, we have no other choice," he said. "The money does nothing for me or her mother. But you should lose freedom or assets, and, in my opinion, he should lose both."
"At the bottom of this, we just want to know what happened," Mel added.
Erica Blasberg's Last Days
In the days leading up to her death, Mel Blasberg told ABC News that his daughter couldn't have been "more up, more positive" and was looking forward to a tournament in Alabama.
Cleveland Golf, the equipment and apparel maker, had sent Blasberg a brand new bag. "She was the only one in the world who had this special bag because she represents the ladies line," her father said.
He said the new golf bag, along with her travel bag, was in the trunk of her car, ready for her drive to the airport Saturday morning.
"This was a very motivated person to get to Alabama this week," he said.
Blasberg never made her flight.
Henderson police spokesman Keith Paul told ABCNews.com that police responded to a 911 call at Blasberg's suburban three-bedroom house at 3:15 p.m. Sunday.
At the time, Mel Blasberg told ABC affiliate KTNV that there were no obvious signs of trauma to her body.
Erica Blasberg Struggles in Pros
Coached by her dad in her hometown of Orange, California, Blasberg quickly emerged as a star on the Arizona team, winning six tournaments in two years and becoming a two-time All-American. In 2003, she finished the season No. 1 in the rankings and was named NCAA Freshman of the Year, Pacific-10 Player of the Year and Golfweek's Player of the Year.
Blasberg left school at the end of her sophomore year in 2004 to turn pro. But she struggled on the LPGA, never finishing higher than 94th on the money list.
In the 2010 season, Blasberg had played only one event, at the Tres Marias Championship in Morelia, Mexico, where she tied for 44th two weeks ago.
"She had just finished a tournamount in Mexico. She was three under par," her father told ABC News. "And you know in golf, like sports, some people aren't in the right mood and you know you just have to deal with it. That wasn't the case. I mean I never saw her more positive. Last year was a lousy year. We thought she might even leave golf. That is not the case. I mean she couldn't wait."
"What I hope her legacy is going to be is that she instills confidence and drive in other people to emulate the way she was," Mel added. "She picked something to do, did it well and had a way of getting people to like her while she was doing it."
"I think it's what she will instill in people to come that gives us a positive about losing a life at 25 years old," he said.