A former female writer for "The Late Show with David Letterman" claims that she found a hostile, sexually charged atmosphere that was demeaning to women during her brief stint there.
In an article for Vanity Fair.com, contributor Nell Scovell, a TV writer, producer and director, wrote that although Letterman never hit on her, she was aware of "rumors" that the talk show host was having sexual relationships with other female staffers. Moreover, Scovell said "was aware" that other high-level employees were also engaged in sexual relationships with women employees.
"Did that create a hostile work environment? Yes," Scovell wrote. "Did I believe these female staffers were benefiting professionally from their personal relationships? Yes. Did that make me feel demeaned? Completely. Did I say anything at the time? Sadly, no."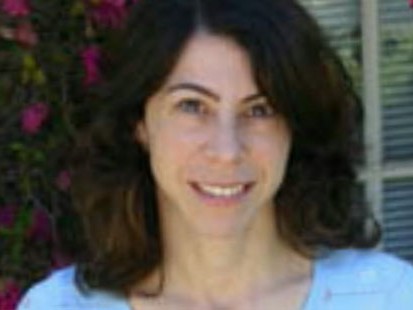 Instead Scovell left five months after she was hired.
"I'd seen enough to know that I was not going to thrive professionally in that workplace. And although there were various reasons for that, sexual politics did play a major part," she wrote on the Vanity Fair Web site.
Scovell said she considered telling Letterman the real reason she was leaving, but backed away when his rumored mistress was nearby.
Scovell said that she was speaking up now not because she was interested in money or revenge but because she wants Letterman to hire "qualified female writers and then treat them with respect."
A call to Letterman's representatives for comment wasn't immediately returned.
Letterman's personal and professional lives and how they overlap have been in the spotlight since news broke of a CBS News employee trying to blackmail him for $2 million by exposing the sexual affairs he allegedly had with female subordinates.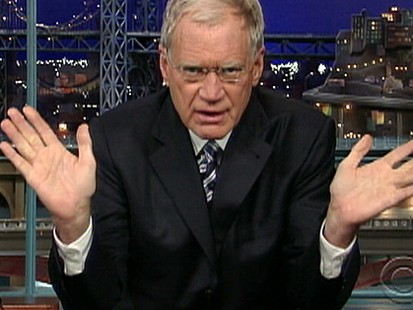 Despite nightly appearances in America's living rooms, Letterman, 62, has worked to keep his personal life hidden from public view, living in a tony Westchester, N.Y. suburb with his rarely seen wife, Regina Lasko, and their 6-year-old son.
When he told viewers about his marriage to Lasko earlier this year after their 23-year relationship, Letterman reflected on his long bachelordom.
"I secretly felt that men who were married admired me," he said, "like I was the last of the real gunslingers -- you know what I'm saying?"
Lasko, like a previous longtime Letterman girlfriend, Merrill Markoe, was also a former staffer, leading some observers to wonder if Letterman habitually forms romantic relationships with female co-workers.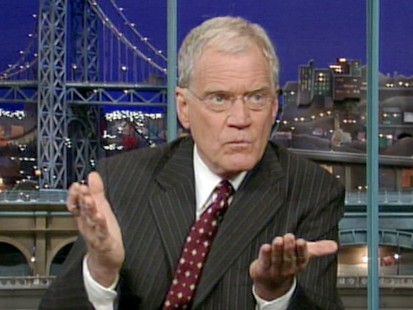 According to a source close to Letterman, the staff liaisons the alleged extortionist, Robert "Joe" Halderman, 51, is accused of threatening to reveal occurred prior to Letterman's recent marriage.
Halderman, a producer for CBS News, pleaded not guilty to extortion charges Friday. He is being held on $200,000 bond.
As Letterman has gotten older, he has altered his image from the rogue host who played by his own rules to that of an elder statesman of television -- a sometimes mischievous great uncle who can joke about his heart surgery and rib dimwitted celebrities, but also a man with the gravitas to throw barbs at Dick Cheney and Sarah Palin.
His admission on the air Thursday to having not just a one-time romantic affair with a single staffer but to having "sex with women who work with me on this show," shed new light on what the public does know about his love life.
"This does not come as a real surprise," said E! Online columnist Ted Casablanca. "He has always lurked in this gray area of his romantic life. He has always blurred the lines between his personal and professional lives. He has a history of marching to his own romantic beat."
Letterman married his high school sweetheart, Michelle Cook, in 1968, when he was just 21 years old. The couple divorced nine years later, just as Letterman's comedy career was starting to take off.
Just before he was named the host of NBC's "Late Night With David Letterman" in 1982, he began dating Markoe, who would become the show's head writer and who originated classic Letterman bits like Stupid Pet Tricks.
The couple reportedly stayed together for most of the 1980s. They were reunited on the air in 1994, when Markoe was invited to be a guest on Letterman's "Late Show" after he made the jump to CBS.
In a 1994 interview with USA Today, Markoe said, "It's not like Dave and I have no feeling for each other."
Letterman's relationship with Markoe may have led him to believe "that it was OK to have sex with the women who work for you," said Casablanca.
Markoe and Letterman regularly collaborated on ideas for the show.
"That was the nature of our relationship, a lot of goofing around," she told USA Today.
In typical Letterman fashion, he and Lasko were married in a secret ceremony on March 19, 2009 at the Teton County Courthouse in Choteau, Mont.
The couple already had a son together, Harry, in 2003. It was Letterman's first child.
"Regina and I began dating in February of 1986, and I said, 'Well, things are going pretty good, let's just see what happens in about 10 years,'" Letterman said in March when he announced their marriage from behind the same desk where on Thursday he admitted his affairs.
"He never felt pressured to get married. He had a longtime girlfriend that kept from the altar," Casablanca said.
"He was not one to give in to the romantic tradition, which is one reason people liked him," Casablanca added. "He's a rebel, but even rebels have to treat women kindly. You just get the sense that he so cavalier about it, that he thinks this is OK because it's him."
Given that multiple staff members seem to have been sexually involved with Letterman over an extended period of time, Casablanca surmised that it was likely known about among staff members and by Letterman's wife.
"Absolutely [Lasko] knew. You don't get in bed with Letterman in any sense, romantically or professionally, without knowing it's going to be a different set of rules," he said.
On Thursday, Letterman revealed to his audience that he received a package three weeks before containing a threat to reveal his indiscretions "if Letterman did not pay the individual a large sum of money" -- specified in a later communication as $2 million.
He said that the package contained a letter that said, "I know that you do some terrible things, and I can prove that you do these terrible things ... and sure enough what was contained in the package was proof that I do terrible, terrible things."
The audience laughed nervously as Letterman described how he'd called his attorney and then set up a meeting with his blackmailer in which the plotter told him he wanted to write a screenplay about him that included sordid details of the talk show host's life.