— -- As the number of women alleging that they had been sexually harassed and, in some cases, assaulted by Harvey Weinstein grew in the past few days, there was one woman whose voice remained silent -- until Tuesday night.
Georgina Chapman, Weinstein's wife of 10 years and the co-founder of Marchesa, had stayed mum from the time The New York Times first reported the allegations last Thursday until Tuesday night, when she announced via a statement to People magazine that she was leaving her husband.
"My heart breaks for all the women who have suffered tremendous pain because of these unforgivable actions. I have chosen to leave my husband. Caring for my young children is my first priority and I ask the media for privacy at this time," Chapman, 41, said in the statement.
Chapman has two young children with the 65-year-old Weinstein -- India Pearl, 7, and Dashiell Max Robert, 4.
While Chapman stated that her children are her first priority, Laurel Pinson, Glamour magazine's digital director, told ABC News she had little doubt that the designer's high-end brand, known for its red carpet-ready dresses and bridal gowns, will be affected by the fallout from Weinstein's alleged actions.
"First and foremost, its unfair and unfortunate that this will likely impact the brand," Pinson said. "This is obviously Harvey's drama. Georgina shouldn't be held accountable for his actions."
Nonetheless, she said Chapman's brand has also benefited from her connection to Weinstein.
"It's safe to say that Hollywood has been an enormous marketing vehicle for Marchesa as a brand," Pinson said. "It's been prime material for the red carpet and premieres. Many of the stars of Weinstein's films wore the dresses. It's easy to see the connections there."
Reps for Chapman and her brand did not respond to ABC News' requests for comment.
The English-born actress-turned-designer launched her career as a costume designer in 2001, after years of modeling and small roles in TV and film. Three years later, in 2004, she joined with Keren Craig, a fellow design school classmate, to launch Marchesa.
That same year, Chapman met Harvey Weinstein, who had split from his first wife, at a party in New York City. "I had no idea who he was," Chapman told Vogue in 2013, adding, "He's not a person you can sort of ignore or brush off."
Soon after the pair began dating, lead actress Renée Zellweger appeared in one of Marchesa's dresses at the red carpet premiere of "Bridget Jones: The Edge of Reason," which was produced by Weinstein's company Miramax.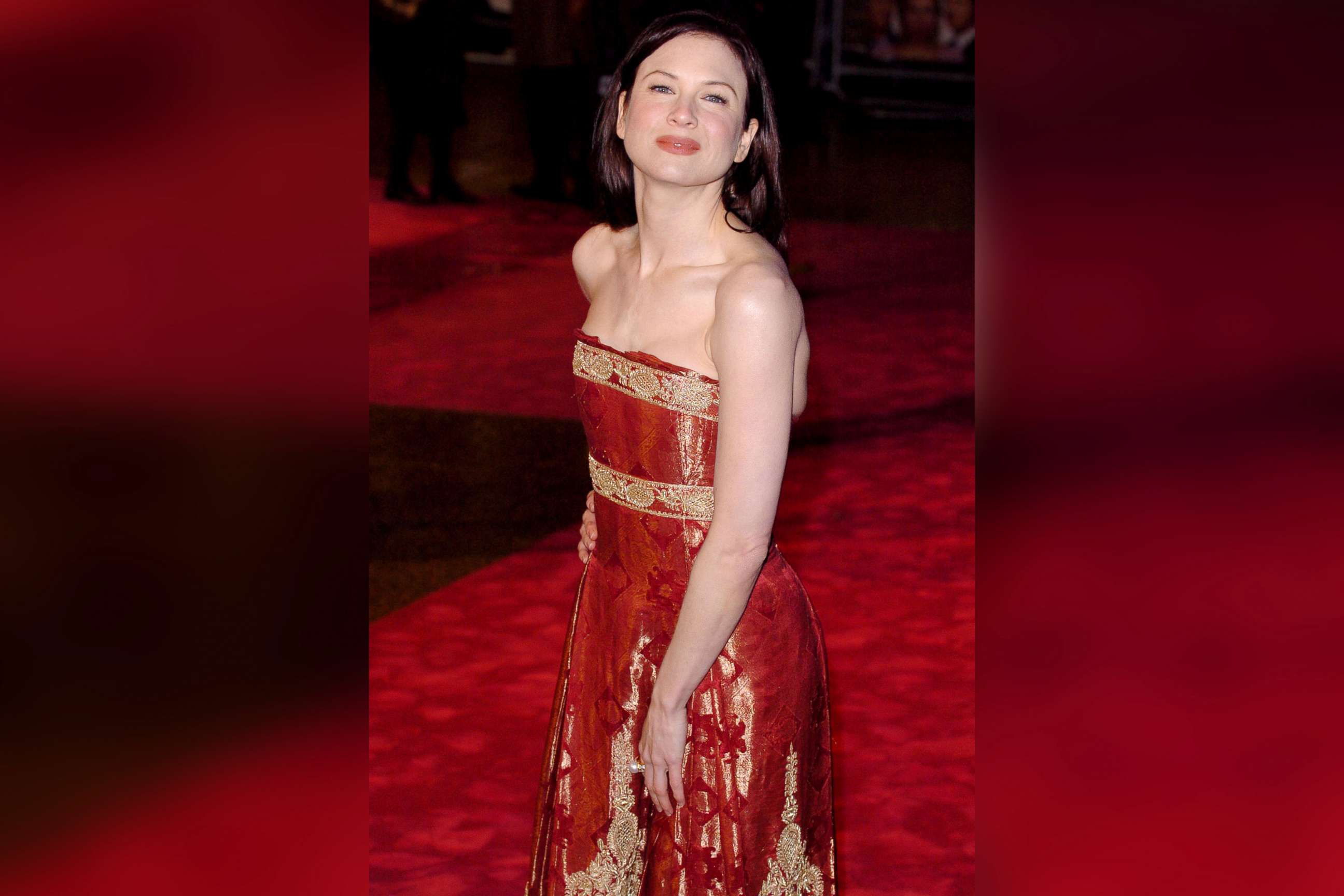 It was not just the start of the love affair between Chapman and Weinstein, but the love affair between Hollywood actresses, especially those in Weinstein-produced films, and Marchesa.
"Maybe I helped, but just very, very little, with Renée Zellweger," Weinstein told Vogue in the same article. "Within a year or two, it became actresses calling me on the phone asking if she (Chapman) was available for them. So the tables completely turned. To the point where I didn't even want to answer the phone if I knew it was an actress."
"How much was happening behind the scenes, it's tough to say," Pinson said. "But there was a clear connection between the brand and the Hollywood that Weinstein moved in."
The same year the couple tied the knot, in 2007, Sienna Miller, Jennifer Lopez and Anne Hathaway were among the stars seen wearing Marchesa at such high profile events as the Golden Globes and Academy Awards. The brand earned the British Fashion Awards title Red Carpet Designer of the Year.
Marchesa soon expanded into bridal gowns. Chapman was busy presenting the brand's fall 2018 bridal collection when the news about her now-estranged husband first broke.
"Thank you to the most amazing team!!!" she posted on Instagram Thursday, alongside a picture of several models wearing her latest bridal designs.
Meanwhile, Weinstein was under fire after the New York Times published a report alleging that several women, including actress Ashley Judd, had accused Weinstein of sexual harassment or unwanted physical contact over the past few decades.
By Sunday, the movie mogul had been fired from The Weinstein Co., the entertainment company he co-founded with brother Bob Weinstein, and four members of the company's all-male board of directors had resigned.
On Tuesday, more stars, including Gwyneth Paltrow and Angelina Jolie, came forward in a new New York Times article alleging that Weinstein had harassed them. The New Yorker published a story in which women accused Weinstein of sexual assault.
A spokesperson for the movie executive told The New Yorker, "Any allegations of non-consensual sex are unequivocally denied by Mr. Weinstein."
"Mr. Weinstein has further confirmed that there were never any acts of retaliation against any women for refusing his advances. Mr. Weinstein obviously can't speak to anonymous allegations, but with respect to any women who have made allegations on the record, Mr. Weinstein believes that all of these relationships were consensual," according to the full statement from Weinstein's spokesperson. "Mr. Weinstein has begun counseling, has listened to the community and is pursuing a better path. Mr. Weinstein is hoping that, if he makes enough progress, he will be given a second chance."
Weinstein's lawyer said in a statement last week that he planned to sue The New York Times.
"The New York Times published today a story that is saturated with false and defamatory statements about Harvey Weinstein," attorney Charles J. Harder said in a statement last Thursday. "It relies on mostly hearsay accounts and a faulty report, apparently stolen from an employee personnel file, which has been debunked by nine different eyewitnesses. We sent the Times the facts and evidence, but they ignored it and rushed to publish. We are preparing the lawsuit now. All proceeds will be donated to women's organizations."
The producer immediately apologized for misconduct and announced that he planned to take a leave of absence from work while he bettered himself. He also said Chapman was standing by him.
"She stands 100 percent behind me. Georgina and I have talked about this at length," Weinstein told the New York Post. "We went out with [Weinstein's former adviser] Lisa Bloom last night when we knew the article was coming out. Georgina will be with Lisa and others kicking my ass to be a better human being and to apologize to people for my bad behavior, to say I'm sorry, and to absolutely mean it."
Now that Chapman has split from Weinstein, the question of what will happen to her brand remains.
Already, her bottom line appears to be affected. The Hollywood Reporter is reporting that Helzberg Diamonds is no longer working with Marchesa on a line of engagement rings that was set to debut this month. A representative for Helzberg confirmed to THR that "the company is not launching the Marchesa brand at this time."
"It's safe to say she's really going to lose a lot of the marketing power that came from the red carpet," Pinson said. "It's inevitable that will change. Women in Hollywood have rallied around the victims who have accused Weinstein. Most won't want to be affiliated [with Marchesa], even tangentially."
"Actresses are more aware of the impact of their choices," she added, "and very savvy to what their fashion choices say."
As for average buyers, Pinson is unsure about how much they will care.
"The average consumer cares that it is Marchesa," she said. "It already has an established brand presence."
Despite the inevitable impact she sees on the Marchesa business, Pinson said she was glad to note that there hasn't been "any rush to criticize Georgina in any way."
"Women see that she should not be held accountable," she said. "He is the sole person to be held accountable."