— -- Ariell Johnson has been collecting comic books for more than a decade, but she'll soon add a very personal one to her collection.
The 33-year-old founder and president of Amalgam Comics & Coffeehouse, Inc. in Philadelphia will appear on a variant cover of "Invincible Iron Man #1."
The first image of the book, which goes on sale next month and features Johnson having a meal with new Marvel superhero RiRi Williams, is below.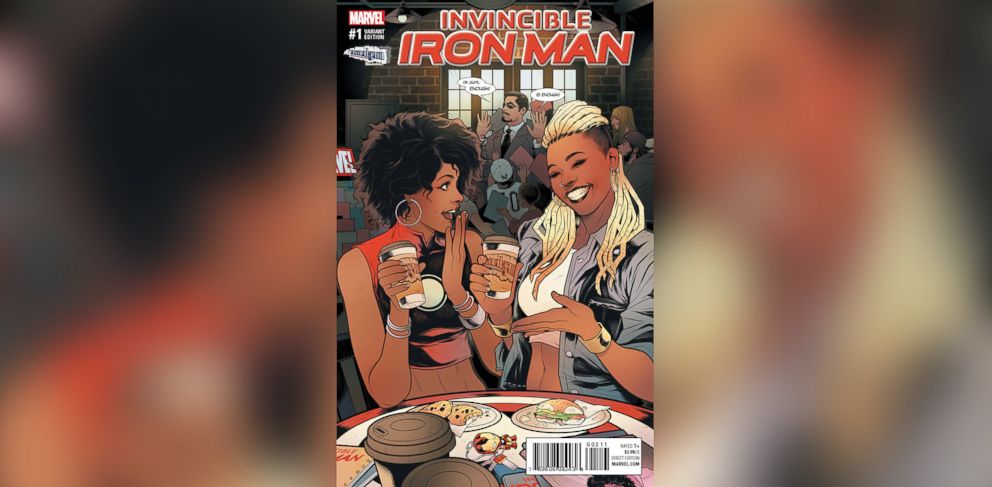 Johnson said she owes the collaboration to her colleague Randy Green, whom she said spearheaded the project and conceptualized the cover.
"When the email went out about potential variants for stores, he was really excited and took it upon himself to work out the [details]. It was really his hard work," she told ABC News. "I knew what it was supposed to look like, but having the actual art in front of you is so much different. It's really exciting."
Not that she hasn't earned it. Johnson opened Amalgym last December, becoming the first black, female comic book store owner on the East Coast. However, her obsession of all things geek really began around age 10 or 11, when she discovered "X-Men" character Storm. Johnson credits the character, one of the first black, female superheroes, with being "the bridge that got me into this world."
"To think I made it a decade-plus and I had never seen a black, woman superhero is crazy because little white boys have so many [with whom they identify]: 'I want to be Iron Man!' 'I want to be Batman!' 'I want to be Superman.' 'I want to be Han Solo!' When you are a person of color, you're scraping the bottom of the barrel to find someone you can identify with. I always felt like I was watching other people's adventures," she explained. "Being introduced to Storm was a pivotal moment for me because had I not come across her, I might have grown out of my love for [comics]."
After graduating from cartoons to comics in high school, Johnson began buying her own books in college. Her Friday routine was comforting: She'd go to the comic book store to get her weekly stash, and then take the books across the street to her favorite coffee shop, where she'd read them over a hot chocolate and piece of cake. When the coffee shop was forced to close some 10 years ago, Johnson decided it was up to her to create a space that gave her the same feeling of warmth.
"The goal is to be an inclusive geek space," she said. "So it's not just comics; it's gaming, it's sci-fi, it's horror, whatever you geek about, we want to make room for you!"
She's also proven to be a role model for girls and women. Johnson, who points to Marvel's diverse cast of characters and story lines as proof that the industry is evolving in a positive way, said that she's worked hard to make sure that everybody feels welcome at Amalgam.
"I had a girl tell me I had an excellent book selection and she was 7 or 8. I don't know how welcome she might feel in some other spaces," she said. "Women exist in this space! We've always been reading comic books, we just may not have been as open about it. I definitely get very positive feedback from not just little girls, but grown women too."