— -- Harrison Ford was injured when the World War II-era single-engine plane he was piloting crashed on a golf course near Santa Monica, California.
Ford, 72, was forced to make an emergency landing at Penmar Golf Course, just west of Santa Monica Municipal Airport, at 2:20 p.m. PST Thursday after the engine of the Ryan ST3KR plane he was flying failed, said NTSB and Los Angeles fire officials. He was taken to a nearby hospital in "fair to moderate" condition, said Patrick Butler with the Los Angeles Fire Department.
Ford was "banged up" and receiving medical care, said his publicist, Ina Treciokas, who described the actor's injuries as non-life threatening.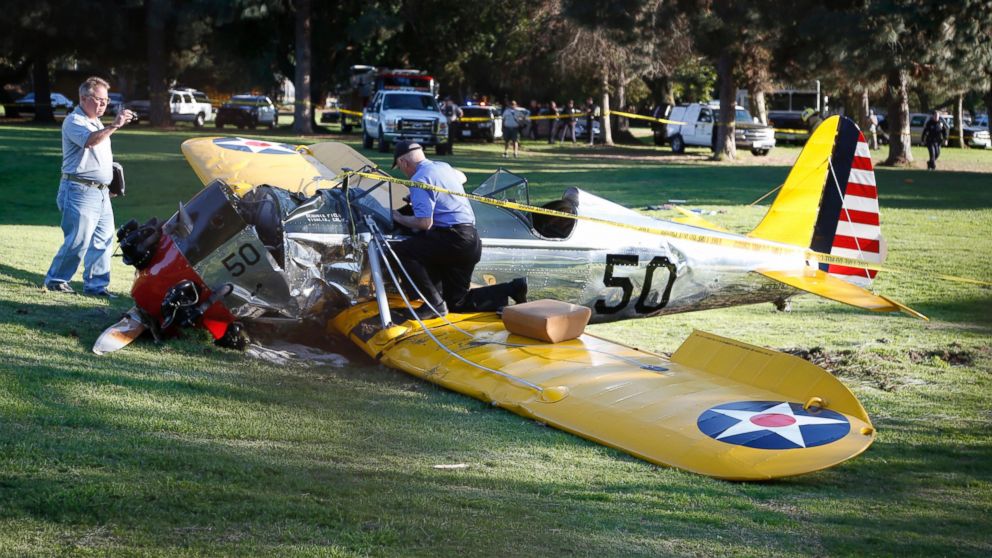 Ford reported engine trouble shortly after taking off from Santa Monica Municipal Airport and asked for an immediate return to the airport, said NTSB investigator Patrick Jones. He then reported that his aircraft came up short of the runway, according to air traffic controller transmissions from LiveATC.net.
The vintage airplane that Ford was piloting clipped a tree before crashing, said Jones.
Elaine Miller told ABC station KABC that the pilot was able to speak and "expressed that he was in pain." She and several others helped him out of the plane after it crashed.
"He had a significant head wound," said Miller. "He asked someone to hold his legs up, and people were just saying, 'you're okay, the fire department is on its way,' and...once police and fire started to arrive, my friends and I sort of backed away and went to the other side of the course to give them room."
Carlos Gomez, who lives across the street from the golf course, described the plane crash as sounding like a boom.
"I hear a lot of ambulances and I come outside and see people from the golf course pull a man from the plane," he said. "He was moving his arms and legs. I was happy he was alive and not paralyzed."
Mark Hamill, who is appearing alongside Ford in "Star Wars: Episode VII - The Force Awakens," poked fun at his co-star's plane crash.
Ford's son tweeted that his father was "battered, but ok!"
The NTSB will recover the airplane Friday, said Jones.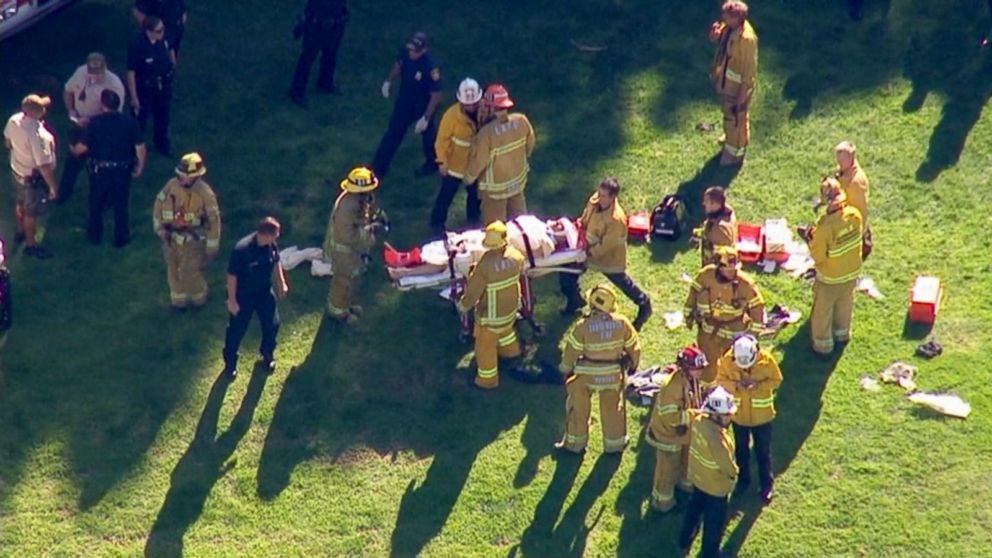 An avid pilot, Ford told ABC's Barbara Walters in 2008 that he "loved the freedom of flight."
"I love the places you go," he said. "I love the people in aviation, the people that I meet in aviation. I love seeing the world from an airplane. I'm in love with flying."
Movie star spoke with ABC's Barbara Walters about flying in 2008.
Ford survived a crash once before. He and a flight instructor crashed a helicopter near Van Nuys Airport in California in 1999, according to The Los Angeles Times.
Ford has worked to support general aviation with the Aircraft Owners and Pilots Association, and he presented a legacy award in his name to the president of the association in January.
Ford broke his leg on the set of "Star Wars: Episode VII" in June 2014 after a door crashed down on it. He had successful surgery following the incident.
Star Wars is produced by Lucasfilm, which is owned by The Walt Disney Co., which also owns ABC News.
ABC News' Emily Gertler and Matt Hosford contributed to this article.