Spencer Pratt and Heidi Montag, stars of MTV reality soap "The Hills," are grabbing headlines once again - this time Pratt is allegedly shopping around a sex tape of him and his soon-to-be ex-wife.
The couple filed for divorce in July after just 15 months of marriage, and they have been feuding since the split, with Pratt planning a tell-all book about their relationship.
The self-proclaimed "fame hungry" Pratt is reportedly seeking $5 million for the rights to the sex tape, and has been in talks with Vivid Entertainment about a distribution deal.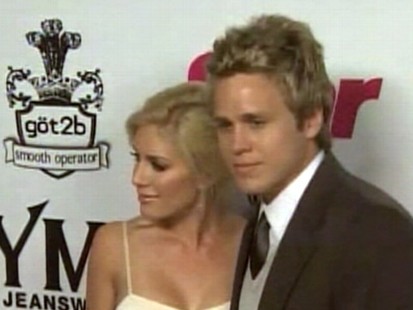 "I just got off the phone with Spencer Pratt about a sex tape with Heidi Montag," Steven Hirsch, co-chairman of Vivid told TMZ.com. "We are in early negotiations to possibly come to terms for a deal."
"I've been making films since I was in the 7th grade," Pratt told US magazine."I'm looking forward to people seeing my directorial debut."
Montag was unavailable for comment.
This is the latest in a string of marginally shocking, publicity-hungry moments that we've come to expect from the pair – once dubbed "Speidi." Let's take a look back at their brief, sordid history of eye-roll-inducing moments:
On Again, Off Again: In May 2007, Heidi and Spencer announced their engagement. In an impeccably-timed moment during "The Hills" season finale in December 2007, which the couple then broke off. But never fear, on November 20, 2008, Montag and Pratt married at a sparsely attended, 15-minute ceremony in Mexico.
Baptism by Baldwin: During Speidi's very brief 2009 stint on reality competition show "I'm a Celebrity... Get Me out of Here!," Pratt was baptized in a jungle river by actor and born-again Christian Stephen Baldwin. "I want to get the filth of my sins off me," Pratt said. "I want to get the filth of the eel sperm off me." They fled the show after just 4 days.
Conspiracy Theorists: In July 2009 on Alex Jones' radio show "Infowars," the couple agreed with Jones' claims that the 9/11 terrorist attacks were an inside job. "From your research, it 100 percent is," Spencer said. "I want to throw up." Pratt also vowed to use his "celebrity" status to inform the public about the New World Order conspiracy theory. We're still waiting on that.
Speidi vs. Al Roker: This unlikely feud began on a now-infamous "Today" show interview when Al Roker took the couple to task for their public behavior, at one point telling Pratt that he has a reputation for being a "jerk." The clash escalated after the couple ripped Roker on Ryan Seacrest's radio show, then on "Larry King Live" and finally on the Internet, where Pratt charmingly tweeted: "WEATHERMAN I thought you were out of town today getting your stomache (sic) stapled again?" Pratt ranted on his feed. "You look very sick? Do you always look like your about to die? How old are you 97? You should retire asap- No one would even know?"
Super Surgery: In January 2010, Montag revealed to People magazine that she had a whopping 10 plastic surgery procedures in one day. The procedures, performed by Dr. Frank Ryan, included a second breast augmentation that increased her cup size to DDDs, a brow lift and a nose job revision. She revealed that she almost died from an overdose of Demerol … it was worth it, she said.