Joan Rivers' death Thursday and the loss of a legend affected many people, but none more than her "Fashion Police" co-hosts, Kelly Osbourne and Giuliana Rancic.
Osbourne, 29, took to Facebook to say, "I'm completely heartbroken by the loss of my beloved Joan. Not only was she my boss, she was and will always be my teacher, therapist, closest friend, inspiration and the only grandmother I ever knew."
She continued, "She was family and I will never forget her. Laughter will be difficult for a while but when I'm sad, lonely or upset all I will have to do is think of Joan and a smile will cross my face. Laughter is what she gave us and laughter is what she would want us to do in remembrance of her. Melissa and Cooper, my thoughts are with you and I love you both so much. Joan, thank you for taking me in and loving me as a daughter. I will miss you deeply and will always hear your voice in my head saying 'my darling get out there and be you!'"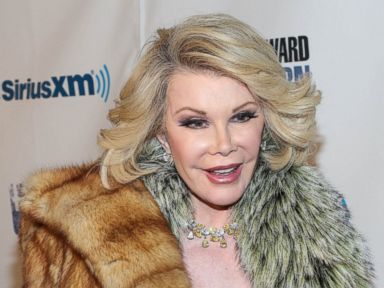 Rancic, 40, remembered her co-star as "the funniest woman I have ever met but was incredibly loving, honest, and lived her life with no regrets."
"It is almost impossible to describe how much I adored Joan and how much she has meant to me," she told E! News. "Working with her for the last 13 years has been one of the true joys of my life. She could put a smile on your face, instantly, no matter how hard your day was ... My life is so much fuller and happier because I got to share it with this beautiful person, a true genius. I woke up today unable to grasp what the world will be like without her and at the same time feel so privileged to have called her my friend."
Read: Joan Rivers Dead at 81: Inside the Comedian's Close Relationship With Her Daughter, Melissa
Joan Rivers Hospitalized After Cardiac Arrest
The loss of a legend like Rivers, who was 81, cuts across so many generations and so many cultures, whether you are a fan of her comedy.
"I feel very lucky that I knew Joan Rivers and I feel very sad that she's gone. She was a great comedian and a wonderful person. I never saw someone attack a stage with so much energy. She was a controlled lightning bolt," Louis CK said via a statement.
Amy Poehler added, "What a full life. Every woman in comedy is indebted to her. She was there at the beginning and funny to the end. RIP Joan."
Other celebrities from the likes of "Full House" star John Stamos to comedians like Ellen DeGeneres took to Twitter to share their condolences and their memories of the comedian who rose to fame in the 1960s and made people around the world laugh for more than five decades.