John Cena Talks ESPYS, His 'Accidental' Career and When to Retire
How he became a superstar, hosting the ESPYS and when it's time to walk away.
— -- John Cena leans over and caresses his grande Starbucks coffee with both hands like it's the WWE Heavyweight Championship belt. For a man who has won more than 20 titles in his 14 years in pro wrestling, this is saying a lot, but at this very moment, caffeine is worth its weight in gold.
On the day Cena is in New York promoting the upcoming ESPY Awards, he's been up since 2 a.m., has flown cross country with a crazy plan to fly back that night to do his West Coast media day. After that, it's off to Tokyo for a match, then back to the States for "Monday Night Raw." Such is life for wrestling's biggest draw.
"For the last three weeks, I've done ... fly to China ... fly to France ... fly to Tokyo, and all things in between," he said. "It's just to the point where I have to now see things in front of me like I just ask for copies of our daily schedule because I have to compartmentalize like, 'OK, make it to 5 p.m. We're good. I'm gonna be alright.'"
Cena's wearing a white-collared shirt, a gray, pinstripe suit and talks like the VP of marketing for a Fortune 500 company. This is a polarizing contrast for a man who has dominated a billion-dollar sport for more than a decade with a finishing move once called "The FU" and that doesn't stand for Florida University.
But maybe the contrast isn't so surprising.
The 39-year-old Massachusetts native is the latest in a line of wrestling stars that have bridged the gap between sport and entertainment. Hulk Hogan, Stone Cold Steve Austin and Dwayne "The Rock" Johnson are just a few of his predecessors. But Cena is different, very different.
Why is he at the brink of exhaustion, spread so thin, when he clearly has the cache to fully transition into acting, brand promotion or even the WWE front office? The man's all about lifting his sport up and don't expect him to walk away from the ring anytime soon.
The coveted award show that honors the best and brightest in the sports world could be perceived as the culmination of a career that he has built to this point. Featured roles in films like "Trainwreck" and "Sisters," alongside the best in comedy like Tina Fey and Amy Schumer, coupled with a career in front of millions of adoring fans and a brand that is forged on the principals of "Hustle, Loyalty and Respect" are just a few of Cena's accomplishments.
So, hosting a national event should be the launching pad any entertainer craves to take it to the next level. Not for Cena, who carries the weight of an industry on his very broad shoulders. He also wears his heart on his enormous sleeves.
"I love what I do so much, and I'm not ignorant to how sports entertainment is perceived," he explained. "So, an opportunity like this from ESPN to kind of captain the ship on the biggest night of sports and entertainment ... it's vehicles like that that can help change perception, and I don't look at it like a career goal, I look at it as appreciation for not just myself, for everybody."
The "perception" that pro wrestling has, that Cena is very open to talking about has slowly changed over the years because of the tireless efforts of its key athletes.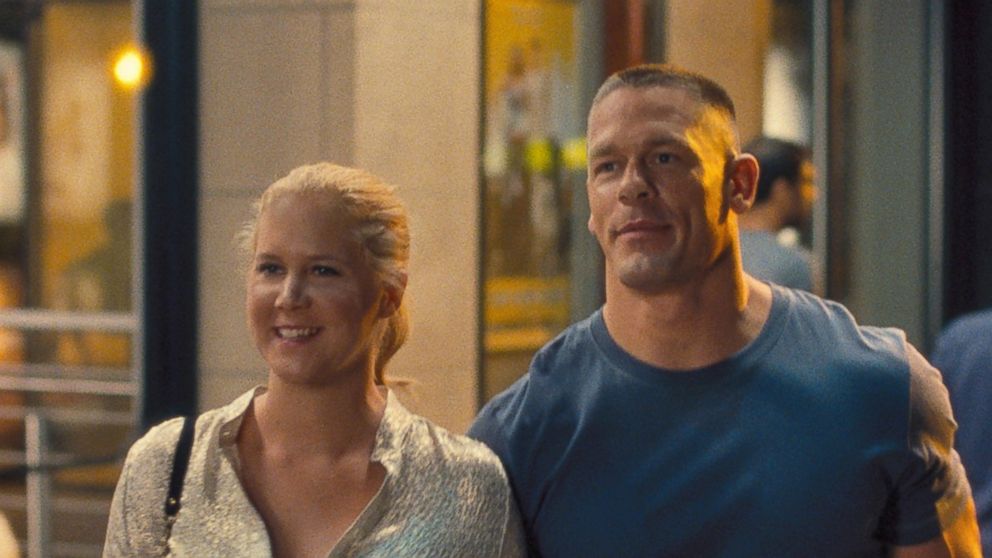 "There's a lot of situations because we do all of our own promotion, so you can catch certain superstars at media days, at local signings, even just in airports, on the street, in hotels, at restaurants after the shows," he said. "So it is a real family connection. I think that's what makes the WWE universe so passionate. They feel like when they get a guy or gal to cheer for, they truly feel like it's their guy or their gal."
And that fan base, unlike any other sport, cuts across all demographics and age groups, something this giant, yet approachable superstar completely grasps.
"I've met fans that are 9 months old to 90 years old," he added. "It transcends language because you can essentially watch our show and not understand what people are saying but because we have the ability to use sport for entertainment. You can say, 'Wow, that guy broke the rules. I don't like that guy' or 'This guy fights this way. I like this guy.'"
And Cena takes care to dabble in side projects that he feels passionate about like hosting the ESPYs. Money and a fast buck do not factor into his decision making.
"Twelve years at the top ... I'm doing OK," he said. "The Miz [Michael Mizanin] returned [the other night] on 'Raw' and he pulled me aside and he was like 'Hey man, congrats on the hosting gigs.' ... 'I hear through the grape vine you were doing "Predator" with 50 Cent.' I'm like 'No, man. ... I don't like doing action,' and he's like 'but that will be such a great opportunity.'"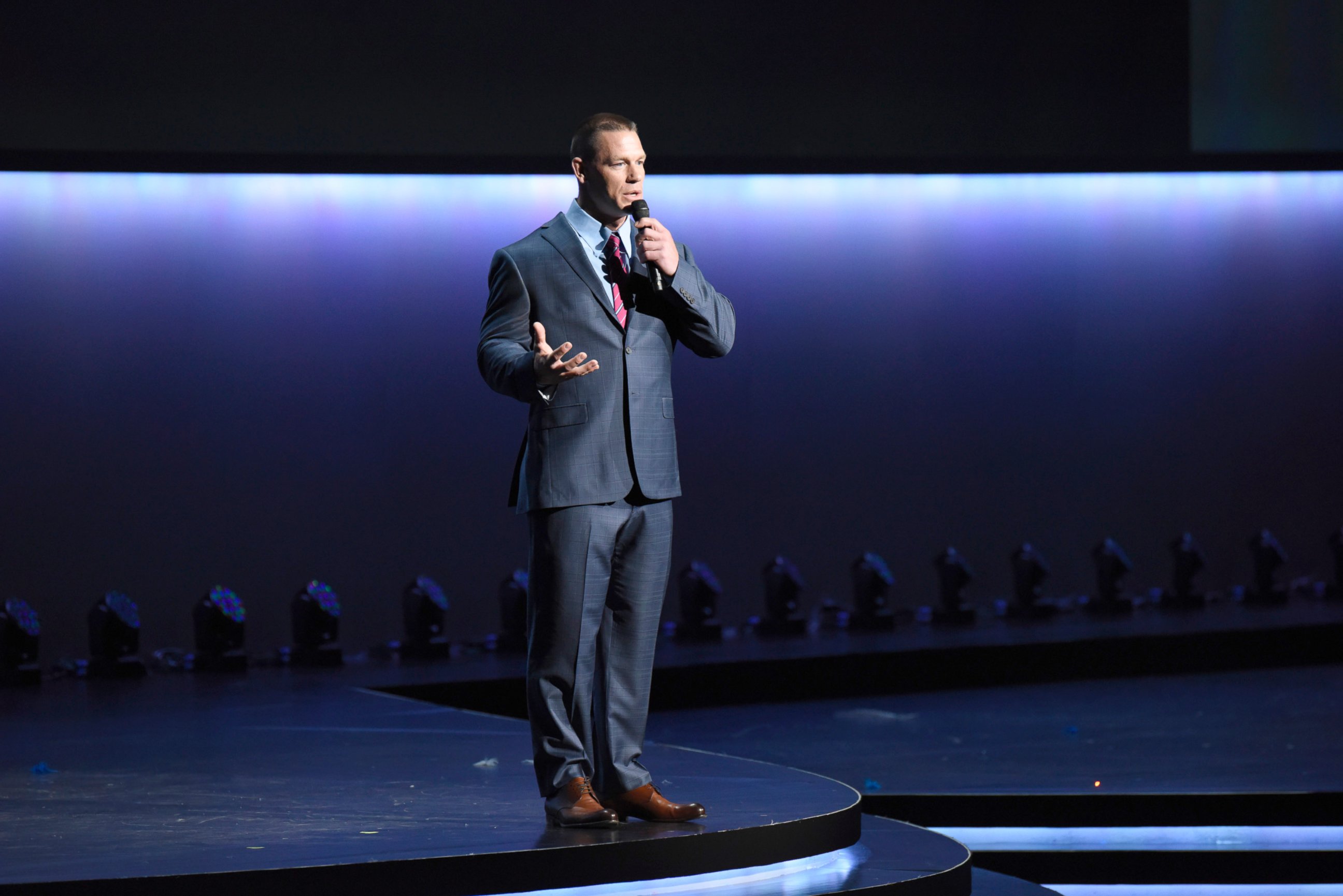 Cena agrees, but he's also all in with the WWE and doing smaller roles in films like "Daddy's Home," where he's only in one scene, is where he thinks his talents are best suited. He's also quick to admit, "if I f--- that up I don't deserve another chance."
"I run away from enough bullets in the ring, right now it's not something I want to do away from it. Being able to control a live crowd at the ESPYs, that's fun. ... I just want them to be like, 'Oh wow, that was a fun ride. The kid did alright,'" he added.
Will He Ever Walk Away?
No matter what you think about pro wrestling, John Cena is 39 years old and has taken his share of beatings in the ring. Just earlier this year, he underwent shoulder surgery but came back earlier than expected to the delight of fans. But is he heading into the twilight of his career? He doesn't seem to think so.
"It's taken years and I still can't jump the hurdle," he said. "Everybody's like 'OK, when are you getting out of wrestling to do movies?' And they're baffled when I'm like, 'I'm not!' I want it to be acceptable to do both. Why would I turn off 650 million global viewers? Why would I turn off half a billion social accounts? Why would I turn off the fun?"
At the time of the interview, before his video went viral, he said, "All morning, we filmed the PSA advertisement on patriotism. I showed up to the arena last night for 'Raw' in the nick of time, like hit the ground ... and I'm so exhausted, I'm back there just trying to shake the cobwebs. And the horns hit and then they start singing 'John Cena sucks' and it's like you become alive. And why would I want to shut that off?"
"I'm going to do this as long as I physically can," he added. "There is a definitive end in sight. But man, I'm gonna milk it for all that it's worth. And not like, 'I'm gonna hang on to my spot man.' ... I just want to be involved, I want to be able to contribute because the noise and the appreciation, like that is such wonderful psychology to be able to manipulate."
The injuries may be have obvious setbacks, but it's not something on Cena's mind.
"I think the second that I become self-aware of like, 'Hey man, what you're doing is extremely physical.' That's the second where my approach to the creative process will change, the product will change ... and that's when the people say, 'OK, he's missing stuff,'" he said.
'Accidentally' a Legend
Cena got into wrestling like most people would pick up a hobby.
It was "absolute chance," he said, adding, "no bulls---."
"I graduated from college with a degree in ex-phys and kinesiology, because it was learning to work out and I already knew how to work out. So, I just wanted an easy degree. I'm sorry but that's just the way it was," he said matter-of-factly.
After visiting the West Coast one weekend, he was hooked. At just 21 years old, his father "gave me two weeks."
"I wish I had four hands to hold up four middle fingers to my dad [at the time]," he added. "'You don't know nothing, old man.' So, I left with 500 bucks and an Army duffle bag, and hit ground in Santa Monica and just started working. No career, just working a job to make money to stay out there to spite my father and the jobs were taking me nowhere. I took the California Highway Patrol exam and didn't pass, so I tried to be a cop and failed."
His next move was the Marines, but then fate stepped in.
"I used to work at Gold's Fitness. I would work the front desk. I was the mayor. I knew everybody. ... That was a time when like attitude was at zenith like 1999, 2000. So I mean everybody watched [wrestling], but so did I. And we would just talk about 'Raw.' And this kid was like, 'You know I'm training to be a wrestler? Would you want to do that?' This was before 'Tough Enough' or any of that. I didn't know you could train to be a wrestler," he said.
"I was already up to my eyeballs in debt, but I leveraged every credit card I had ... paid a promoter out in southern California, and learned the trade," he said. "Had we never had that conversation, I would have probably been honorably discharged or medically discharged from the Marines."
He was hooked.
"I knew I was never going to have a real job," he said.
The Side Most People Don't See
Cena said that in 5 years, he'd still like to be doing this same balancing act in and out of the ring.
"I would like to be able to sit at this table and confidently say, 'See! You can do it all!'" he said, laughing.
The man is humble when it comes to his obvious business acumen, but when partnerships with China and licensing merchandise are brought up, Cena has a full-fledged plan in mind. From "calculated risks" on new shows to analyzing the organization's subscriber base, he has knowledge of the how the sport operates and sells.
"I design all my own merchandise. ... I come up with the marketing of it and ... I'm really in tune to our live event. ... I love the business," he said. "You gotta work hard now because the entertainment business, you know, it's not guaranteed."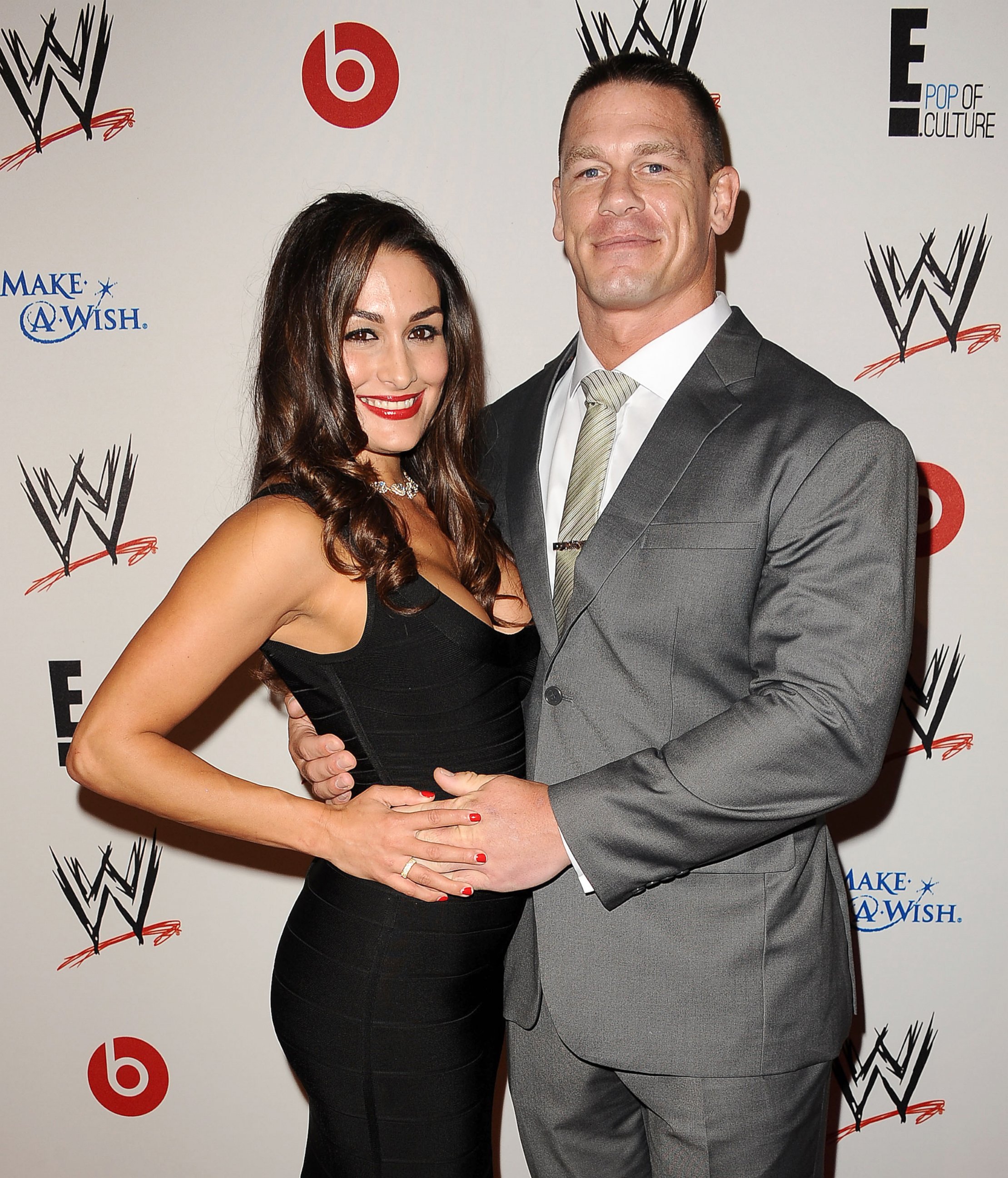 And though Cena appears in reality shows like "Total Divas" opposite his girlfriend of three years, Nikki Bella, he said "when I go home I turn it off."
"It seems like I shoot that program a lot [but] they use every frame that I'm in," he said. "Nicole and Brianna are gifted in that space. ... And to do that, they need to showcase their real lives, and I'm part of Nicole's life. I'm not good at that. It took me a lot of finesse to be like, 'OK, we're gonna show people behind the curtain.'"
Cena's "not there yet," when it comes to being comfortable opening up his private life to the world.
"When I go home I don't have any people who visit my house. There's no wrestling memorabilia, nothing to remind me of my accomplishments, no awards," he said. "Every accolade I've ever received, every military achievement I've ever been given, or challenge coin, is all in a small little office at the gym, that I do cherish, but you need to turn it off."
The John Cena you don't see is studying other languages, "trying to mess around with the piano a little bit" and other hobbies you may be surprised by.
"I don't ever want to maybe con myself into thinking, 'No, I've done enough. Look at all this stuff," he adds.
July 13
With the biggest night in sports just hours away, Cena was very honest when he was given the hosting duties for the 24th ESPY Awards.
"The first thing I did when I sat down with the writing team is like, 'Guys, I don't know what I'm doing. You guys know what you're doing. I would like to have a successful show. How do we do this?'" he said.
"I know that I love live audiences, I love live shows. ... I love to show a different side of myself," he added, citing fans for some time in wrestling itching to see him become a bad guy. "I can't. But I can over here. ... So I think it's a great way to satisfy my own creative urges of wanting to be a bad guy, and satisfying the consumer of like, 'Will this guy ever change his demeanor?' Yes, you just gotta go over here to see it."
And just like in the ring, Cena wants everyone to bring on the constructive criticism.
"I wanna be tagged on the chin, I wanna be tagged on the nose, no pun intended, because I'm going to tag them," he said of being playful and fun with other celebs and athletes. "I tell them, 'You say whatever you want just remember, I'm coming for you.'"
The ESPYs airs Wednesday night at 8 p.m. ET on ABC.
ABC News and ESPN are both part of parent company Disney.