Actress Julia Roberts was named People's "world's most beautiful woman" for a record-setting fifth time this year, the magazine said today.
People's editorial director, Jess Cagle, announced the decision on "Good Morning America," adding that the magazine's annual "most beautiful" issue will hit newsstands nationwide on Friday.
Cagle applauded the "Pretty Woman" actress for her healthy living and added that many fans have watched Roberts, 49, grow into the woman she is today.
"She's been famous a very, very long time, and she's very, very popular," Cagle said. "She's also a person who just keeps getting better as she matures."
He added, "She's better looking now than she ever has been. She looks great, but she also just gets better in life ... She's carved out this really simple, perfect private life away for herself and the spotlight. That's difficult to do when you're Julia Roberts."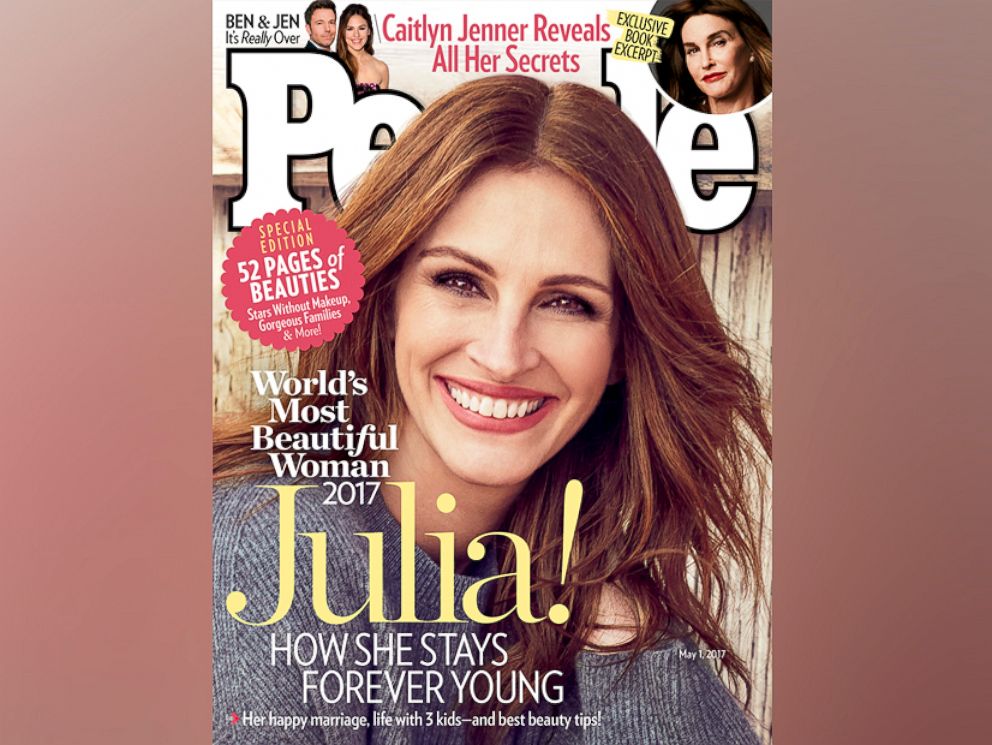 Also in this year's "world's most beautiful" issue are celebrity couples like Joe Manganiello and Sofia Vergara, George and Amal Clooney, and Jay Z and Beyonce.
Some breakout stars in this year's "fresh faces" category are Emma Stone and Janelle Monae.
Ali Wentworth, the star and executive producer of "Nightcap" on Pop TV and the wife of "GMA" anchor George Stephanopoulos, published an essay reflecting on the "indignities of aging" in People's "most beautiful" issue this year.
Wentworth, who discusses plastic surgery, tells People, "Honestly, I'd rather not compete, and it will be such a huge relief to wear black turtlenecks and huge straw hats and start growing beefsteak tomatoes."
People magazine's "most beautiful" issue features over 50 pages of the exquisite elite and includes categories such as "beauties and their pets," "forever beautiful" and "my beautiful family."