She eschews Botox, chants at a Hindu temple and puts her family before career. At 42, Julia Roberts seems to be hitting her stride.
With her new movie "Eat Pray Love" opening today, the actress told "Good Morning America," "It's nice to be really fulfilled and happy and play that your life is a mess."
Like other actresses in their 40s, Roberts is reinventing what it means to be in the fourth decade of life. Not being afraid of growing older is part of it.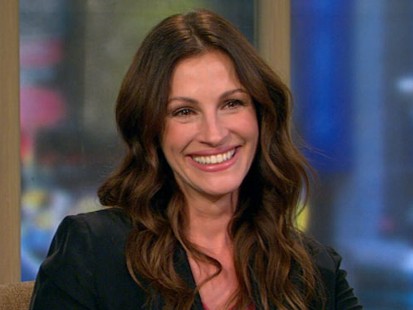 Earlier this week, Roberts drew headlines for her comments nixing Botox. "I want my kids to know when I'm pissed, when I'm happy and when I'm confounded," she tells the current issue of Elle. "Your face tells a story and it shouldn't be a story about your drive to the doctor's office."
Her comments garnered cheers, especially from "Desperate Housewives" star Teri Hatcher, who posted on her Facebook page photographs of herself fresh out of the shower to show off her wrinkles and reveal that, while she once used Botox, she doesn't anymore.