ORLANDO, FL. — -- Prince Harry and First Lady Michelle Obama opened the second annual Invictus Games on Sunday night, saluting "the very best of the human spirit."
Speaking from his heart, Prince Harry, 31, said he learned the "true cost of war" when traveling back from his own deployment in Afghanistan, and, in that moment, was inspired to set up the Invictus Games. The experience changed his life and the fifth in line to the British throne told the Invictus Games audience that war made him realize how privileged he was as a prince.
The first lady has also been a passionate advocate for veterans and recognizing the service of military families.
Prince Harry and the first lady sat down with "Good Morning America" co-anchor Robin Roberts exclusively in Orlando, Florida, ahead of the Invictus Games competition. The two have come together to celebrate armed forces who are often overlooked and give them a way to serve their country again despite their injuries.
"[It] doesn't have to be camouflage, but wearing a uniform, to be able to wear your national flag again on your left chest or on your left arm is such a massive thing for these guys," Prince Harry told Roberts.
"These men and women are looking for their next mission. Once they take that uniform off, they're still looking for ways to serve," Obama said.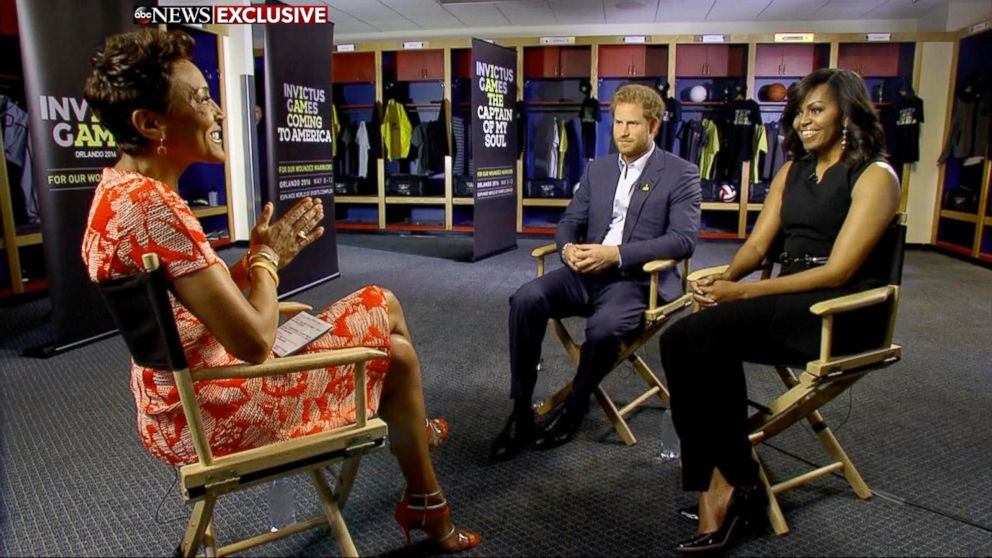 More than 500 competitors from 15 nations are competing in the Invictus Games at ESPN's Wide World of Sports Complex at Disney World in sports like sitting volleyball, wheelchair basketball and swimming.
"They're ready, they're fired up, so it's going to be good," the first lady said, as Harry joked, "Game on."
Prince Harry conceived and has been the driving force behind the Games, writing in the official program to mark the opening ceremony in Orlando, "Thank you for supporting these servicemen and women, veterans and their families. The Invictus Games harnesses the power of sport to support rehabilitation, inspire recovery, and ultimately to enable those taking part to move beyond their illness or injury."
Prince Harry described the camaraderie he developed as a serving member of the military.
"You become sort of addicted to it and addicted to the people that you're with. I mean I signed up because I wanted to be one of the lads. I wanted to be one of the guys. But then this sort of normality for me to be amongst these guys was so important," he said. "So no, I you know, looking back on it, I would -- I don't have -- I don't have any regrets at all that -- the 10 years' service that I had. It's certainly given me a purpose in life and certainly steered and me directed me in -- in -- in the right direction."
The first Invictus Games were held in London in 2014. The first lady and Prince Harry have used the higher profile of the Second Invictus Games to tackle mental illness and other "invisible injuries".
"What we all know is that mental health can affect us all," Obama said. "It's not just men and women in uniform. It's not just our veterans. They come back and they're ready to work and -- but for those who do, it's so important for us to work to de-stigmatize it so that people feel the support to go out and get the support they need."
Prince Harry hopes to de-stigmatize the issue with Obama so people aren't afraid to ask for help.
"If you open up and speak about it and get the right help as soon as possible, then you can find coping mechanisms and you can get your life back on track very, very easily," Harry said.
Prince Harry was also joined by former President George W. Bush, singer James Blunt, a former military officer himself, and actor Morgan Freeman on stage as he opened the Games on Sunday.
Prince Harry received a standing ovation at the conclusion of the opening ceremony after telling military members and their families, "I served along soldiers from all over the world. I saw the sacrifices you and your families made to serve your nations."
Harry added, "That's why I had to create the Invictus Games, to create a platform for all those who served. Their stories are as amazing as they are unique. They focus on what can be achieved, rather than what can't. Over the next four days you will see things that in years past would not have been possible. You will be inspired, you will be moved and you will be entertained."
ESPN and ABC News are owned by the same parent company, Disney.