"It has come down to a single mother from Toledo and a paint salesman from Chicago," emcee Ryan Seacrest announced at the end of the "American Idol" season finale.
"After the nationwide vote. I can now tell you the winner of American Idol 2010 is ... Lee DeWyze!"
And in the end it would be a "Beautiful Day" for that 24-year-old former paint store clerk, who bested Ohio sweetheart Crystal Bowersox, 24, to become the ninth Idol.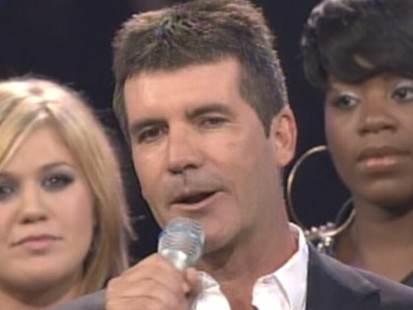 "It's amazing. Thank you guys so much," said a visibly choked up DeWyze. "I've never been happier in my life."
It was a hard finale to claim as his own, however, as tonight also marked the final appearance of acerbic judge Simon Cowell.
The two-hour show included several montages of Cowell's more memorable tongue-lashings, a roasting by comedian Dane Cook and a familiarly untethered speech by former judge Paula Abdul.
"I've loved all the fun we've had together," Abdul told Cowell. "'American Idol's' not gonna be the same without you. But as only I can tell you, it will go on."
Seven of the eight previous Idol winners appeared to serenade the outgoing capo.
"I didn't think I was going to be this emotional and I genuinely am," he told the crowded room. "Everybody asks who's going to replace me, who going to be the next judge. The truth is ... you guys are the judge of this show and you've done an incredible job over the years."
There was also the standard bevy of guests: Janet Jackson, Hall and Oates, Christina Aguilera, Alannis Morrisette, the surviving BeeGees, Chicago, Michael McDonald, Alice Cooper and Joe Cocker all sang their hits.
Although DeWyze was the winner, don't expect Bowersox -- or, for that matter, third-place finisher Casey James -- to fade into obscurity just yet. DeWyze wrangled the Idol crown from Bowersox by a tiny 2 percent margin.
And James scored one of the evening's most memorable moments as he sang "Every Rose Has Its Thorn," pouting dreamily alongside a suprisingly robust Bret Michaels as his partner.