Leave it to Lindsay Lohan to spark a Twitter war.
Lohan's ex-girlfriend Samantha Ronson took comedian Joan Rivers to task over the weekend for poking fun at the 24-year-old starlet, bound for jail next week and rehab after that for violating her probation.
Rivers joked about the ill-advised, curse-laden manicure Lohan sported at her court hearing last Tuesday.
"Lindsay Lohan is so dumb," the 77-year-old comedian tweeted. "Her idea of being sworn in is cursing at the judge."
She also mocked Lohan's knowledge of the legal system ("Lindsay Lohan said she wouldn't mind being under oath because she thought Oath was a Norwegian ski instructor") and joked about her hard-partying habits ("I was just reading about the new Lindsay Lohan diet, which is all liquid. 80 Proof").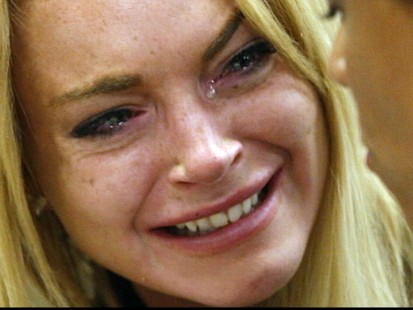 In response, Ronson hit Rivers where it hurts.
"Hey Joan Rivers," she tweeted. "You have collagen older than Lindsay, pick on someone your own age, oh wait I guess people that old can't hear."
When a follower of Ronson's pointed out that Rivers' job is to jab, the 32-year-old DJ replied, "She's not at all funny." But Ronson got a smile out of Lohan -- on Saturday, Lohan retweeted her ex's message with the note, "thank you ;) I love yams x ."
Don't expect the battle to wage on. Asked if Ronson would share her thoughts on Lohan's sentence and Rivers' jokes, her rep told ABCNews.com, "She does not comment on that subject."
Meanwhile, Lohan is reportedly searching for legal representation. After ditching Shawn Chapman Holley, the lawyer who held her hand through last week's over-the-top court hearing, Lohan and her family have been meeting with other attorneys, including Chicago-based lawyer Stuart V. Goldberg and Tiffany Feeder-Cohen, who only gained her California bar certification last November.
She's also been getting her anger out on Twitter. Last Wednesday, Lohan spent one of her few remaining evenings as a free woman complaining that she is the victim of "cruel and unusual punishment."
Lohan used her Twitter feed to cite Article 5 of the U.N. Universal Declaration of Human Rights and its prohibition against "torture" and "inhuman or degrading treatment."
'F**k U' Fingernails a 'Joke'
After that, she tweeted a link to a Newsweek story about Sakineh Mohammadi Ashtiani, a Iranian woman sentenced to death by stoning for adultery. It's unclear whether Lohan was drawing a comparison to her case.
And, on a more contrite note, Lohan tweeted that her now-famous middle fingernail, painted with "F**k U" in an apparent message to judge Marsha Revel, was just a "joke" that "had nothing to do [with] court."
But Lohan's Twitter feed isn't just for rants and raves. Late last Thursday, she posted a shout-out to the cornerstone of her support system: her mother, Dina.
"I love my mother ... she is amazing and strong*," Lohan wrote. "She's all i could ask for and more, by taking on the role of my mother and father all my life."