March 3, 2014 — -- She's classy, gorgeous and won an Oscar on her first major film appearance.
It's safe to say Lupita Nyong'o is the latest actress to take the world by storm. Last year it was Jennifer Lawrence, this year it's Lupita, 31.
She set the red carpet on fire, especially last night in a baby blue Prada dress, which she said not only reminded her of her native Kenya, but was inspired by "champagne bubbles." Who else could say that and make it sound amazing? Only Lupita.
After an awards season that included wins at the Critics' Choice awards and Screen Actors Guild, she won the Oscar last night for Best Supporting Actress for her portrayal of Patsey in "12 Years a Slave."
"It doesn't escape me for one moment that so much joy in my life is thanks to so much pain in someone else's," she said of the film, based on events that happened in the time of slavery. "My brother sitting by my side, you are my best friend."
Backstage, Jennifer Lawrence, who lost out for the Oscar to Lupita, joked around with the regal beauty and tried to wrestle the Oscar out of her hand.
Today, Nyong'o said on "Live with Kelly and Michael," that the Oscar win "hasn't set in. I haven't even slept! It is overwhelming, but at the same time, this is the thing I dreamed for, it's the thing that I availed myself for. I'm just trying to allow myself to absorb it all."
She's still in shock that when midnight came and passed, her award "did not disappear."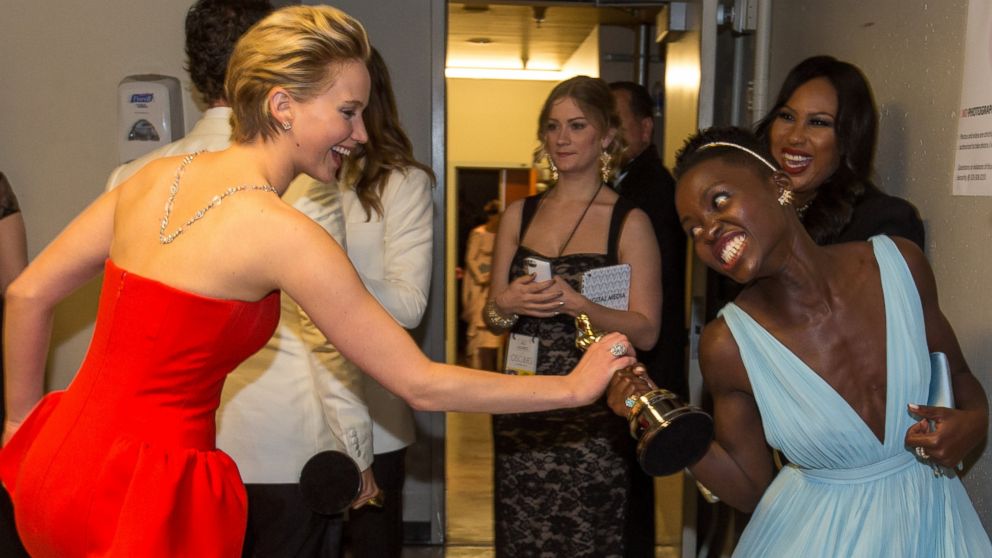 Don't worry Lupita, nobody is dethroning in the foreseeable future.
Here's a look back at some past "It" girls.
The 23-year-old was the talk of the town last year, winning Best Actress for her role in "Silver Linings Playbook." Even more endearing was she fell in her Dior dress on her way to pick up the Oscar and took the slip in stride. "I did a stair test," she joked at this year's Oscars.
The two-time winner (1999 and 2004) definitely stormed the 72nd Oscars for her amazing performance in "Boys Don't Cry." Five years later, she was an almost lock to win again for "Million Dollar Baby."
Bullock was an "It" girl long before she won the Oscar in 2009 for "The Blind Side." In 1994, she starred in "Speed" and in 2000, she showed her softer side in "Miss Congeniality." She hasn't looked back since. She was also nominated this year for "Gravity," losing to Cate Blanchett for her turn in "Blue Jasmine."
Julia Roberts isn't dubbed "America's Sweetheart" for nothing. Long before her 2000 win for "Erin Brockovich," Roberts was making waves for her lovable characters in "Pretty Woman" and "My Best Friend's Wedding."