Music Reviews: The Latest From Bjork, Sleater-Kinney, The Decemberists and More
Find out what you should be listening to this weekend.
January 24, 2015, 6:24 AM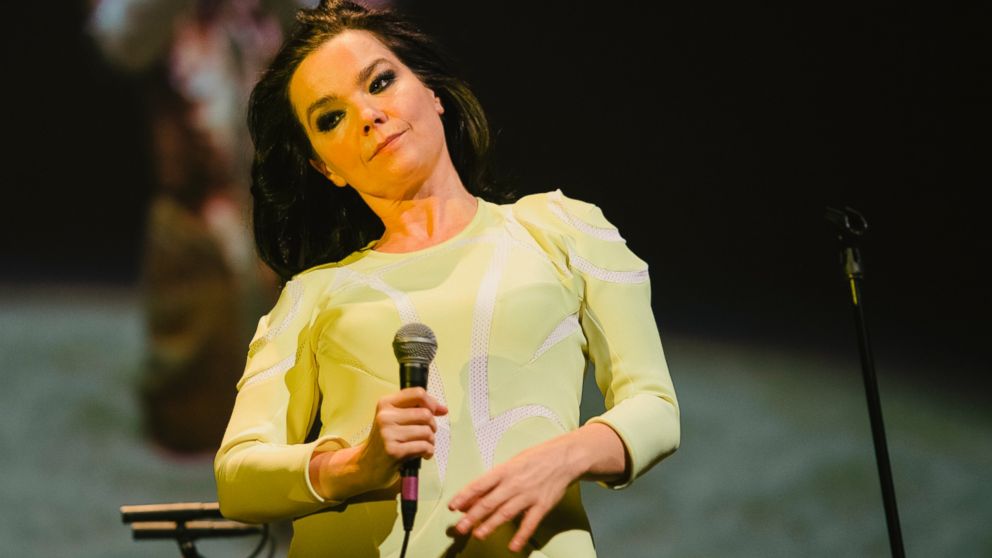 — -- intro: This week, Bjork drops a surprise album, celebrated rock trio Sleater-Kinney make a triumphant return, the Decemberists offer up their latest dose of highly-literate folk-rock, Fall Out Boy continue to try merge elements of rock and pop and Marilyn Manson explores his dark, bluesy side. January is in full swing. It's a busy week.
quicklist:title: Bjork's "Vulnicura" *****text: Only a week after its announcement, Bjork has "pulled a Beyoncé" and dropped her latest album on iTunes two months ahead of its physical release. And this record is a stunner. It could be her best work since "Homogenic" in 1998. Its orchestral core recalls that record strongly, although this also may be the most musically sophisticated release of her career. Really, this is a breakup record of the saddest variety, chronicling the dissolving of a relationship.
This is a vulnerable, gentle soundtrack to one's world falling down. This is heartbreak at its most aching and its most beautiful, from the accounts of breakup sex during "History Of Touches" to the effective funeral march of "Family." If you are looking for a pop fix, you won't find it here. This is essentially an expansive classical piece, with the album's nine songs spreading across an hour. By Bjork's standards, this really borders on being an opera. This is a sonically and musically dense meditation on grief and yet there are moments of jaw-dropping grace.
If you've never understood Bjork, this album probably won't change your mind, but those open to this record will find a bona fide classic. Also, if you've never listened to Bjork before, opener, "Stonemilker" serves as a great gauge, so while this album doesn't have the single potential of let's say 1995's "Post," it is a stellar record suited for consumption by new fans.
This album is also quite sprawling. Seven of its nine tracks clock in over the six-minute mark. Bjork also reunites with Antony Hegarty of Antony & The Johnsons effectively on "Atom Dance." The two previously sang together on "The Dull Flame Of Desire" on 2007's "Volta."
Bjork has never put out a weak album. All of her records always come off as painstakingly crafted, making her a true innovator. But "Vunicura" sets a new bar among the best of her catalog. You feel her heartbreak in these sweeping pieces. It ought to be interesting to see how well this album charts next week. It's a true masterpiece and it deserves a great deal of attention. This is the first truly magnificent album of 2015.
Focus Tracks:
"Stonemilker" This opener is easily among her most beautifully-crafted works to date. The string-arrangements are enveloping and her melody makes excellent transitions from the mournful verses to the multiple choruses and the end result is transcendent in many respects.
"Black Lake" This ten-minute mood-piece moves from a bare orchestral backdrop to a slowly foreboding, almost Reznor-esqe digital pound. Her grief is felt throughout the track.
"Lionsong" These tracks are arranged in the timeline of a breakup, chronicling before and after the relationship's collapse. This song is said to be "5 months before" where she senses trouble, longs for a simpler time and sings to herself, "Maybe he will come out of this loving me. / Maybe he won't." That doubting feeling of something that once felt certain can be crushing.
media: 28439400
quicklist: 2title: Sleater-Kinney's "No Cities To Love" ****text: When Sleater-Kinney broke up after 2005's excellent record "The Woods," it was admittedly a shock. "The Woods" was a substantial effort that not only showed the trio rocking as hard and effectively as they could, but it also had its jam-worthy moments. It was also among their most accessible records. In the years since the breakup, of course, Carrie Brownstein somehow began one of the most unlikely (and tremendously successful) careers in comedy, helming the IFC show "Portlandia" alongside Fred Armisen. She has also recently been on Amazon's Golden Globe-winning breakout-hit "Transparent." Musically, she also fronted the very impressive supergroup of sorts, Wild Flag a couple years back. During the off-time, co-vocalist and guitarist Corin Tucker formed her own band, (the aptly-dubbed Corin Tucker Band) while drummer Janet Weiss continued her work with her other band, Quasi and drummed on a couple records with Stephen Malkmus & The Jicks.
"No Cities To Love" is a near-33-minute dose of rock. Both Tucker and Brownstein maintain their very distinct vocal-styles, with Brownstein delivering her breathy, clipped exclamations and Tucker offering up her impressive caterwaul. Truth be told, there are very few current records out there quite like this one. It is raw and vital, harkening back to the urgency of the original RIOT GRRRL movement. This is even true when the band offers up the disarming funk of "Fangless."
Throughout the set, Weiss once again proves herself to be one of the best drummers working today, giving these songs a truly anchored backbone. She is truly impressive behind the kit and should be ranked among the greats.
This is gloriously grungy punk, with the double-guitar murky assault of "No Anthems" showing enjoyable moments of dissonance. Singles like the title-track, with its celebrity-filled music video and last-year's comeback track, "Bury Our Friends" serve as excellent examples of what this album offers. This is a band coming back after an extended break at full-force. Maybe the break suited them well. This record may be too abrasive for some, but for the rest of us, it is a righteous resurgence.
Focus Tracks:
"A New Wave" This is one of the brightest tracks on the album, with its soaring chorus, "It's not a new wave / It's just you and me." If pop radio still respected alt-rock, this would be a hit. The guitar freak-outs between verses are also quite something to hear.
"No Cities To Love" This title-track effectively harnesses the driving energy of the core of the record. The band members have said that in coming back, they wanted to make a really strong record. That determination is evident here.
"Bury Our Friends" Like "Fangless," this has a dingy funky-quality, anchored by Weiss' multiple tempo changes. Like most of the rest of this album, there is a strident anthemic quality to this track that feels natural and never forced.
media: 28439449
quicklist: 3title: The Decemberists' "What A Terrible World, What A Beautiful World" ****1/2text: I will be honest. I have long loved the Decemberists for songs like "Here I Dreamt I Was An Architect," "July, July!" "The Engine Driver" and "The Crane Wife 3." I have always found Colin Meloy's extremely cerebral character studies to be truly fascinating. That being said, I did not connect at all with their last full-length "The King Is Dead" for several reasons. First, it seemed to play too much to that old-timey, quaint hipster folk revival that Mumford & Sons and Fleet Foxes helped usher in and secondly, most of the tracks sounded like rewrites to me of other people's songs. Really, a track like "Calamity Song" sounded like a third-rate rewrite of something R.E.M. would have put on "Murmur" or "Reckoning." (Of course, Peter Buck made several appearances on "The King Is Dead," so that effect may have been due to his incredibly strong influence.)
"What A Terrible World, What A Beautiful World" is in many ways a return to form. R.E.M.'s influence still looms, but here the band seem more like their heirs than imitators this time around. This is also, easily the band's consistently most accessible record to date. When they signed to Capitol a few years back, I must admit I was worried if they would make it in the fast-paced world of the majors. This album is packed, especially in its first half with potential singles. From the horn-assisted "Cavalry Captain," to the carefully-worded, lust-filled pleas of "Philomena" it is evident that even those who may have found this band's past work tedious will find much to enjoy here.
This album feels fully-functioning and the boost feels intentional, but it seems like a natural progression as well. They have managed to deliver a striking collection that could easily be appealing to the mainstream without selling out any of their original core elements. Meloy's knack for wordplay and character-study is still as strong as ever, but the hooks are noticeably strong and the songs are incredibly tight. This record shows quite a burst of inspiration and if it gets the right exposure, this record could open up this band to a much wider audience.
Focus Tracks:
"The Wrong Year" I got this album on Tuesday and I have already listened to this song well more than any other song I've reviewed this week. Maybe it is the call-and-response between Meloy and the instrumentation, maybe it is the sly funky-drummer-style beat but this song seems built for repeated listens. It is tremendous.
"Make Me Better" This Nada Surf-esque ballad seems destined to be a huge hit, if not on the radio, as the soundtrack to a lovelorn scene in a film. If this doesn't become a hit and make a major mark, the record company isn't pushing hard enough. Of course, this is already a lead single, so they are on the right path. This song deserves a ton of airplay.
"The Singer Addresses His Audience" This is an admittedly funny, but extremely somber-toned opener with Meloy addressing obsessive fans. It's a tongue-in-cheek apology for selling out, which of course this band has not done. This track has a nice building quality and foreshadows the strength of the work heard on the rest of the set. The heavy guitar-solo along with the Zeppelin-esque string-work comes as a funny surprise.
media: 28439300
quicklist: 4title: Fall Out Boy's "American Beauty/American Psycho" **text: Fall Out Boy are currently poster-boys for over-processed rock bent a little too strongly to cater to the often too stringent demands of pop radio. Once seen as "pop-punk," they've continued to go further into the pop realm. There's very little "punk" actually in their sound, even if the title track of "American Beauty/American Psycho" tries to force its aggression down your throat. The digital manipulation robs the song of any real authenticity. They sample Suzanne Vega's "Tom's Diner" on "Centuries," and frankly it is upsetting hearing Vega's hook in the midst of this otherwise pretty dreadful track. Of course later they sample the theme to "The Munsters" as a perhaps a substitute for Dick Dale's "Miserlou" in the song "Uma Thurman." If the rest of these songs showed some real oomph and didn't sound like lame pop angling, this would sound more inventive and less like blatant thievery.
One problem may lie in Patrick Stump, whose operatic, affected bellow seems more suited for pop than rock. Just last week, the band actually did a decent cover of Mark Ronson and Bruno Mars' "Uptown Funk" on a BBC radio program. Without the production tricks, they can be a better band. Frankly, this album as a whole might resonate more if it had more of a raw approach. With their "Pax-Am Days" EP recorded with Ryan Adams a few years back, they employed a more "hardcore"-influenced angle. The end results didn't actually end up being very "hardcore," but it at least showed improvement on their typical sound.
But too much of this album is full of clap-along chants and forced hooks. None of these songs feel like they came from genuine inspiration. It all seems a little too planned and predictable. The end result is ultimately boring and void of genuine excitement. And the thunderous beginning of "Novocaine" just sounds downright horrid and jarring.
Fall Out Boy need to re-examine their approach and freshen things up. This album may ultimately chart well, but there is something still missing. It is all way too forced.
Focus Tracks:
"Jet Pack Blues" This is the most effective song, but it actually finds its strongest moments during the verses before the yelled chorus. Stump has always come off to me like a long lost brother to Gavin Degraw and the church-bell assisted verse portion allows him to do more than yell sugary hooks at us.
"Fourth Of July" This song has drive, even if it repeats the redundancy of the rest of the record. If you listen to this song and you don't like it, odds are you won't like the record on the whole.
media: 28439596
quicklist: 5title: Marilyn Manson's "The Pale Emperor" (Deluxe Edition) ***1/2text: More than 20 years into his career, Marilyn Manson has now dropped his ninth studio album and "The Pale Emperor" is low on shock value at this point. Manson doesn't often play up his industrial or metallic-leaning sides here. Sure, there are some heavy moments, like the track "Deep Six," but really this is a collection that accentuates his knack for low-down-and-dirty scuzzy blues. This record owes a lot to Nick Cave and Tom Waits, while the opener, "Killing Strangers" sounds like something Beck would have put on "Guero" next to "Go It Alone." Sure, there are the one or two lyrics meant to rile people up, but if you aren't yet aware that that is part of the Halloween shtick, you are missing the point.
The fact is, "The Pale Emperor" is one of the best and most surprising albums Manson has released in a long time. The focus is not on shock. It is obviously on songcraft and this album definitely has a set, intended mood. If it was still on, a song like "Birds Of Hell Awaiting" would sound great closing out an episode of "True Blood."
Bonus points should also go to the designers of the album's packaging. When you put the CD in, the label is black, but it is heat-sensitive, so when the disc comes out of your player it is white. Someone still cares about the physical product.
Focus Tracks:
"Killing Strangers" I'm guessing this is a comment on war, with the lines, "We're killing strangers so we don't kill the ones that we love," but I may be wrong. This is a beautiful piece of dirty, rhythmically-charged, bass-heavy blues.
"Third Day Of A Seven Day Binge" This would be a great potential single, with its strong guitar riffing and its reliable beat. Manson emphasizes the lower part of his voice throughout the set. His heavy rasp is used to great effect.
"Deep Six" This is the lead single and the hardest rocking track on the album. Throughout the set, there's a religious theme thread throughout, with images of gods and devils. Here, that is played up with the chorus, "You want to know what Zeus said to Narcissist? / You better watch yourself."
Next week: new music from Ne-Yo, the Dodos and more.
Missed last week's? Get the latest from Mark Ronson, Meghan Trainor, Guster and more.
media: 28439498