— -- Naomi Watts has spent a lot of her on-screen life in danger, menaced by supernatural powers ("The Ring"), existing in a dystopian future ("Allegiant"), battling addiction ("21 Grams").
But she's avoided one of the biggest hazards an actor in the entertainment industry faces: being out of work. For two time Academy Award-nominee Naomi Watts it's a balance between timing and intuition.
"Sometimes it's really about timing what you're ready for, what speaks to you in that certain moment, what you've just done and what you want to consider next." Naomi Watts told Rebecca Jarvis on ABC Radio's "No Limits with Rebecca Jarvis."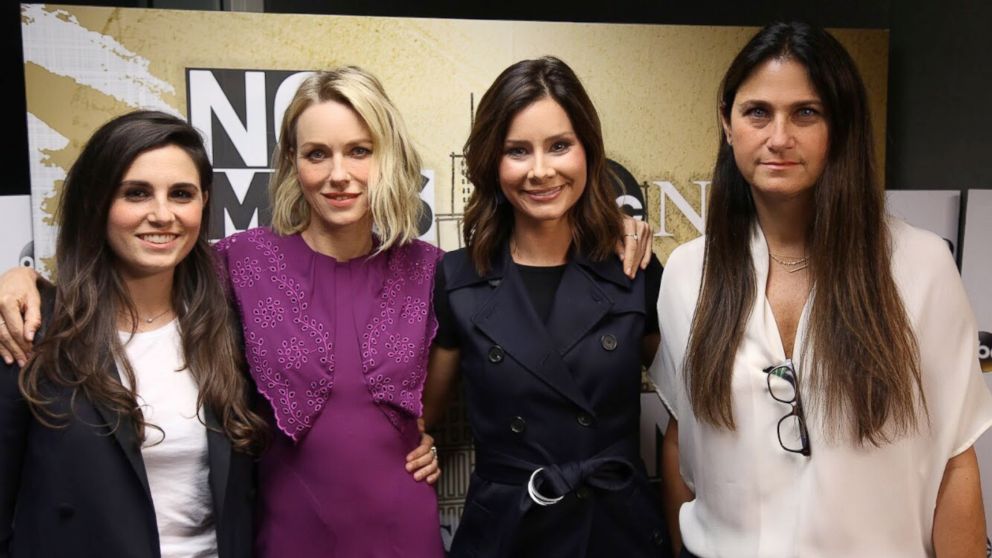 Watts said she began studying acting at the age of 14 when her family moved from England to Australia. Her dad was Pink Floyd's road manager and her mom was a costume and set designer and growing up she said that she didn't feel like an artist in her family.
"I grew up in a family that we're all obviously very artistic and I knew very early on that I couldn't paint -- and yet everyone else could, not just my nuclear family, but the aunts and cousins on both sides. And I remember once coming home with a really great picture that I'd drawn at school and no one believed that it was really me." Watts said.
She was a girl who spent her childhood loving theater, but she didn't think it "counted."
"I knew that I would enjoy being in school plays and things, but I didn't know that was going to lead me to some kind of artistic career," she said. "It wasn't until much later that I understood that I had something that worked for me and made me feel like I did have artistry in my blood so to speak."
The Australian actress had her first major film role in John Duigan's 1991 coming of age film "Flirting" alongside good friend, and fellow Aussie, Nicole Kidman. For the ten years that followed, she became a chameleon.
"I had been sort of moving around Hollywood for a good decade trying to win people over," Watts reflected. "What do you want me to do? Who should I be? Should I be sexy, should I be funny, should I be a cold ice queen? Should I be a bad-ass action women? Who do you want me to be? I would never walk in as myself."
It wasn't until Watts met director David Lynch, who would eventually cast her in her break-out role, that Watts started to come into her own.
"David Lynch recognized something in me," Watts said. "I walked in the room and he wasn't asking me to read anything, thank God, because I think I got to the point where I was just a terrible auditioner. And he just spoke to me and he looked into me, into my eyes, and I felt like he just connected with me and wanted to see me. And so, you know, each night he just unveiled all these masks."
"He's just that kind of guy, he beams energy into you and then some, your best self comes out. And then he just gave me the role of a lifetime, you know? So that was the changing point."
The year was 2001, the role was the lead in Lynch's controversial, but critically-acclaimed drama "Mulholland Drive." The role launched Watts into super stardom. Two years later, she earned an Academy Award nomination for Best Actress in Alejandro Gonzalez Iñarritu's "21 Grams" as a recovering drug addict turned housewife.
Watts continues to choose complex, dynamic characters, defy stereotypes and dodge type-casting. Her latest role in Netflix's psychothriller "Gypsy" is no exception.
"I would say if there's any repetitive theme in the work I do, identity is a big thing that keeps coming back to me, life and death kind of situations," she said. "Definitely Gypsy was emblematic of the whole identity crisis thing."
Created and executive produced by newcomer Lisa Rubin, "Gypsy" stars Watts as therapist Jean Holloway, a duplicitous psychotherapist who is a successful, married professional by day and leading another life by night, carrying on an affair with a younger woman and meddling in the lives of her patients.
"To me it's sort of like a cautionary tale of a woman who has everything, and yet it's not enough." Watts mused.
She said playing a complex women and working with women producers is important to her.
"The women I choose to surround myself with are complex women and fascinating and multi-layered and have lived with contradictions and have desires and fantasies and dark thoughts," Watts said. "So why can't we put that on the screen."
Hear Naomi Watts's full interview, along with Lisa Rubin and "Gypsy" producer and the President of U.S. Production for Working Title Films, Liza Chasin on an all new episode of ABC Radio's "No Limits with Rebecca Jarvis."